Loungewear Market Overview
Loungewear Market Size is expected to reach USD 6.75 Billion by 2033. The Loungewear industry size accounted for USD 3.04 Billion in 2023 and is expected to expand at a compound annual growth rate (CAGR) of 9.97% from 2023 to 2033. Loungewear refers to casual and comfortable clothing worn primarily for relaxing at home or engaging in low-key activities. It typically includes garments such as loose-fitting pants, leggings, shorts, sweatpants, sweatshirts, hoodies, T-shirts, tank tops, and cozy sweaters. Loungewear is designed to provide a balance of comfort and style, allowing individuals to feel at ease while maintaining a presentable appearance in their leisure time. It is often made from soft, breathable fabrics such as cotton, jersey, fleece, or modal, which offer a relaxed fit and a cozy feel. Loungewear has gained popularity as a fashion trend, especially during times when people spend more time at home or seek comfort in their clothing choices.
Global Loungewear Market Synopsis
COVID-19 Impact Analysis
The COVID-19 pandemic had a significant impact on the loungewear market. The increased time spent at home due to lockdowns and remote work led to a surge in demand for comfortable and versatile clothing options. Consumers prioritized loungewear for remote work, virtual meetings, and leisure activities. This shift in consumer preferences resulted in increased sales and growth in the loungewear sector.
Global Loungewear Market Dynamics
The major factors that have impacted the growth of loungewear are as follows:
Drivers:
⮚      The Rising Demand for Athleisure
One of the key driving factors in the loungewear market is the increasing demand for athleisure, which represents the fusion of athletic wear and leisurewear. Athleisure has gained immense popularity in recent years, attracting individuals who seek both comfort and functionality in their clothing choices. This trend has significantly influenced the loungewear market, blurring the lines between traditional loungewear and activewear. Athleisure garments are designed to seamlessly transition from workouts or physical activities to everyday casual wear. They incorporate features such as moisture-wicking properties, stretchability, and breathability, ensuring optimal comfort and performance. The rise of athleisure has revolutionized the loungewear market, offering consumers versatile options that can be worn for various purposes, including lounging at home, running errands, or engaging in light physical activities.
Restraint:
Impact on Retail Landscape
The pandemic has significantly affected the retail sector, with store closures, disruptions in supply chains, and shifts towards online shopping. The loungewear market heavily relies on retail outlets, and the closure of brick-and-mortar stores or restrictions on physical shopping experiences can limit consumers' access to loungewear options. Additionally, the increased popularity of e-commerce poses challenges for traditional retailers, who must adapt their strategies to cater to the growing online market.
Opportunity:
Sustainable and Ethical Practices
There is an increasing emphasis on sustainability and ethical practices in the fashion industry, and loungewear is no exception. Consumers are becoming more conscious of the environmental impact of their clothing choices and are actively seeking brands that prioritize sustainable materials, manufacturing processes, and supply chain transparency. Businesses that integrate sustainable practices into their loungewear offerings have an opportunity to appeal to environmentally conscious consumers and differentiate themselves in the market.
Loungewear Market Segment Overview
By Material Type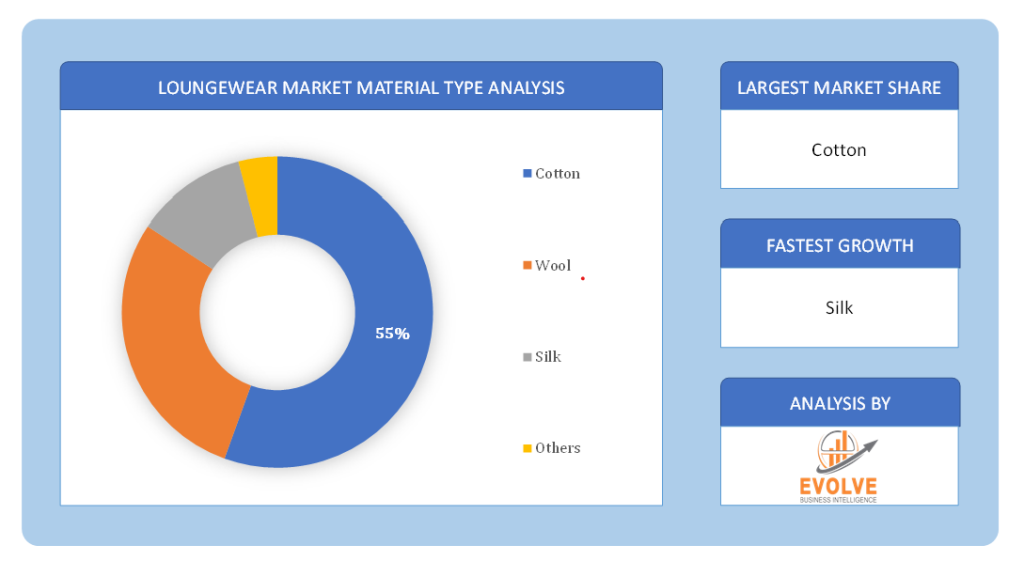 Based on the Material Type, the market is segmented based on Cotton, Wool, Silk, and Others. The largest market share is anticipated to go to the Cotton segment. The combination of its natural and breathable properties, comfort, durability, versatility, and sustainability make cotton an ideal choice for individuals seeking high-quality loungewear that prioritizes comfort and style.
By End Users
Based on End Users, the market has been divided into females, Males, and kids. The Female segment is expected to hold the largest market share in the Market, due to their inclination towards comfortable clothing. Women's loungewear often includes a wide range of options such as sweatpants, leggings, hoodies, loungewear sets, and sleepwear. The versatility of loungewear designs and styles for women has made it a favored choice for both indoor and outdoor casual wear.
By Distribution Channel
Based on Distribution Channel, the market has been divided into Store-Based, Non-Store-Based. The market is projected to see significant growth in the Store-Based segment. As physical retail stores provide a unique shopping experience, allowing customers to see, touch, and try on loungewear items. The in-store environment offers personalized assistance from sales associates and enhances the overall shopping experience.
Global Loungewear Market Regional Analysis
Based on region, the market has been divided into North America, Europe, Asia-Pacific, the Middle East & Africa, and Latin America. The area of North America is anticipated to dominate the market for the usage of Loungewear, followed by those in Asia-Pacific and Europe.
North America Market
The North American region, particularly the U.S., was indeed a significant market for the loungewear industry. Loungewear, which includes comfortable and casual clothing typically worn at home or during leisure time, gained popularity in recent years, especially due to lifestyle changes and the rise of remote work. North America has a large consumer market, and there was a growing demand for comfortable clothing that could be worn while working from home or engaging in relaxed activities. The trend was further accelerated by the COVID-19 pandemic, which led to increased time spent at home and a shift towards more casual and comfortable attire. Moreover, the North American market has a strong retail infrastructure and a thriving e-commerce sector, providing easy access to a wide range of loungewear options for consumers. Many established and emerging clothing brands in North America have recognized the demand for loungewear and have expanded their product offerings to cater to this market.
Asia Pacific Market
The Asia-Pacific region was indeed emerging as a significant and rapidly growing market for the loungewear industry. The Asia-Pacific region, which includes countries such as China, Japan, India, South Korea, and Australia, has a large and diverse consumer base with increasing disposable incomes. This region has witnessed significant economic growth, urbanization, and a rising middle class, leading to changing lifestyles and preferences. Moreover, the fashion and textile industries in countries like China and India have experienced substantial growth and are major players in the global apparel market. As the demand for comfortable and casual clothing increased, loungewear gained popularity in the Asia-Pacific region. Additionally, the e-commerce industry has been booming in the region, providing consumers with easy access to a wide range of products, including loungewear. The convenience and accessibility of online shopping platforms have contributed to the growth of the loungewear market in the Asia-Pacific region.
Competitive Landscape
The competitive landscape includes key players (tier 1, tier 2, and local) having a presence across the globe. Companies such as H&M, Triumph International Holding, Authentic Brands Group, Urban Outfitters, and Nordstrom Inc are some of the leading players in the global Loungewear Industry. These players have adopted partnership, acquisition, expansion, and new product development, among others as their key strategies.
Key Market Players:
L Brands Inc
H&M
Triumph International Holding GmBH
Authentic Brands Group LLC
Urban Outfitters
Nordstrom Inc
Hanesbrands Inc
Jockey International Inc
Marks & Spencer Group
PVH Corporation
Key Development:
On June 2022, The H&M Group had a presence in 75 geographic areas with a total of 4,801 shops operating under various corporate names. In March 2021, Simone Rocha, an Irish designer, and daughter of fashion mogul John Rocha, collaborated with another designer. Simone is a regular participant in London Fashion Week and was recognized as the "Womenswear Designer of the Year" at the 2016 British Fashion Awards. The marketing film by Tyler Mitchell for H&M effectively showcases the feminine essence of Rocha's renowned designs.
Scope of the Report
Global Loungewear Market, by Material Type
Global Loungewear Market, by End User
Global Loungewear Market, by Distribution Channel
Store-Based
Non-Store-Based
Global Loungewear Market, by Region
North America
Europe

UK
Germany
France
Italy
Spain
Benelux
Nordic
Rest of Europe

Asia Pacific

China
Japan
South Korea
Indonesia
Austalia
Malaysia
India
Rest of Asia Pacific

South America

Brazil
Argentina
Rest of South America

Middle East & Africa

Saudi Arabia
UAE
Egypt
South Africa
Rest of Middle East & Africa
Parameters
Indicators
Market Size
2033: $6.75 Billion
CAGR
9.97% CAGR (2023-2033)
Base year
2022
Forecast Period
2023-2033
Historical Data
2021
Report Coverage
Revenue Forecast, Competitive Landscape, Growth Factors, and Trends
Key Segmentations
Material Type, End User, Distribution Channel
Geographies Covered
North America, Europe, Asia-Pacific, Latin America, Middle East, Africa
Key Vendors
L Brands Inc, H & M, Triumph International Holding GmBH, Authentic Brands Group, Urban Outfitters, Nordstrom Inc, Hanesbrands Inc, Jockey International Inc, Marks & Spencer Group, PVH Corporation
Key Market Opportunities
Sustainability and Ethical Practices
• Product Customization and Personalization

Key Market Drivers
• Changing Consumer Preferences
• Rising Wellness and Self-Care Trends

REPORT CONTENT BRIEF:
High-level analysis of the current and future Loungewear Industry trends and opportunities
Detailed analysis of current market drivers, restraining factors, and opportunities analysis in the future
Historical market size for the year 2021, and forecast from 2023 to 2033
Loungewear market share analysis for each segment
Competitor analysis with a comprehensive insight into its product segment, financial strength, and strategies adopted.
Identifies key strategies adopted by the key players including new product development, mergers and acquisitions, joint ventures, collaborations, and partnerships.
To identify and understand the various factors involved in the global Loungewear market affected by the pandemic
To provide year-on-year growth from 2022 to 2033
To provide short-term, long-term, and overall CAGR comparison from 2022 to 2033.
Provide Total Addressable Market (TAM) for the Global Loungewear Market.
Frequently Asked Questions (FAQ)
1. What is the study period of this market?
The study period of the global Loungewear market is 2022- 2033
2. What are the 10 Years CAGR (2023 to 2033) of the global Loungewear market?
The global Loungewear market is growing at a CAGR of ~97% over the next 10 years
3. Which region has the highest growth rate in the market of Loungewear?
Asia Pacific is expected to register the highest CAGR during 2023-2033
4. Which region accounted for the largest share of the market of Loungewear?
North America holds the largest share in 2022
5. Major Key Players in the Market of Loungewear?
L Brands Inc, H&M, Triumph International Holding, Authentic Brands Group, Urban Outfitters, Nordstrom Inc, Hanesbrands Inc, Jockey International Inc, Marks & Spencer Group, PVH Corporation are the major companies operating in the Loungewear
6. Do you offer Post Sale Support?
Yes, we offer 16 hours of analyst support to solve the queries
7. Do you deliver sections of a report?
Yes, we do provide regional as well as country-level reports. Other than this we also provide a sectional report. Please get in contact with our sales representatives.