Understanding European consumers is crucial for companies targeting Europe's 500+ million potential customers across 50 countries. Market research uncovers regional insights needed to thrive in this diverse marketplace. This guide examines using market reports from Evolve Business Intelligence to drive strategic European growth.
The Most In-Demand Market Research Reports in European market
Discover the top industries and topics business leaders are researching
Overview of the Market Research Industry in Europe
Europe represents a considerable share of about 25.87% in 2022. According to Evolve Business Intelligence, the market research revenue in Europe was $20.9 billion in 2022. Countries like the UK, Germany, France and Russia lead the region.
Market research helps European companies gain strategic intelligence by analyzing trends, evaluating new market opportunities, monitoring competitors and identifying customer needs. It provides data-driven guidance for decisions and strategy.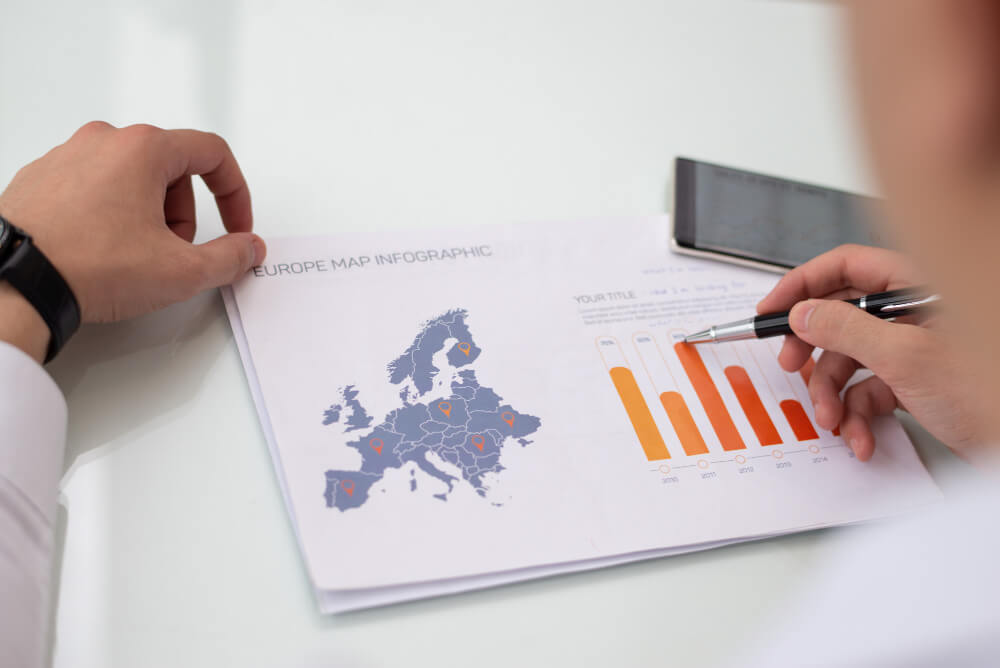 Key Benefits of Evolve Business Intelligence's Market Research Reports for Europe
Evolve Business Intelligence offers detailed European market reports spanning industries, countries, demographics and specialties. Their analysts uncover trends and intelligence to power better decisions.
Their reports deliver valuable European insights, including:
Size market opportunities – Reports forecast market and industry growth rates across European countries.

Track competition – Benchmark your brand against European competitors on metrics like brand awareness, market share and customer satisfaction.

Optimize marketing – Identify which messages and positioning resonate most with European target demographics.

Drive innovation – Spot unmet consumer needs and high-potential product innovations tailored for Europe.

Monitor trends – Stay on pulse of emerging European lifestyle trends, technologies, regulations and developments.

Identify growth strategies – Recognize new European markets, segments and opportunities to pursue beyond your core offerings.
Conducting Effective European Market Research
Evolve Business Intelligence employs proven market research methodologies including:
Secondary research – Desk research analyzing existing European data sources.
Surveys – Questionnaires fielded to European consumer panels.
Interviews – One-on-one discussions with customers and experts.
Focus groups – Moderated small group discussions with Europeans.
Ethnographic research – Observing European consumers in real-world settings.
These techniques provide perspectives into attitudes, behaviors, preferences and needs.
Tips for Actionable European Market Reports
The best market research reports provide strategic guidance, not just data. Evolve Business Intelligence delivers research that:
Quantifies European market and growth opportunities

Provides competitor benchmarking data

Analyzes consumer segments and local nuances

Surfaces unmet needs and innovations

Supplies pricing elasticity metrics

Models the impact of alternative strategies

Outlines go-to-market and positioning recommendations
Data-driven strategic insights make research ROI clear.
Overcoming Market Research Challenges in Europe
Common European research challenges include:
Navigating different privacy regulations across countries

Ensuring representative samples across regions

Running multi-country surveys in various languages

Adjusting methodologies between mature and emerging markets

Understanding cultural nuances and localization
Evolve Business Intelligence's market research expertise aids in maintaining rigor and relevance.