Live Software Market Overview
The Live Software Market Size is expected to reach USD 25.65 Billion by 2033. The Live Software industry size accounted for USD 11.14 Billion in 2023 and is expected to expand at a compound annual growth rate (CAGR) of 10.57% from 2023 to 2033. "Live Software" refers to a software development approach or methodology that emphasizes the continuous deployment, monitoring, and evolution of software applications in real time. It involves the integration of various practices, tools, and technologies to enable rapid feedback loops and seamless updates to run software systems. Live Software is characterized by its ability to deploy software changes instantly or with minimal downtime, allowing developers to deliver new features, bug fixes, and optimizations rapidly. It often employs techniques such as continuous integration and continuous deployment (CI/CD), automated testing, containerization, and cloud-based infrastructure to streamline the software delivery process. Furthermore, Live Software emphasizes the importance of monitoring and observability, enabling developers to collect and analyze real-time data on the behavior, performance, and usage of deployed applications. This information enables quick identification and resolution of issues, as well as data-driven decision-making for further improvements.
Global Live Software Market Synopsis
The COVID-19 pandemic had a profound and remarkable impact on the Live Software market. As businesses and organizations rapidly adapted to remote work and digital operations, the demand for agile software development and deployment skyrocketed. The need for real-time updates, seamless collaboration, and continuous monitoring became crucial in supporting remote teams and ensuring uninterrupted service delivery. The Live Software market witnessed significant growth as companies sought solutions that enabled them to quickly respond to changing market conditions, address customer needs, and maintain business continuity. The pandemic catalyzed the adoption of Live Software practices, accelerating the transformation of traditional software development approaches and fueling innovation in the industry.
Live Software Market Dynamics
The major factors that have impacted the growth of Live Software are as follows:
Drivers:
The increasing demand for rapid software development and deployment
The need for quick delivery of software updates, new features, and bug fixes has grown significantly due to the ever-changing business landscape, customer expectations, and market conditions. Live Software allows companies to respond swiftly to these demands, ensuring a competitive edge and improved customer satisfaction.
Restraint:
Security and reliability concerns
With the fast-paced nature of Live Software deployments, there is a higher risk of introducing security vulnerabilities or bugs that could impact the stability of running applications. Maintaining the balance between speed and security remains a challenge, and organizations need to invest in robust testing, monitoring, and risk management strategies to mitigate potential threats.
Opportunity:
Cloud adoption and scalability
The shift to cloud computing has provided a fertile ground for Live Software adoption. Cloud platforms offer the necessary infrastructure and scalability required for continuous deployment and real-time monitoring. With the cloud's elasticity, companies can easily scale their applications as needed, enabling faster time-to-market, cost optimization, and improved operational efficiency.
Live Software Segment Overview
By Type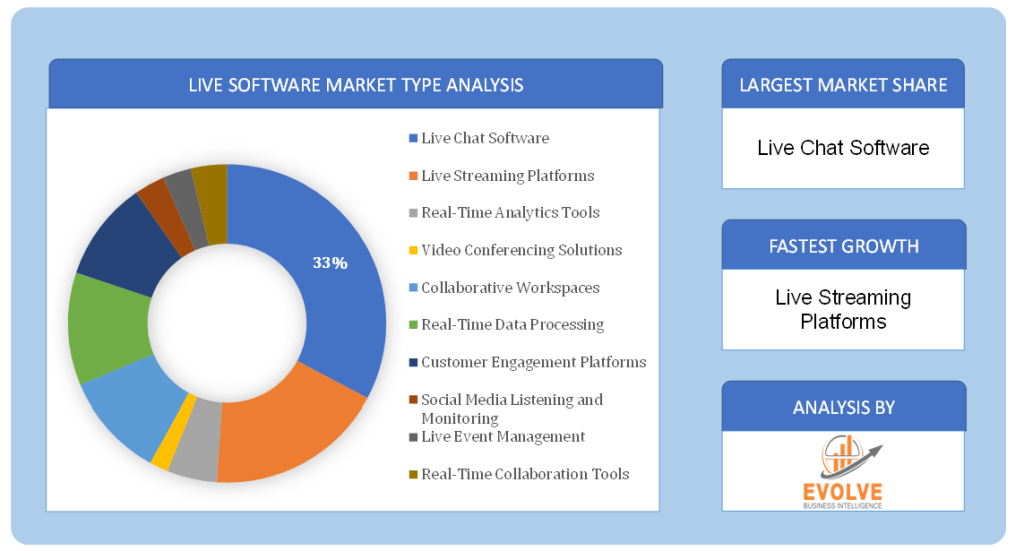 Based on Type, the market is segmented based on Live Chat Software, Live Streaming Platforms, Real-Time Analytics Tools, Video Conferencing Solutions, Collaborative Workspaces, Real-Time Data Processing, Customer Engagement Platforms, Social Media Listening and Monitoring, Live Event Management, Real-Time Collaboration Tools. The Live Chat Software segment is poised to experience substantial growth in the Live Software market. With the increasing demand for real-time customer support and personalized experiences, businesses are recognizing the importance of live chat software as a pivotal communication channel. Live chat enables instant and efficient interactions between businesses and customers, leading to improved customer satisfaction and loyalty. Additionally, advancements in automation, AI-powered chatbots, and integration capabilities enhance the efficiency and effectiveness of live chat solutions. As companies strive to enhance their customer service capabilities and maintain a competitive edge, the Live Chat Software segment is expected to witness significant growth, contributing to the overall expansion of the Live Software market.
By End User
Based on End Users, the market has been divided into Retail and E-commerce, Telecommunication and IT, BFSI, Travel and Hospitality, Education, Healthcare, and Others. Telecommunication and IT dominates the Live Software Market. These industries are at the forefront of technological advancements and have a strong reliance on software-based solutions for their operations. The telecommunication sector, with its vast networks and infrastructure, requires real-time monitoring, rapid updates, and continuous optimization to ensure seamless connectivity and service delivery. Similarly, the IT sector heavily relies on agile software development practices and live deployment methodologies to meet evolving business needs and provide innovative solutions to clients. With the increasing demand for digital transformation, cloud computing, and data-driven decision-making, the Telecommunication and IT sectors continue to be major drivers in the Live Software market, shaping its growth and innovation.
Global Live Software Market Regional Analysis
Based on region, the global Live Software market has been divided into North America, Europe, Asia-Pacific, the Middle East & Africa, and Latin America. North America is projected to dominate the use of the Live Software market followed by the Asia-Pacific and Europe regions.
North America Market
North America has consistently maintained a dominant position in the Live Software market. The region's strong presence can be attributed to several factors. First, North America is home to major technology hubs, including Silicon Valley, which fosters innovation and attracts top talent in the software development and IT sectors. Second, the region has a robust and mature IT infrastructure, including reliable internet connectivity and cloud services, which provide a solid foundation for Live Software deployment and operation. Additionally, North American businesses, both large enterprises, and startups, have been early adopters of agile development methodologies and have embraced the importance of continuous software updates and real-time monitoring. Finally, the region's strong economy and high consumer expectations drive the demand for Live Software solutions that deliver seamless user experiences.
Asia-Pacific Market
The Asia-Pacific region has indeed emerged as a rapidly growing market for the Live Software industry. Several factors contribute to this growth. First, the region's expanding population and rising disposable incomes have fueled the adoption of digital technologies and increased the demand for software-driven solutions. Second, many countries in Asia-Pacific are undergoing significant digital transformations, with governments and businesses investing heavily in infrastructure development, cloud computing, and e-commerce. This creates a conducive environment for Live Software implementation. Additionally, the region is witnessing a surge in technology startups and a growing entrepreneurial culture, fostering innovation and driving the adoption of agile development practices. With its vast market potential, thriving tech hubs, and increasing digitalization efforts, the Asia-Pacific region presents significant opportunities for the Live Software industry to expand and thrive.
Competitive Landscape
The Global Live Software market is highly competitive, with numerous players offering a wide range of software solutions. The competitive landscape is characterized by the presence of established companies, as well as emerging startups and niche players. To increase their market position and attract a wide consumer base, the businesses are employing various strategies, such as product launches, and strategic alliances.
Prominent Players:
Microsoft
Zoom
Slack
Salesforce
Adobe
Atlassian
Cisco
Zendesk
LivePerson
Freshworks
Key Development
In June 2023, Adobe introduces new product innovations under Adobe Experience Cloud, aimed at empowering enterprises in India to achieve growth driven by exceptional experiences.
Scope of the Report
Global Live Software Market, by Type
Live Chat Software
Live Streaming Platforms
Real-Time Analytics Tools
Video Conferencing Solutions
Collaborative Workspaces
Real-Time Data Processing
Customer Engagement Platforms
Social Media Listening and Monitoring
Live Event Management
Real-Time Collaboration Tools
Global Live Software Market, by End User
Retail and E-commerce
Telecommunication and IT
BFSI
Travel and Hospitality
Education
Healthcare
Others
Global Live Software Market, by Region
North America
Europe

UK
Germany
France
Italy
Spain
Benelux
Nordic
Rest of Europe

Asia Pacific

China
Japan
South Korea
Indonesia
Austalia
Malaysia
India
Rest of Asia Pacific

South America

Brazil
Argentina
Rest of South America

Middle East & Africa

Saudi Arabia
UAE
Egypt
South Africa
Rest of Middle East & Africa
Parameters
Indicators
Market Size
2033: $25.65 Billion
CAGR
10.57% CAGR (2023-2033)
Base year
2022
Forecast Period
2023-2033
Historical Data
2021
Report Coverage
Revenue Forecast, Competitive Landscape, Growth Factors, and Trends
Key Segmentations
Product, End Use
Geographies Covered
North America, Europe, Asia-Pacific, Latin America, Middle East, Africa
Key Vendors
Microsoft, Zoom, Slack, Salesforce, Adobe, Atlassian, Cisco, Zendesk, LivePerson, Freshworks.
Key Market Opportunities
• Cloud adoption and scalability
• Integration with other systems and business tools
• Enhanced analytics and customer insights
Key Market Drivers• Increasing demand for rapid software development and deployment
• Need for real-time updates and seamless collaboration
• Rising customer expectations for instant support and personalized experiences

REPORT CONTENT BRIEF:
High-level analysis of the current and future Live Software market trends and opportunities
Detailed analysis of current market drivers, restraining factors, and opportunities in the future
Live Software market historical market size for the year 2021, and forecast from 2023 to 2033
Live Software market share analysis at each product level
Competitor analysis with detailed insight into its product segment, Government & Defense strength, and strategies adopted.
Identifies key strategies adopted including product launches and developments, mergers and acquisitions, joint ventures, collaborations, and partnerships as well as funding taken and investment done, among others.
To identify and understand the various factors involved in the global Live Software market affected by the pandemic
To provide a detailed insight into the major companies operating in the market. The profiling will include the Government & Defense health of the company's past 2-3 years with segmental and regional revenue breakup, product offering, recent developments, SWOT analysis, and key strategies.
Frequently Asked Questions (FAQ)
1. What is the study period of this market?
The study period of the global Live Software market is 2021- 2033
2. What is the growth rate of the global Live Software market?
The Global Live Software market is growing at a CAGR of 10.57% over the next 10 years
3. Which region has the highest growth rate in the market of Live Software?
Asia Pacific is expected to register the highest CAGR during 2023-2033
4. Which region has the largest share of the global Live Software market?
North America holds the largest share in 2022
5. Who are the key players in the global Live Software market?
Microsoft, Zoom, Slack, Salesforce, Adobe, Atlassian, Cisco, Zendesk, LivePerson, and Freshworks are the major companies operating in the market.
6. Do you offer Post Sale Support?
Yes, we offer 16 hours of analyst support to solve the queries
7. Do you sell particular sections of a report?
Yes, we provide regional as well as country-level reports. Other than this we also provide a sectional report. Please get in contact with our sales representatives.