MICE Tourism Market Overview
MICE Tourism market size is projected to reach approximately $2.86 Trillion by 2033 globally, at a CAGR of 23.83% from 2023 to 2033. The term MICE tourism refers to the attractions and ancillary services that are dedicated to planning, booking, and facilitating conferences, seminars, and other events for business purposes, It is considered the highest revenue contributor for the travel industry.
The MICE tourism industry is a big and complex niche of the service industry. It's got many different parts, including participants, sponsors, planners, convention bureaus, and visitor centers or city clubs. The list of service providers also includes meeting venues, accommodations, and suppliers. In general, each part of the MICE tourism industry is important for the smooth running of events. Planning an event should be simple and with the help of a travel agency. An agency will work closely with you to find the perfect destination that suits customer needs. In other words, The tourism industry's group market has been growing exponentially in recent years. Due to the forces of globalization and the expansion of service industries, as well as continuous improvements in scientific and technological innovations, the mice tourism business is only going to continue trending upward.
MICE Tourism COVID-19 Impact Analysis
The COVID-19 pandemic had a negative impact on the market for MICE Tourism. For Instance, The strict lockdown regulations had resulted in a partial or complete ban on travel and tourism. Most of the travel destinations across the globe had restricted their areas to residents as per quarantine guidelines which prohibited non-residents from entering these places to avoid spreading diseases. The tourism industry is struggling as a result of the fall in international tourist arrivals. These events have been either canceled or postponed, which has caused serious damage to the event organizers domestically. Above all, more and more companies started using digital platforms like Zoom, Skype, and Google Hangouts to conduct meetings. These platforms have also encouraged the proliferation of MICE events that have led to significant cost savings in time; the effort of everyone involved.
Moving toward Online Platform
The increased penetration of online platforms for conducting MICE activities is having a long-term impact on the MICE industry. During COVID-19, many companies looked at business travel as an unnecessary expense and started moving towards cheaper options such as online bookings. As the global MICE industry is at stake, the hosting platforms may suffer. In other words, they will have to find a way to consolidate COVID-19 which has caused this economic damage.
MICE Tourism Market Dynamics
The growth in the MICE tourism market is driven by the rising globalization of businesses. The global economic recovery, growing business travel and trade, and increasing popularity of corporate events are some of the factors that are driving this growth. Technological advancement, investment in infrastructural will create opportunities for the MICE tourism market.
Drivers
The rapid expansion of the travel and tourism industry
The travel and tourism industry in the nation is considered an important economic pillar in the contribution to the country's GDP. The nation expects an increase in the number of visitors from around the world on the back of various customized tourist experience offerings by the government. The government has been lending special focus to the tourism sector, through several initiatives geared towards attracting more visitors and supporting the development of this important industry. Above all, one such initiative is the Tourism Development Model (TDM) which provides policy guidance to promote sustainable tourism and create inclusive destinations.
The TDM is a concise framework that includes three pillars – public-private partnerships, market-demand management, and development models. The TDM is a tool that supports the creation of tourism clusters by supporting the integration of trade, commerce, and manufacturing. which is anticipated to contribute significantly towards the growth of the MICE tourism industry.
Restraint:
MICE events are connected with high operational costs
MICE events are held in venues that are well-equipped with cutting-edge IT infrastructure. Due to the high related expenses of this infrastructure, event platforms remain on the higher end of the price spectrum, affecting MICE event operational costs. The cost of planning a meeting, conference, or event, and the long-distance transportation of participants, are relatively significant. Long-distance transportation is another element that contributes to high operational costs, as ticket prices are not constant and might vary from location to location. Furthermore, High operational costs may be a disadvantage for the tourist industry, and failure to cater to the developing market in some nations may limit the MICE tourism market's growth.
Opportunity:
Innovations in technology
The MICE tourism market is one of the fastest-growing sectors in the tourism industry. It is a niche that has seen a lot of innovation with new technologies and trends. This has led to an increase in demand for MICE tourism products. There are many innovations in technology that have benefited the MICE tourism market. Innovations such as virtual reality tours augmented reality tours, and 360-degree video tours have helped make this market more attractive to consumers by providing immersive experiences that they cannot get anywhere else.
Furthermore, These innovations are also helping create new opportunities for entrepreneurs who want to enter this industry as they can create their unique products with these technologies at a low cost, which may lead to more competition within this niche but will also increase the demand for these products as people will have more options when selecting a product. In the long run, this will create more opportunities.
MICE Tourism Segment Overview
By Type
Based on the Type, the MICE Tourism market is segmented based on Meetings, Incentives, Conventions, and Exhibitions. The meeting segment is anticipated to account for the large market share because this is due to the significant rise in the number of companies organizing events and conferences. In addition, the increasing focus of MICE organizations on the aspect of sustainability has resulted in the growing demand for green MICE events.
By Industry
Based on Industry, the global MICE Tourism market has been divided into Retail, Hospitality, Transportation, Entertainment, and Others. Above all, The hospitality industry is expected to hold the largest market share due to an increase in demand from the corporate sector.
Global MICE Tourism Market Share, by Segmentation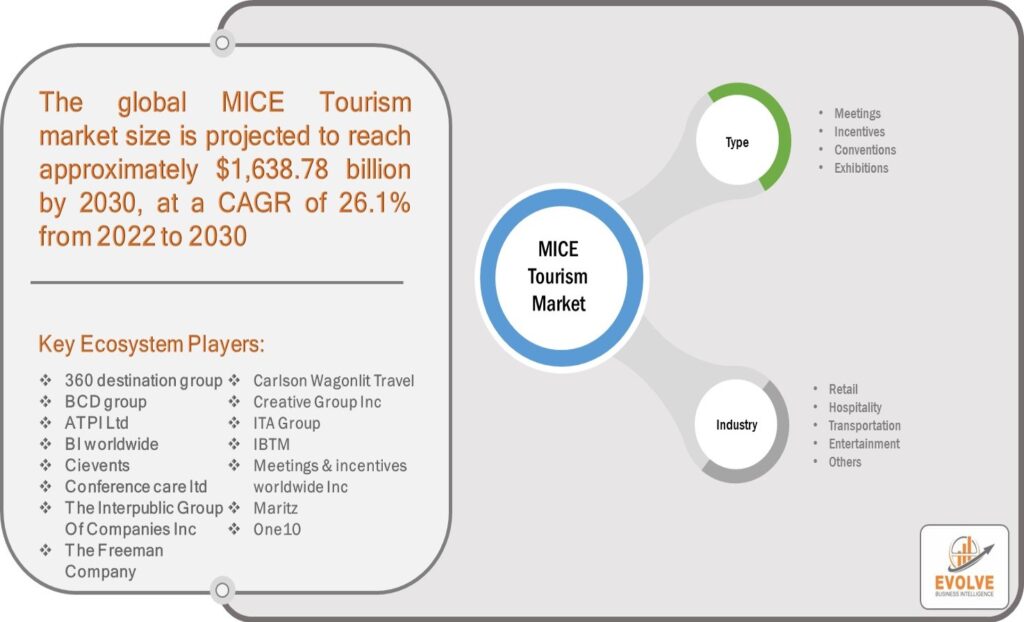 Regional Analysis
Based on region, the global MICE tourism market has been divided into North America, Europe, Asia-Pacific, and the Rest of the World. Above all, North America is projected to dominate the use of the MICE tourism market followed by the Asia-Pacific and Europe region.
North America Market
The North American region of MICE tourism has the largest market share and leads industry growth. The cost of hosting events in North America is proportionately higher than in any other region, due to a higher level of business travel costs against GDP. For instance, The popularity of MICE tourism is on the rise, as evidenced by social media platform trends, a spike in corporate conference attendance, and the ever-increasing use of online travel agents.
Asia-Pacific Market
Asia-Pacific is the fastest-growing region with developing economies such as Singapore, China, and India driving this growth. It is predicted that the MICE sector will grow over these few years as a result of a rise in the number of business travelers, an increased economy, more IT investments, and easier visa requirements. Furthermore, There are also plans to invest in better infrastructure and foreign markets. The demand for this type of event has risen.
Competitive Landscape
The market comprises tier-1, tier-2, and local players. With their wide product portfolios, tier-1 and tier-2 players have a global reach. Because of their strategic innovations and broad regional presence, companies such as Creative Group Inc, ITA Group, IBTM, Meetings & incentives worldwide Inc, and Maritz lead the global MICE Tourism business. In other words, To increase their market position and attract a wide consumer base, the businesses are employing various strategies, such as growth, product releases, and alliances.
Prominent Players:
360 destination group
BCD group
ATPI Ltd
BI worldwide
Cievents
Conference care ltd
Carlson Wagonlit Travel
Creative Group Inc
ITA Group
IBTM
Meetings & incentives worldwide Inc
Maritz
One10
The Interpublic Group Of Companies Inc
The Freeman Company
In August 2019, Caribbean Meeting & Incentive Travel Exchange recently organized an event to boost business tourism development and increase brand promotion.
Scope of the Report
Global MICE Tourism Market, by Type
Meetings
Incentives
Conventions
Exhibitions
Global MICE Tourism Market, by Industry
Retail
Hospitality
Transportation
Entertainment
Others
Global MICE Tourism Market, by Region
North America
Europe

UK
Germany
France
Italy
Rest of Europe

Asia Pacific

China
Japan
South Korea
India
Rest of Asia Pacific

Rest of the World
| Parameters | Indicators |
| --- | --- |
| Market Size | 2030: $ 2.86 Trillion |
| CAGR | 23.83% CAGR (2023-2033) |
| Base Year | 2022 |
| Forecast Period | 2023 to 2033 |
| Historical Data | 2021 |
| Report Coverage | Revenue Forecast, Competitive Landscape, Growth Factors, and Trends |
| Key Segmentations | Type, Industry |
| Geographies Covered | North America, Europe, Asia-Pacific, Latin America, Middle East, Africa |
| Key Players | 360 destination group, BCD group, ATPI Ltd, BI worldwide, Cievents, Conference care ltd, Carlson Wagonlit Travel, Creative Group Inc, ITA Group, IBTM, Meetings & incentives worldwide Inc, Maritz, One10, The Interpublic Group Of Companies Inc, The Freeman Company |
| Key Market Opportunities | Innovations in technology |
| Key Market Drivers | The rapid expansion of the travel and tourism industry |
REPORT CONTENT BRIEF:
High-level analysis of the current and future MICE Tourism market trends and opportunities
Detailed analysis on current market drivers, restraining factors, and opportunities in the future
MICE Tourism market historical market size for year 2020, and forecast from 2021 to 2028
MICE Tourism market share analysis at each product level
Competitor analysis with a detailed insight into its product segment, financial strength, and strategies adopted.
Identifies key strategies adopted including product launches and developments, mergers and acquisitions, joint ventures, collaborations, and partnerships as well as funding taken and investment done, among others.
To identify and understand the various factors involved in the global MICE Tourism market affected by the pandemic
To provide a detailed insight on the major companies operating in the market. The profiling will include the financial health of the company past 2-3 years with segmental and regional revenue breakup, product offering, recent developments, SWOT analysis, and key strategies.
Frequently Asked Questions (FAQ)
What is the study period of this market?

The study period of global MICE Tourism market is 2020 – 2030

What is the growth rate of global MICE Tourism market?

The global MICE Tourism market is growing at a CAGR of ~ 21.6% over the next 8 years

Which region has highest growth rate in global MICE Tourism market?

Asia Pacific is expected to register the highest CAGR during 2022 – 2030

Which region has the largest share in global MICE Tourism market?

North America holds the largest share in 2021

Who are the key players in global MICE Tourism market?

Creative Group Inc, ITA Group, IBTM, Meetings & incentives worldwide Inc, and Maritz are the major companies operating in the global MICE Tourism market.

Do you offer Post Sale Support?

Yes we offer 16 hours of anayst support in order to solve the quries

Do you sell particular sections of a report?

Yes we provide regional as well as country level report. Other than this we also provide sectional report. Please get in contact with our sales representatives.