Category: Electronics & Semiconductor
Sub-category: Sensor and Control
The Global RFID Market was valued at $ 13,584.3 million in 2019 and is anticipated to grow at a CAGR of 13.6% from 2020 to 2027. According to the Indian Institute of Technology Mumbai, Radio Frequency Identification (RFID) is a tag that utilizes radiofrequency waves to transfer data between a movable tagged item and the reader to track, identify and categorize the item. There are various benefits of RFID tags such as only a single scan is required to identify multiple items, each item can be identified instead of only the category the belong to, line of sight is not required for reading, among others. RFID is generally used in logistics, manufacturing, and warehousing because it's extremely significant to keep a track of assets and inventory and data entry also becomes easier and more accurate. The RFID market is expected to grow at a fast pace due to the rising demand from the health and retail sectors. The application is spread across several sectors such as transportation, defense, and medical, among others.
Growth Impact Factors
The global RFID market is influenced by numerous factors such as increasing interest in value chain management, expansion of the Internet of Things (IoT) infrastructure, and rising number of initiatives that are taken by the government in order to integrate RFID technology across a wide number of applications.
Technological proliferation
An important factor affecting the RFID market is the level of technological advancements leading to significant use of smart cards, access control, and other NFC applications. The use of various short-range wireless communications such as ZigBee and WiFi and Ubiquitous Sensor Networks will accelerate the demand for RFID systems in the future.
Penetration across various sectors
RFID tags are not only used in the retail sector but are also significantly used in the healthcare industry, for security purposes, warehousing, manufacturing, logistics, among others. Since RFID tags help to improve the quality of data entry, the application of RFID technology will increase furthermore.
Penetration across different sectors is a major factor that should be taken into consideration. Companies can help them target newer areas and develop customized RFID systems which will help to increase the demand. For example, RFID tags are used in the agricultural sector as well as in animal husbandry, but these tags are exposed to harsh environments which can cause damages to the tags. Therefore manufacturers can focus more on making them more durable in these types of conditions.
Restraining factors
The major restraining factors of the RFID market are hight costs to install the RFID systems and device interoperability. In order to implement the RFID system in any industry, the industry has to incur high expenditure especially with regards to electricity, software, readers, tags, and running replacement services. Additional features that make RFID even more costly are IoT integration, training costs, and accurate system checking. Device interoperability inhibits the adoption and application of RFID. If a company has numerous frequency tags but only one reader, this may cause device interoperability problems. Furthermore, there are security-related issues that obstruct the growth of the market such as legitimate readers might obtain data from illegitimate tags and issues with regards to privacy as well such as illegitimate readers procuring data from legitimate tags.
Key Insight in the report:
The Global market report covers Executive Summary, Market Dynamics, Trend Analysis, Market Size and Forecast, Competitive Intelligence, Market Positioning, Product Benchmarking, and Opportunity Analysis.
The report covers extensive competitive intelligence which includes the following data points:
Business Overview
Business Model
Financial Data
Financial – Existing
Financial – Funding
Product Segment Analysis and specification
Recent Development and Company Strategy Analysis
SWOT Analysis
The report covers market sizing and forecasting at the country level as well as at the segment level. The Market is analyzed across below-mentioned different segments:
| Product Type | Type | Frequency | Application |
| --- | --- | --- | --- |
| Tags | Passive | Low | Retail |
| Reader | Active | High | BFSI |
| Software | | Ultra-High | Commercial |
| | | | Transportation |
| | | | Healthcare |
| | | | Industrial |
| | | | Government |
| | | | Logistics |
| | | | Others |
The global RFID market is segmented by product, frequency, application, and region. By product, it is further bifurcated into tags, readers, and middleware. By Frequency, it is categorized into low frequency, high frequency, and ultra-high frequency. By application, it is divided into retail, financial services, healthcare, industrial, government, transport and logistics, and others. By region, the RFID market is segmented into North America, Europe, Asia Pacific, and Rest of the World.
Global RFID Market is also analyzed across below-mentioned regions/countries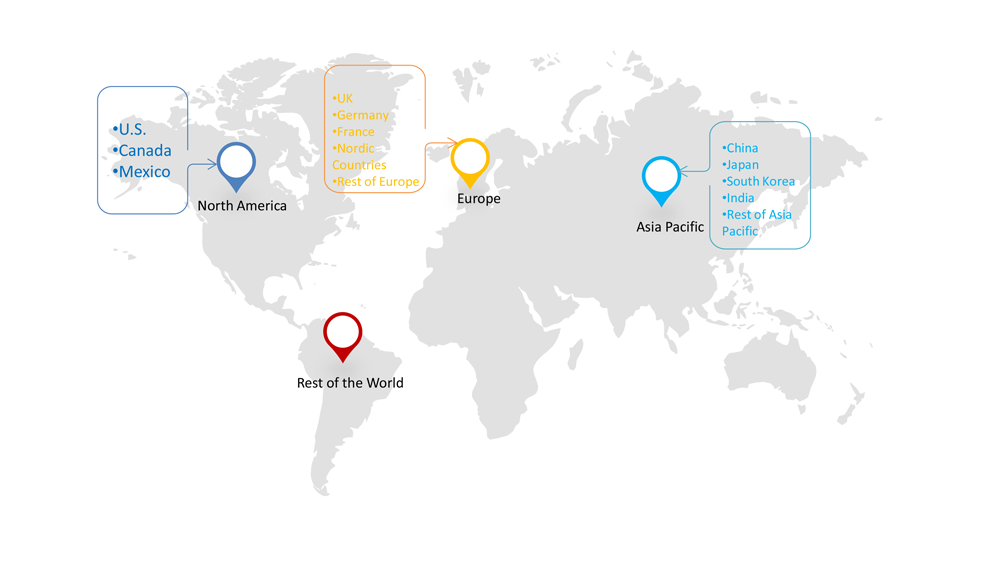 North America has dominated the RFID market in 2017 with a market size of $4.7 billion. North America is anticipated to grow at a CAGR of 13.4% by 2027 due to the growth in sectors such as healthcare and medicine, security systems, retail, government initiatives, and continuous demand for the latest technology. Hence North America is expected to experience the highest growth compared to any other region.
 Some of the key players of the RFID Market include:
Avery Dennison
Alien Technology
Applied Wireless
CAEN
Checkpoint Systems Inc.
Impinj Inc.
Invengo Technology Pte. Ltd.
Honeywell International Inc.
Motorola Solutions
Savi Technology
Recent developments
On 2nd February 2020, Avery Dennison declared that they have acquired SMARTRAC's RFID transponder business. SMARTRAC is one of the topmost manufacturers in RFID inlays. They are very well known for innovating and developing high- quality RFID products and also for their thorough research and development capabilities.
REPORT CONTENT BRIEF:
High-level analysis of the current and future market trends and opportunities
Detailed analysis of current market drivers, restraining factors, and opportunities in the future
Historical market size for the year 2019, and forecast from 2020 to 2027
Vendor market share analysis at each product level
Competitor analysis with a detailed insight into its product segment, financial strength, and strategies adopted.
Identifies key strategies adopted including product launches and developments, mergers and acquisitions, joint ventures, collaborations, and partnerships as well as funding has taken and investment is done, among others.