Category: Information and Communication
Sub-Category: Communication
The Global Optical Fiber Market was valued at $ 4,834.26 million in 2019 and is anticipated to grow at a CAGR of 12.6% from 2020 to 2027. An optical fiber is a type of cable which consists of several optical fibers bundled together, which are covered with different types of optical fibers such as plastic optical fiber and glass optical fiber. The optical fiber cables are generally used to transfer high digital data in the form of light which can travel up to hundreds of miles with a high throughput rate. All the optical fiber cables consist of a hair-like transparent wire which is covered with silicon with a low refractive index. The cable is used to measure and monitor a large array of data for lighting and imaging. Fiber optic cables are also used in research and development in various industries such as telecom & IT, BFSI, public sector, manufacturing, and among others.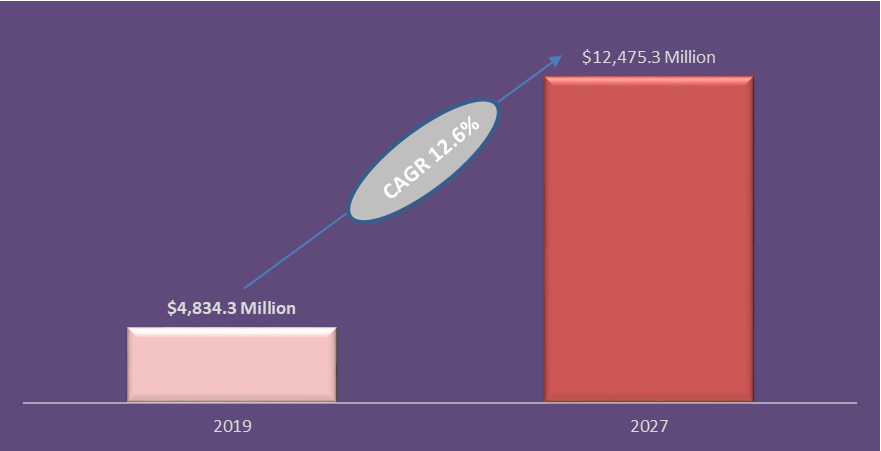 Growth factor
The fiber optic market is driven by various growth factors which include increasing demand of Internet of Things and wireless communication technology in emerging economies such as India, China, and Japan, rising investment by the Indian government in the Optical Fiber Communication (OFC) network infrastructure, growing demand of fiber optic cable in Telecom & IT sector, public sector, and among others. Other factors that have led to the growth of the fiber optic cable market include a surge in the number of data centers across the globe, growing adoption of Fiber to the Home (FTTH), and increase implementation of 5G technology.
Increase demand for Internet of Things and wireless communication technology
The IoT market is expected to grow at a steady rate due to the low cost of sensor which is used in billions of devices, services, and systems. The Internet of Things is gaining substantial traction for the customers and businesses. For the customer, there has been a major difference between normal consumer devices and applications as compared to technology-driven consumer devices such as smartwatches or smart thermostats. In contrast with the consumer, the business IoT is a disruptive technology that is opening up the new revenue stream for the major industries. The increase in demand for IoT for the consumer and the industry application has resulted in the growing demand for the use of fiber optic cables.
The Government of India is also taking the various initiative to increase the demand for IoT services. For Instance, National Digital Communications Policy (NDCP) 2018 has set up goals and taken a crucial policy to address the problem of wireless communication and digital services. Hence, the initiative taken by the government will result in the growing demand for fiber optics cable in the future.
Key Insight in the report:
The Global Optical Fiber market report covers Executive Summary, Market Dynamics, Trend Analysis, Market Size and Forecast, Competitive Intelligence, Market Positioning, Product Benchmarking, and Opportunity Analysis.
The report covers extensive competitive intelligence which includes following data points:
Business Overview
Business Model
Financial Data
Financial – Existing
Financial – Funding
Product Segment Analysis and specification
Recent Development and Company Strategy Analysis
SWOT Analysis
The report covers market sizing and forecasting at the country level as well as at the segment level. Optical Fiber Market is analyzed across below-mentioned different segments:
| | | |
| --- | --- | --- |
| Mode Type | Optical Fiber Type | Industry Vertical |
| Single Mode | Plastics Optical Fiber | Telecom & IT |
| Multi-Mode | Glass Optical Fiber | BFSI |
| | | Public Sector |
| | | Healthcare |
| | | Energy & Utilities |
| | | Aerospace & Defense |
| | | Others |
The global fiber optic market is segmented based on mode type into single-mode and multi-mode. The single-mode segment has dominated the global fiber optic market in 2019 and is expected to accelerate in the future due to various benefits provided by single modes such as wide bandwidth capacity, less data dispersion & external interference, and high transmission speed.
Based on industry vertical the market is segmented into telecom & IT, BFSI, public sector, healthcare, energy & utilities, aerospace & defense, and others. Telecom & IT segment dominated the market in 2019 due to the growing demand for fiber optics cable in this sector. Also, the telecom & IT sector requires wide and fast data transmission which is done by fiber optic cables.
Optical Fiber Market is also analyzed across below-mentioned regions/countries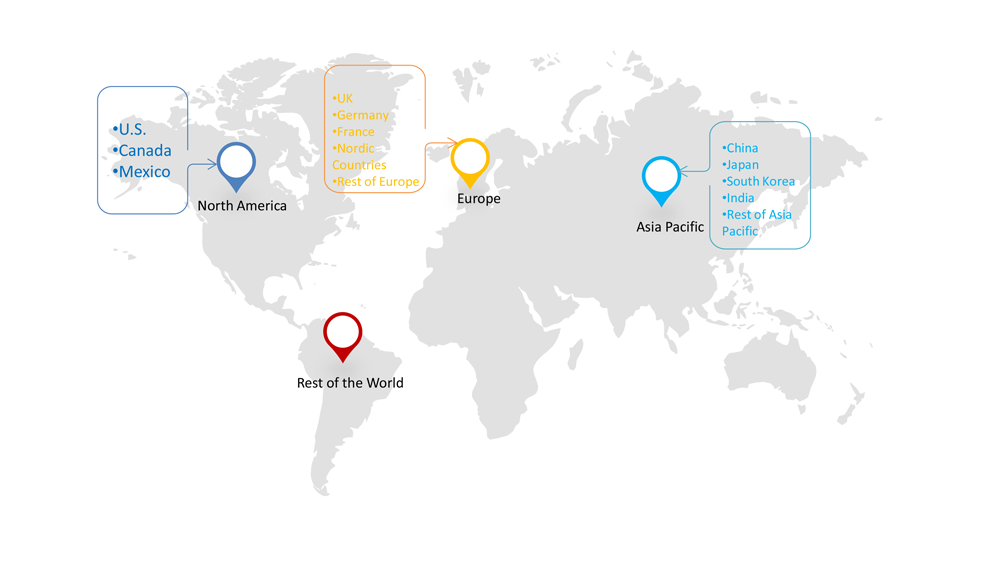 The optical fiber market is also analyzed based on the different region which includes North America, Europe, Asia-Pacific, and Rest of the World. Asia-Pacific region has dominated the market in 2019 due to the increased use of optic fiber cables in emerging economies such as India, China, and Japan. The government initiative such as the development of smart cities will also lead to the increasing demand for optic fiber cable in Asia-Pacific. North America is anticipated to grow at the highest CAGR from 2020 to 2026.
The some of the key players in of Optical Fiber Market include:
Fujikura Ltd.
Finisar Corporation
Corning Incorporated
Sterlite Technologies Ltd.
Furukawa Electric Co., Ltd.
Sumitomo Electric Industries, Ltd.
Tata Communications Ltd.
Finolex Cables Ltd.
General Cable Corporation
Reflex Photonics, Inc.
REPORT CONTENT BRIEF:
High level analysis of the current and future market trends and opportunities
Detailed analysis on current market drivers, restraining factors, and opportunities in the future
Historic market size for year 2019, and forecast from 2020 to 2027
Vendor market share analysis at each segment level
Competitor analysis with a detailed insight into its product segment, financial strength, and strategies adopted.
Identifies key strategies adopted including product launches and developments, mergers and acquisitions, joint ventures, collaborations and partnerships as well as funding taken and investment done, among others.