Category: Healthcare
Sub-Category: Healthcare Equipment
Price: $3,750
The electroencephalography (EEG) equipment market accounted for $1.49 billion in 2019, and is expected to reach $2.23 billion by 2026, registering a CAGR of 5.9% from 2020 to 2026. Electroencephalography (EEG) is an electrophysiological control device used to measure electrical activity in the brain. However, these electrical impulses are very weak and needs amplifier to increase the voltage. It is usually non-invasive, with electrodes mounted along the scalp, while invasive electrodes, such as electrocorticography, are sometimes used.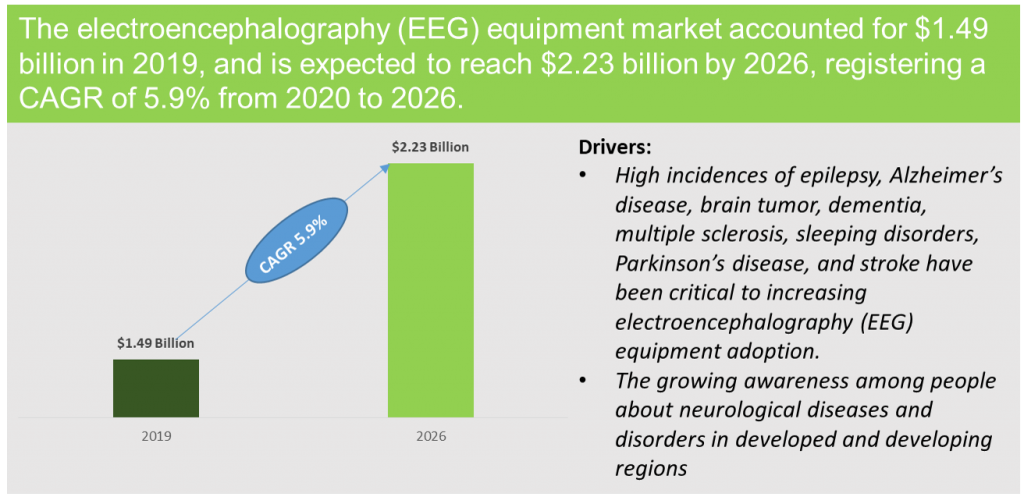 High incidences of epilepsy, Alzheimer's disease, brain tumor, dementia, multiple sclerosis, sleeping disorders, Parkinson's disease, and stroke have been critical to increasing electroencephalography (EEG) equipment adoption. According to the World Health organization (WHO), every year more than 50 million people are affected by epilepsy worldwide; and over 10 million people worldwide are suffering from Alzheimer's disease and dementia.
The growing awareness among people about neurological diseases and disorders in developed and developing regions is expected to impel the EEG equipment market growth over the next few years. Additionally, Increased government funding for neuroscience-related R&D activities is anticipated to significantly contribute towards the EEG market growth. Moreover, rapidly developing healthcare infrastructure along with the rise in spending power in certain Asian countries is expected to support the demand for advanced EEG equipment.
The increasing focus on cognitive psychology, neuroscience, and psychophysiological research activities are leading to higher demand for advanced EEG equipment. The major factors driving the EEG equipment market growth are increase in geriatric population, and the growing adoption of EEG equipment in surgery centers. In addition, technological advancements in the field of EEG is another factor that contributes to the growth of the global EEG equipment market.
The report covers extensive competitive intelligence which include following data points:
Business Overview
Business Model
Financial Data
Financial – Existing
Financial – Funding
Product Segment Analysis and specification
Recent Development and Company Strategy Analysis
SWOT Analysis
The report covers market sizing and forecasting at the country level as well as at the segment level. EEG equipment market is analyzed across below-mentioned different segments:
| Product | Application | End User |
| --- | --- | --- |
| EEG Equipment | Diseases Diagnosis | Hospitals |
| EEG Accessories | Sleep Monitoring | Diagnostic Centers |
| | Anesthesia Monitoring | Surgical Centers |
| | Trauma & Surgery | Research Laboratories |
| | Others | Others |
EEG equipment market is also analyzed across below-mentioned regions/countries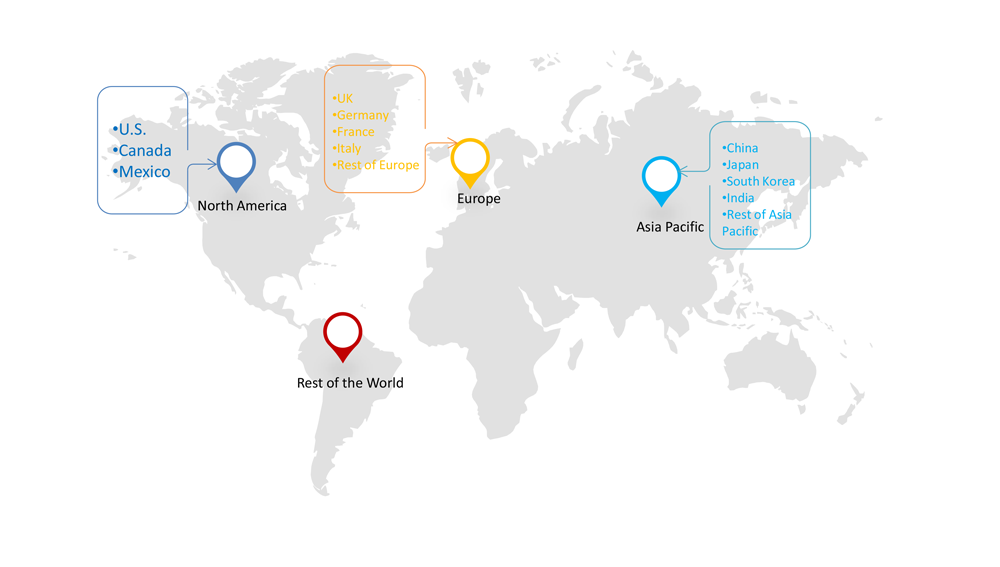 The some of the key players in of EEG equipment market include:
Advanced Brain Monitoring
Cadwell Industries
Cephalon
Compumedics
Fresenius
General Electric (GE Healthcare)
Koninklijke Philips (Philips Healthcare)
Medtronic
Natus Medical
Nihon Kohden
REPORT CONTENT BRIEF:
High level analysis of the current and future market trends and opportunities
Detailed analysis on current market drivers, restraining factors, and opportunities in the future
Market estimates for 2019 and forecast from 2020 to 2026
Vendor market share analysis at each product level
Competitor analysis with a detailed insight into its product segment, financial strength, and strategies adopted.
Identifies key strategies adopted including product launches and developments, mergers and acquisitions, joint ventures, collaborations and partnerships as well as funding taken and investment done, among others.