The Global & Australia Vocational Training is a program where a person receives the skills and knowledge required to do a job. In most cases, this training will be provided by a professional or employer at no charge. It can be completed in some different settings, including a specialist vocational school or a specific work environment. A vocational training program will depend on the needs of the student and it may not be a full-time job. This is a great way to get a foot in the door of a business and a great way to get a part-time job. It can also help millennials get started on having a successful career path.
| Parameters | Indicators |
| --- | --- |
| Market Size (2019) | $ 63,166.8 Million |
| CAGR (2021 to 2028) | 6.59% |
| Market Classification | Type, Program Type, RTO Types |
| Key Companies Profiled | Technical And Further Education (Tafe), Upskilled, Trainsmart Australia, Australian College Of Commerce And Management, Fms Training, Australis College Pty Ltd, Eynesbury College, Adelaide Institute Of Business And Technology, AHTS Training & Education, Skills Australia Institute |
| Key Countries/Regions Analyzed | US, Canada, Mexico, UK, Germany, France, Italy, Rest of Europe, China, India, Japan, South Korea, Rest of Asia Pacific, Middle East & Africa, and South America |
| Base Year | 2019 |
| Estimated Year | 2020 |
| Forecast Years | 2021 to 2027 |
Driving Factors
The factors driving the growth of the global & Australian Vocational Training market include a shift in the education sector, government support for skill development, and the rising demand for skilled manpower.
The Shift in Education Sector
The COVID19 pandemic is causing major seismic changes in the education industry. The internet and online classes are now becoming more and more popular than ever before as schools and universities all over the world begin to close due to this widespread outbreak. Higher education has taken a dramatic change as business leaders come up with new ways for their companies to provide training that can be accessed both inside and outside of the workplace.
According to data published by the World Economic Forum, there has been a sharp increase and demand for online education already. This rise can also be attributed to COVID19 and the global pandemic affecting people of all ages. There has been an increase in investment around online education with 18.66 billion dollars alone invested in 2019 alone as e-learning and vocational training continues to take off as a result of such innovation. With this outbreak comes a certain level of vulnerability as well.
Restraining factors
The major factor restraining the growth of the global & Australian Vocational Training market includes the demand for specific skill sets that is prone to change over time.
Key Insight in the report:
The Global & Australia Vocational Training market report covers Executive Summary, Market Dynamics, Trend Analysis, Market Size and Forecast, Competitive Intelligence, Market Positioning, Product Benchmarking, and Opportunity Analysis.
The report covers extensive competitive intelligence which includes the following data points:
Business Overview
Business Model
Financial Data
Financial – Existing
Financial – Funding
Product Segment Analysis and specification
Recent Development and Company Strategy Analysis
SWOT Analysis
Global & Australia Vocational Training Market Segmentation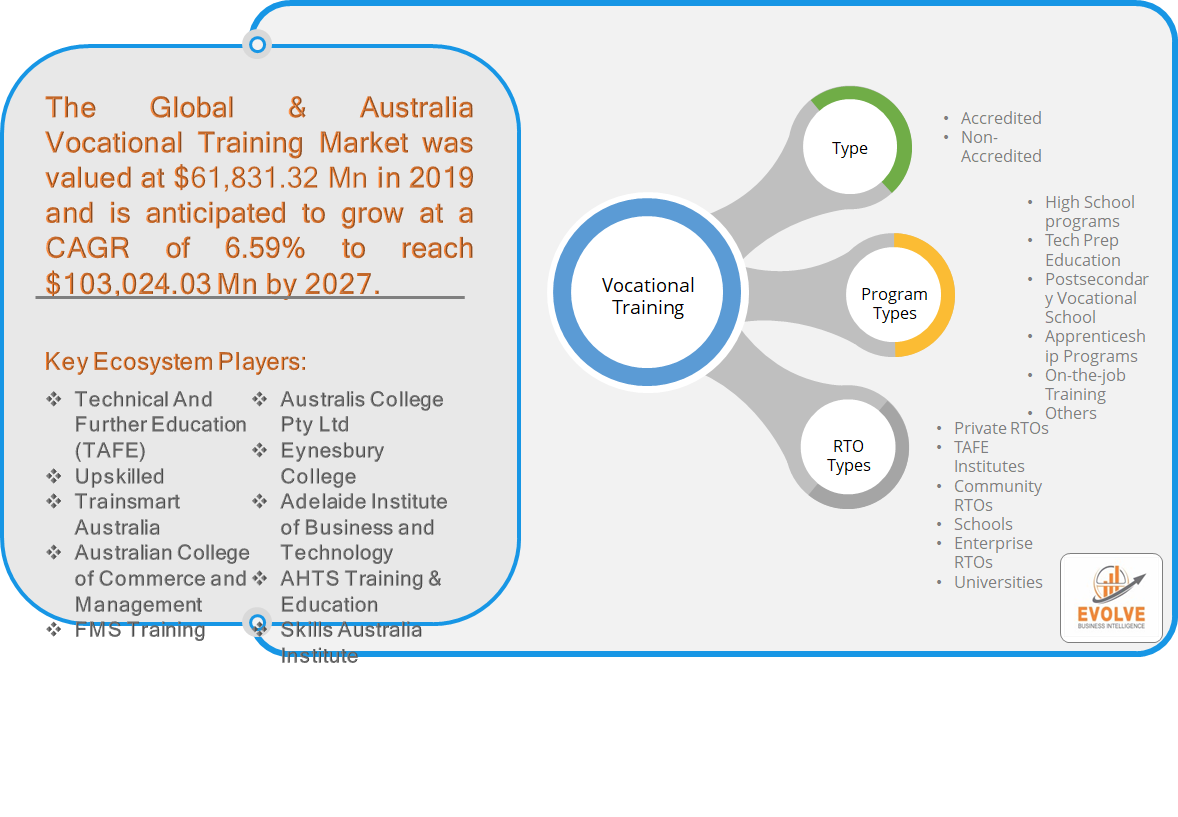 The report covers market sizing and forecasting at the country level as well as at the segment level. Global & Australia Vocational Training Market is analyzed across the below-mentioned different segments:
By Type
Accredited
Non-Accredited
By Program Types
●        High School programs

●        Tech Prep Education

●        Postsecondary Vocational School

●        Apprenticeship Programs

●        On-the-job Training
By RTO Types
Private RTOs
TAFE Institutes
Community RTOs
Schools
Enterprise RTOs
Regional analysis
North America is expected to be the fastest-growing region for vocational training over the forecasted period, as a result of a high number of trade schools and an increase in awareness about the skill gaps due to a lack of adequate workers with vocational skills required by employers. This, in turn, has led to an increase in investment from various public and private sector sources into trade schools from sectors such as automotive to plumbing thus increasing investment into specialized training. In the Asia Pacific, positive growth is expected as employers need increased skill development for office/industrial workers as well as students to undertake vocational courses that will help them build up their core competencies. A high number of institutions are raising investments into this sector which will then boost the demand for more skilled candidates for upcoming jobs.
Australia is expected to grow at the largest pace in the vocational training market due to the increase in large-scale mining and construction projects. Because of the importance of an efficient and skilled workforce, the importance of vocational training is rapidly growing and will continue its growth in the next five years.
The Global & Australia Vocational Training Market is analyzed across the below mentioned region.
North America
Europe

UK
Germany
France
Italy
Rest of Europe

Asia Pacific

China
Japan
South Korea
India
Rest of Asia Pacific

Australia
Rest of the World
Global & Australia Vocational Training Market Ecosystem Players:
Some of the key ecosystem players in of Global & Australia Vocational Training Market include:
Technical And Further Education (TAFE)
Upskilled
Train smart Australia
Australian College of Commerce and Management
FMS Training
Australis College Pty Ltd
Eynesbury College
Adelaide Institute of Business and Technology
AHTS Training & Education
Skills Australia Institute
REPORT CONTENT BRIEF:
High-level analysis of the current and future market trends and opportunities
Detailed analysis on current market drivers, restraining factors, and opportunities in the future
Global & Australia Vocational Training market historical market size for the year 2020, and forecast from 2021 to 2027
Global & Australia Vocational Training market share analysis at each product level
Competitor analysis with a detailed insight into its product segment, financial strength, and strategies adopted.
Identifies key strategies adopted including product launches and developments, mergers and acquisitions, joint ventures, collaborations, and partnerships as well as funding taken and investment done, among others.