Category: Industrial Automation & Equipment
Sub-Category: Component
Gasket and seals are largely used to seal the empty spaces between the coupling surfaces to avoid leakage and wastage of fluids and gas. They also help in maintaining the required pressure and avoid contamination from the external environmental condition. Gaskets are used to seal flanges that have a flat surface while seals are used to fill empty spaces between engine parts, pumps, and shafts that rotate. The gasket and seals have the property of withstanding high compressive loads. The most preferred material used for manufacturing gaskets and seals are silicone and rubber owing to their superior characteristics including high reliability, better strength, high flexibility, and resistance to high heat and pressure. The gasket and seals are widely used in aircraft engines, space systems, microelectronics, and automotive applications that require form-in-place sealing solutions with robotic accuracy. This is expected to drive the overall market over the forecast period.
The global gasket and seals market was estimated to be $ 60.7 billion in 2019 and is anticipated to grow at a CAGR of 4.1% from 2020 to 2027.
The major factors that have impacted the growth of the gasket and seal market are increasing efforts for improving product efficiency and increasing demand from automotive industries for improving fuel efficiency, among others.
Increasing efforts for improving component efficiency
The leakages caused in various industrial equipments involve losses in the form of material and labor costs for repairing. It also affects the environment and the resources. The sales of the equipments are also adversely impacted due to the downtime caused by such leaking industrial equipment and leading to other malfunctions. The leakage may result in an industrial accident that can not only involve personal injury but can also lead to irreparable damage to the brand image of the concerned company. Thus, in order to avoid such situations, and to increase the overall efficiency of the industrial equipments, there is an increasing need for advanced sealing systems and components in order to aid the growth of manufacturing industries. This in turn is expected to drive the demand for seal and gasket in the market.
Increasing demand from automotive industries:
The increasing sales and technological advancements for improving the fuel efficiency of the vehicles is expected to contribute towards gasket and seal market growth. They are used in various automobile parts and assemblies to avert gas and fluid leakage by filling the space among automotive components. The gaskets are used to sustain the pressure and avoid leakage of fluids as well as the entry of contaminated particles. The seal forestalls the lubricants and prevents the dust and other contaminants from entering the machinery. The seals and gaskets are made up of silicone rubbers which are light in weight and can withstand at high temperature thereby helping the manufacturer in downsizing the vehicle and enhancing the fuel efficiency. The growth of the automotive industry worldwide and increasing sales due to increasing stringent government reforms, improving economies, and increasing disposable income is expected to drive the gasket and seal market growth.
Key Insight in the report:
The global gasket and seal market report covers Executive Summary, Market Dynamics, Trend Analysis, Market Size and Forecast, Competitive Intelligence, Market Positioning, Gasket Type Benchmarking, and Opportunity Analysis.
The report covers extensive competitive intelligence which includes following data points:
Business Overview
Business Model
Financial Data
Financial – Existing
Financial – Funding
Gasket Type Segment Analysis and specification
Recent Development and Company Strategy Analysis
SWOT Analysis
The report covers market sizing and forecasting at the country level as well as at the segment level. Gasket and Seal Market is analyzed across below-mentioned different segments:
| Material | Gasket Type | Seal Type | Distribution Channel | Application |
| --- | --- | --- | --- | --- |
| Rubber | Metallic | O-ring seals | OEM | Automotive |
| Fiber | Non-Metallic | Valve Stem Seals | Aftermarket | Electrical & Electronics |
| Silicone | | Vent Seal | | Industrial & Manufacturing |
| Graphite | | Rotary Seal | | Aerospace |
| Polytetrafluoroethylene | | Shaft Seal | | Oil & Gas |
| Other | | Others | | Others |
Gasket and Seal Market is also analyzed across below-mentioned regions/countries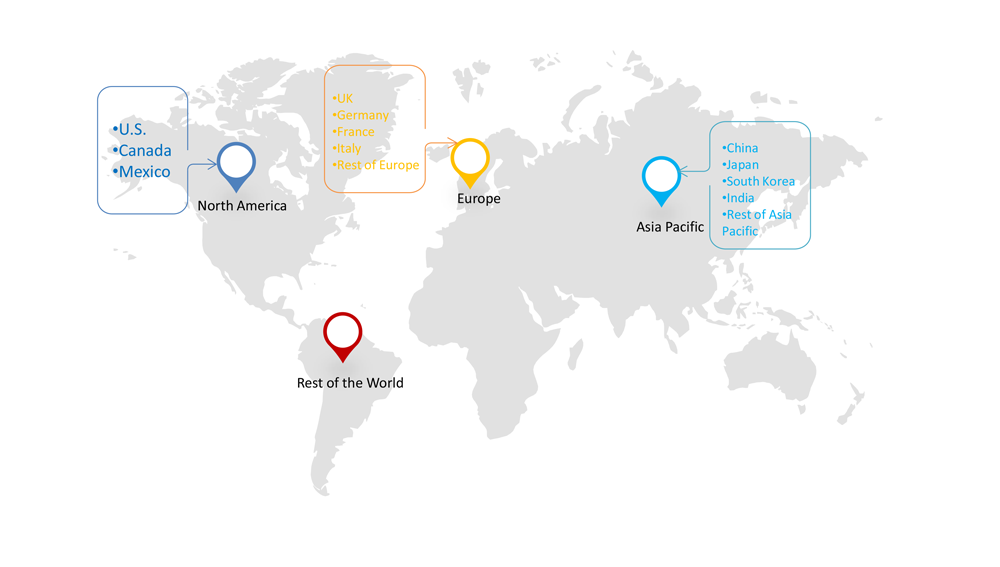 North America is expected to have a prominent market share for gasket and seal markets due to high disposable income and the presence of key market players in the region. Asia Pacific is anticipated to boost the Gasket and Seal market growth owing to the rising automotive manufacturing activities in emerging economies such as India and China due to the cheap availability of labor and other resources. Furthermore, increasing disposable income, increasing business investment, and rising urbanization are also projected to drive this market growth. Europe is expected to have a higher market share owing to increasing demand from the aerospace and defense sector.
Some of the key players in of Gasket and Seal Market include:
Dana Incorporated
Victor Gaskets India Limited
Freudenberg Sealing Technologies Gmbh & Co.
Smiths Group PLC
Datwyler Holding Inc.
ElringKlinger
Federal-Mogul Holdings Corporation
Flowserve Corporation
SKF Group
Trelleborg AB
REPORT CONTENT BRIEF:
High level analysis of the current and future market trends and opportunities
Detailed analysis on current market drivers, restraining factors, and opportunities in the future
Gasket and Seal market historical market size for year 2019, and forecast from 2020 to 2027
Vendor market share analysis at each Gasket Type level
Gasket and Seal Competitor analysis with a detailed insight into its Gasket Type segment, financial strength, and strategies adopted.
Identifies key strategies adopted by gasket and seal including Gasket Type launches and developments, mergers and acquisitions, joint ventures, collaborations and partnerships as well as funding taken and investment done, among others.