What Does This Global Zero Alcohol Beer Market Report Include?
Parameters
Values
Market Size and Forecast Years
2021 to 2023
Compounded Average Growth Rate (CAGR)
First 5 Years CAGR (2023–2028)

Last 5 Years CAGR (2028–2033)

10 Years CAGR (2023–2033)

Year-over-Year Growth Depiction
Included
Market Opportunity Score
Included
Market Dynamics or Impacting Factors
Included
Market Dynamics Impact Analysis
Included
PORTER's Five Forces Analysis (in Brief)
Included (Detailed Analysis Can be included on Demand)
Segments Included
By Product
Frozen Ready meals
Frozen seafood
Frozen meat and poultry
Frozen fruit and vegetables
Frozen potatoes
Frozen soupsBy Application
Foodservice industry
Retail users
Regions Included
North America, Europe, Asia Pacific, Latin America, and Middle East & Africa
Countries Included
U.S., Canada, Mexico, U.K., Germany, France, Italy, Spain, BeNeLux, Russia, China, Japan, India, South Korea, Thailand, Indonesia, Malaysia, Australia, Brazil, Argentina, Saudi Arabia, UAE, Egypt, and South Africa
Competitor Benchmarking
Included
Company/Vendor Market Share Analysis
Included
Key Development Analysis for top 5 Companies
Included
Market Share Acquisition Key Strategies
Included
Key Market Players
Conagra Brands Inc, Kellogg Company, Ajinomoto Co Inc, Nestle, Aryzta, General Mills Inc, Cargill Incorporated, Associated British Foods, The Kraft Heinz Company, JBS S.A.

* This section is completely customizable upto 15 companies; you can share the list of companies you want us to profile and we will include them in the final report for you
Frozen Food Market Overview
The Frozen Food Market Size is expected to reach USD 699.8 Billion by 2033. The Frozen Food industry size accounted for USD 433.7 Billion in 2023 and is expected to expand at a compound annual growth rate (CAGR) of 4.9% from 2023 to 2033. Frozen food refers to food products that have been preserved through the process of freezing, wherein the food is subjected to extremely low temperatures, typically below 0 degrees Celsius (32 degrees Fahrenheit), to maintain its quality, nutritional value, and sensory attributes for an extended period. This preservation technique inhibits the growth of microorganisms and enzymatic activity, thereby slowing down the deterioration of the food. Frozen food encompasses a wide range of products, including raw ingredients, pre-cooked meals, snacks, desserts, and fully prepared dishes, which are typically packaged in airtight containers or bags to prevent freezer burn and maintain product integrity. The frozen food industry is characterized by its convenience, extended shelf life, and diverse product offerings catering to consumer preferences and needs.
Global Frozen Food Market Synopsis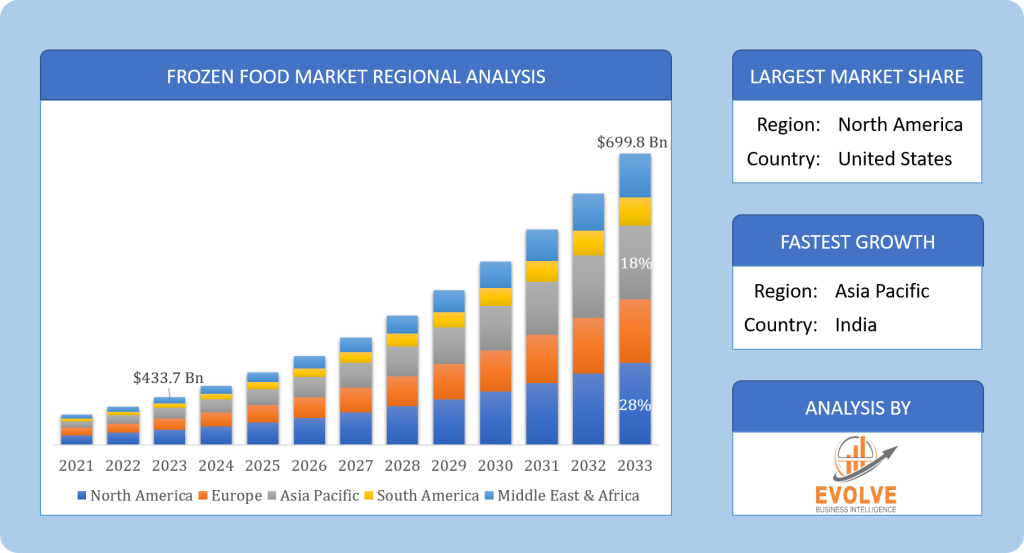 COVID-19 Impact Analysis
The frozen food market was significantly influenced by the COVID-19 pandemic, as global lockdowns and restrictions were implemented to mitigate the virus's spread. In response, consumers increasingly embraced frozen food as a convenient and safe choice. Panic buying and stockpiling created a surge in demand for frozen products, ranging from vegetables and fruits to meat and ready-to-eat meals. The extended shelf life of frozen food allowed consumers to minimize visits to grocery stores and maintain a supply of essential items. Furthermore, the closure of restaurants and food service establishments further bolstered frozen food sales, as individuals sought alternatives to dining out. While the initial surge in demand was notable, the market observed a shift in consumer behavior, with more people incorporating frozen food as a regular component of their meal planning, even as pandemic restrictions eased. This sustained demand is anticipated to have a long-lasting impact on the market, compelling manufacturers to expand their product portfolios and invest in innovative frozen food solutions to cater to evolving consumer preferences.
Frozen Food Market Dynamics
The major factors that have impacted the growth of Frozen Food are as follows:
Drivers:
Technological Advancements
Rapid improvements in freezing and packaging technologies have played a pivotal role in enhancing the quality and variety of frozen food products, thereby attracting a larger consumer base. These advancements have revolutionized the frozen food industry, ensuring that frozen products maintain their taste, texture, and nutritional value while offering a wider range of options to cater to diverse consumer preferences. Freezing technologies have evolved to minimize the formation of ice crystals and preserve the natural flavors and textures of the food. Quick freezing methods, such as blast freezing and cryogenic freezing using liquid nitrogen, enable rapid freezing, which prevents the formation of large ice crystals that can damage the food's integrity. This results in better retention of nutrients, flavors, and textures compared to slower freezing methods.
Restraint:
Perception of Lower Quality
Some consumers hold the perception that frozen food is of lower quality compared to fresh alternatives, which can impact their willingness to purchase frozen products. This perception stems from various factors, including misconceptions about the nutritional value, taste, and texture of frozen food. Some consumers believe that frozen food lacks the freshness and flavor of freshly prepared meals. Additionally, concerns about the presence of preservatives and additives in frozen food products can contribute to the perception of lower quality. While the frozen food industry has made significant advancements in preserving the taste, texture, and nutritional value of frozen products, dispelling these misconceptions and educating consumers about the quality and benefits of frozen food remains a challenge. Manufacturers and retailers need to focus on transparent labeling, highlighting the quality and nutritional aspects of their frozen food offerings, and promoting awareness of the advancements in freezing technologies to address consumer concerns and change the perception of lower quality.
Opportunity:
Growing demand for healthier food options
The growing demand for healthier food options presents a significant opportunity for the development of nutritious and wholesome frozen food products. As consumers become more health-conscious and prioritize their well-being, they are seeking convenient yet nutritious meal solutions. This trend has led to a shift in the frozen food market, with manufacturers focusing on creating products that align with consumer preferences for healthier ingredients, reduced sodium, lower saturated fats, and increased natural or organic options. The development of healthier frozen food options involves incorporating high-quality ingredients, such as whole grains, lean proteins, and a variety of fruits and vegetables. Manufacturers are also exploring innovative freezing techniques to retain the nutritional value and freshness of the ingredients. This includes flash-freezing methods that preserve the taste, texture, and nutrient content of the food.
Frozen Food Segment Overview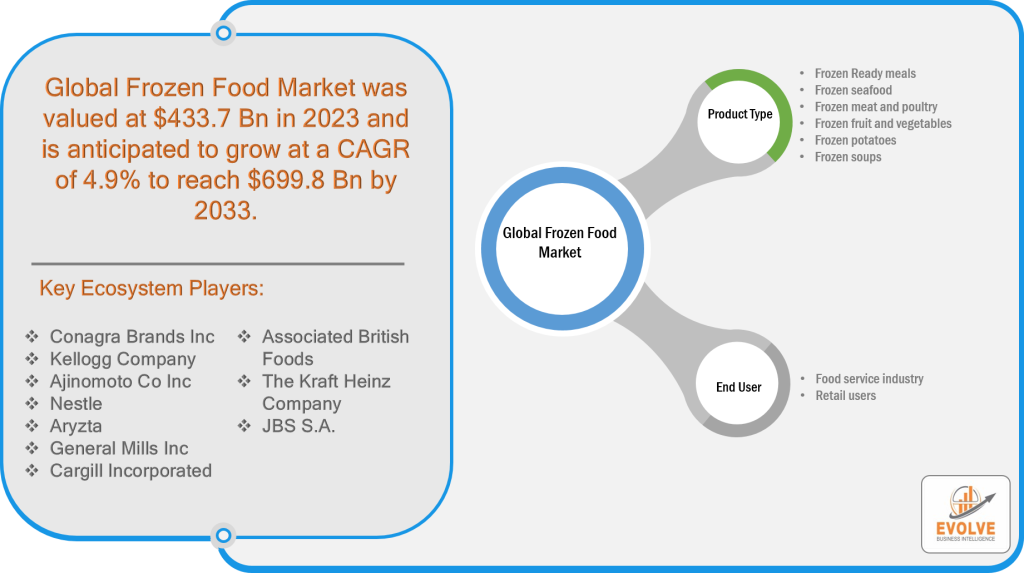 By Product Type
Based on Product Type, the market is segmented based on Frozen Ready meals, Frozen seafood, Frozen meat and poultry, Frozen fruit and vegetables, Frozen potatoes, and Frozen soups. The Frozen Ready Meals segment is expected to witness significant growth during the forecast period. This growth can be attributed to several factors. the increasing pace of modern lifestyles and busy work schedules has led to a growing demand for convenient and time-saving meal solutions. Frozen Ready Meals offer a quick and hassle-free option for individuals and families seeking ready-to-eat or easy-to-prepare meals without compromising on taste and quality. Additionally, the advancements in freezing and packaging technologies have significantly improved the quality and variety of frozen-ready meals available in the market, appealing to a wider consumer base.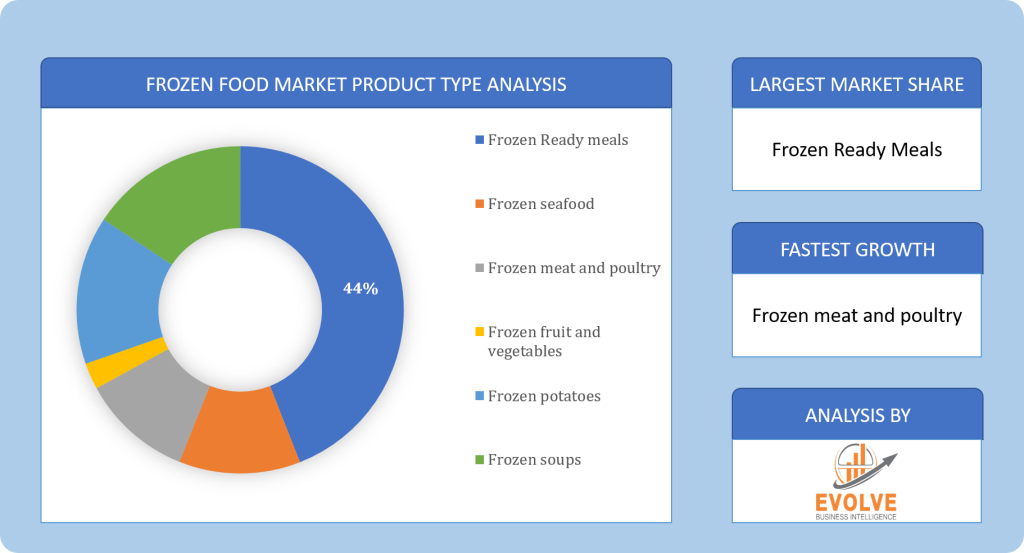 By End User
Based on End Users, the market has been divided into the Foodservice industry, Retail users. The food service industry dominates the Frozen Food Market. This sector encompasses restaurants, cafes, hotels, catering services, and other establishments that provide prepared meals to consumers. The demand for frozen food from the food service industry is driven by various factors, including the need for convenient and time-efficient food preparation, cost-effectiveness, and the ability to offer a wide range of menu options. Frozen food allows food service providers to streamline their operations, reduce food waste, and ensure consistent quality and taste.
Global Frozen Food Market Regional Analysis
Based on region, the global Frozen Food market has been divided into North America, Europe, Asia-Pacific, the Middle East & Africa, and Latin America. North America is projected to dominate the use of the Frozen Food market followed by the Asia-Pacific and Europe regions.
North America Market
North America holds a dominant position in the Frozen Food Market. The region's dominance can be attributed to various factors. The busy lifestyles of consumers in North America have led to high demand for convenient and time-saving food options, making frozen food a popular choice. Additionally, the well-developed infrastructure and distribution networks in the region ensure the widespread availability of frozen food products across retail channels. Furthermore, North America has a mature food service industry, with a high prevalence of restaurants, fast-food chains, and other food service establishments that heavily rely on frozen food for their operations. The region also has a strong culture of frozen food consumption, with a wide variety of products catering to different tastes and dietary preferences.
Asia-Pacific Market
The Asia-Pacific region has indeed emerged as the fastest-growing market for the Frozen Food industry. Several factors have contributed to this growth. Rapid urbanization and changing lifestyles in countries such as China, India, Japan, and South Korea have led to an increased demand for convenient and time-saving food options, including frozen food. As more people join the workforce and face time constraints, the need for quick and easy meal solutions has driven the growth of the frozen food market in the region. Additionally, rising disposable incomes and expanding middle-class populations have led to changes in dietary habits, with consumers seeking a greater variety of food choices, including frozen food products. Furthermore, the advancements in freezing technologies and cold chain infrastructure have improved the quality and accessibility of frozen food in the region.
Competitive Landscape
The global Frozen Food market is highly competitive, with numerous players offering a wide range of software solutions. The competitive landscape is characterized by the presence of established companies, as well as emerging startups and niche players. To increase their market position and attract a wide consumer base, the businesses are employing various strategies, such as product launches, and strategic alliances.
Prominent Players:
Conagra Brands Inc
Kellogg Company
Ajinomoto Co Inc
Nestle
Aryzta
General Mills Inc
Cargill Incorporated
Associated British Foods
The Kraft Heinz Company
JBS S.A.
Key Development
In March 2023, The Kraft Heinz Company extended its existing partnership with BEES, a digital sales platform. The objective of this expansion is to streamline and digitize the sales process of The Kraft Heinz Company, enabling them to enhance their business operations in Mexico, Colombia, and Peru.
In October 2022, General Mills, Inc., announced a collaboration between its brand Progresso and the renowned chef and restaurateur Carla Hall. This partnership aims to spark creativity and introduce exciting soup pairings that offer delightful flavors.
Scope of the Report
Global Frozen Food Market, by Product
Frozen Ready meals
Frozen seafood
Frozen meat and poultry
Frozen fruit and vegetables
Frozen potatoes
Frozen soups
Global Frozen Food Market, by Application
Foodservice industry
Retail users
Global Frozen Food Market, by Region
North America
Europe

UK
Germany
France
Italy
Spain
Benelux
Nordic
Rest of Europe

Asia Pacific

China
Japan
South Korea
Indonesia
Australia
Malaysia
India
Rest of Asia Pacific

South America

Brazil
Argentina
Rest of South America

Middle East & Africa

Saudi Arabia
UAE
Egypt
South Africa
Rest of Middle East & Africa
Parameters
Values
Market Size
2033: USD 699.8 Billion
Compounded Average Growth Rate (CAGR) 2023 to 2033
4.9%
Base Year
2022
Forecast Period
2023 to 2033
Historical Data
2021 (2017 to 2020 On Demand)
Report Coverage
Revenue Forecast, Competitive Landscape, Growth Factors, and Trends
Key Segmentations
Product Type, End User
Key Market Opportunities
The growing demand for healthier food options
The rise of e-commerce and online food delivery platforms
Key Market Drivers
Technological Advancements
Increasing Urbanization
Geographies Covered
North America, Europe, Asia-Pacific, South America, Middle East, Africa
Key Vendors
Conagra Brands Inc, Kellogg Company, Ajinomoto Co Inc, Nestle, Aryzta, General Mills Inc, Cargill Incorporated, Associated British Foods, The Kraft Heinz Company, JBS S.A.
Report Content Brief:
High-level analysis of the current and future Frozen Food market trends and opportunities
Detailed analysis of current market drivers, restraining factors, and opportunities in the future
Frozen Food market historical market size for the year 2021, and forecast from 2023 to 2033
Frozen Food market share analysis at each product level
Competitor analysis with detailed insight into its product segment, Government & Defense strength, and strategies adopted.
Identifies key strategies adopted including product launches and developments, mergers and acquisitions, joint ventures, collaborations, and partnerships as well as funding taken and investment done, among others.
To identify and understand the various factors involved in the global Frozen Food market affected by the pandemic
To provide a detailed insight into the major companies operating in the market. The profiling will include the Government & Defense health of the company's past 2-3 years with segmental and regional revenue breakup, product offering, recent developments, SWOT analysis, and key strategies.