Category: Semiconductor and Electronics
Sub-category: Electronic Devices
A 3D scanner is a device that captures three-dimensional attributes of an object as well as other information such as color and texture. 3D scanners aid in saving efforts, cost, and time in the manufacturing process and hence improves the quality of the output produced. It captures the various attributes of an object by using lights, lasers, or x-rays and forms point clouds, which produces a 3D representation of the object. Various sectors make use of 3D scanners such as automotive, construction, entertainment and media, healthcare, and aerospace and defense, among others. Manufacturing time and product development time are reduced significantly with the use of 3D scanners.
Regional analysis
The Asia Pacific is estimated to witness significant growth owing to increasing industrialization in developing economies such as China and India; this will lead to the considerable contribution of the aforementioned countries in the global 3D scanning market in the near future. Furthermore, several other driving factors include rising demand for customized implants in medical applications to facilitate quicker and smoother recovery and a rising number of dental restoration surgeries and engineering and infrastructure projects. North America contributes the highest share in the global 3D Scanning market. This is attributed to the significant adoption of technology in the automotive sector, environmental scanning, and modeling operations as well as increasing investments in research and development activities.
Driving factors
The drivers of the 3D scanning market include a rise in the use of high definition content recording for movies, historical site preservation by 3D scanners, and increasing demand for 3D printing.
Historical site preservation
3D scanners are used to maintain as well as preserve historical sites as well as monuments. In the European region, there are various government regulations regarding the maintenance of such historical monuments and sites which is expected to boost the 3D scanner market growth. The laser scanners help to capture every single detail of the object which is extremely beneficial for maintenance as well as restoration of the object. A high focus on increasing tourism in Asia is estimated to help the growth of the 3D scanner market in the region. 3D scanners also help to provide a high level of quality inspection of historical sites and monuments.
Technology Advancement
3D scanners can be of great use in the archeological sector and manufacturers have started targeting this segment to boost sales and driving the 3D scanning market. The constant and rapid innovations and advancements in technology have led to the development of highly sophisticated imaging applications. The 3D scanners are used to supports sophisticated imaging and printing applications enormously. Laser 3D scanning is used in the entertainment and media sector and is gaining popularity in the healthcare segment as well. Industries such as mining, construction, and civil infrastructure also have a high demand for 3D scanners. Therefore, the need for sophisticated and advanced technology is fueling the demand for the 3D scanning market.
Historical monuments and structures are an integral part of any culture and place. They leave behind traces and evidence of our ancestors and the lives that they have lived. Due to various factors such as natural calamities, wear and tear, man-made destruction among others damage these monuments and sites.
Restraining factors
Despite the fact that there are various benefits, 3D scanners are quite expensive which is a major constraint in the growth of the 3D scanning market. 3D scanners are generally required by companies or customers who need sophisticated technology. Unfortunately, the market consists of a large number of small and medium-sized businesses that cannot afford such technology. Since customers are price sensitive they don't tend to buy 3D scanners which are expected to restrict the 3D scanning market growth.
Key Insight in the report:
The Global 3D Scanning market report covers Executive Summary, Market Dynamics, Trend Analysis, Market Size and Forecast, Competitive Intelligence, Market Positioning, Product Benchmarking, and Opportunity Analysis.
The report covers extensive competitive intelligence which includes the following data points:
Business Overview
Business Model
Financial Data
Financial – Existing
Financial – Funding
Product Segment Analysis and specification
Recent Development and Company Strategy Analysis
SWOT Analysis
The report covers market sizing and forecasting at the country level as well as at the segment level. The 3D scanning market is analyzed across the below-mentioned different segments:
| | | | | |
| --- | --- | --- | --- | --- |
| Offerings | Type | Range | Services | Industry Vertical |
| Hardware | Optical Scanners | Short Range Scanner | Reverse Engineering | Entertainment & Media |
| Software | Laser Scanner | Medium Range Scanner | Rapid Prototyping | Aerospace & Defense |
| Services | Structured Light Scanners | Long Range Scanner | Face Body Scanning | Healthcare |
| | | | | Civil & Architecture |
| | | | | Industrial Manufacturing |
| | | | | Others |
3D Scanning Market is also analyzed across below-mentioned regions/countries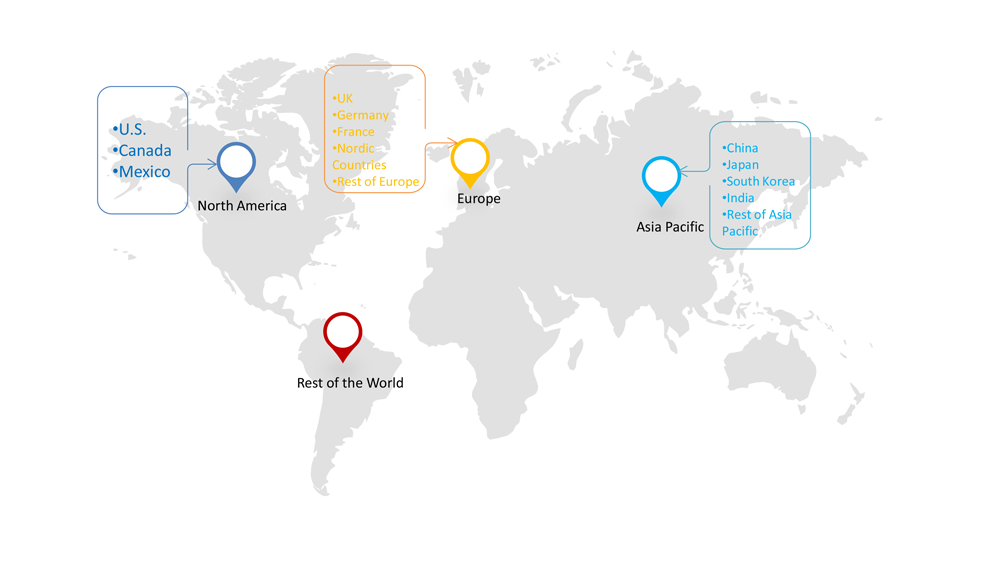 Segmentation
The global 3D Scanning market is categorized by offering, type, range, services, and industry vertical. By Offering the market is segmented into Hardware, Software, and Services. By Type, it is segmented into Optical scanners, Laser scanners, and Structured light scanners. Based on the range, it is divided as Short-range scanner, Medium-range scanner, and Long-range scanner. By Services it is further bifurcated into Reverse engineering, Quality inspection, Rapid prototyping, and Face body scanning. Based on industry vertical, it is classified as Entertainment & Media, Aerospace & Defense, Healthcare, Civil & architecture, Industrial manufacturing, and others. By region, it is further sub-divided into North America, Europe, Asia Pacific, and the Rest of the World.
Some of the key players in of the 3D Scanning Market include:
Faro Technologies Inc.
Creaform Inc.
Direct Dimensions Inc.
GOM mbH
Konica Minolta Inc.
3D Digital Corporation
Autodesk Inc.
3D Systems Inc.
ShapeGrabber
Maptek Pty Ltd.
Recent developments
In March 2020, Faro Technologies Inc. announced its most recent iteration of CAM2 2020 Software which comprises of various new performance and user interface improvements, a new subscription licensing option, and multiple features. This latest innovation will help users to obtain greater control over their entire manufacturing process at a lesser up-front cost.
REPORT CONTENT BRIEF:
High level analysis of the current and future market trends and opportunities
Detailed analysis on current market drivers, restraining factors, and opportunities in the future
Digital-out-of-Home market historical market size for year 2020, and forecast from 2021 to 2028
Vendor market share analysis at each product level
Competitor analysis with a detailed insight into its product segment, financial strength, and strategies adopted.
Identifies key strategies adopted including product launches and developments, mergers and acquisitions, joint ventures, collaborations and partnerships as well as funding taken and investment done, among others.