ZincMarket Overview
The global Zinc Market Size is expected to reach USD 95.60 Billion by 2033. The global Zincindustry size accounted for USD 34.18 billion in 2023 and is expected to expand at a compound annual growth rate (CAGR) of 10.83% from 2023 to 2033. The zinc market plays a vital role in various industries due to the diverse range of applications of this versatile metal. Zinc, a bluish-white lustrous element, is widely used for its unique properties such as corrosion resistance, excellent electrical conductivity, and high malleability. With its extensive utilization across multiple sectors, including construction, transportation, consumer goods, and more, zinc has become an indispensable component in various products and manufacturing processes.
Zinc finds significant application in the galvanizing industry, where it is used as a protective coating for steel and iron structures, providing them with enhanced durability and preventing corrosion. Moreover, zinc's exceptional properties make it a preferred choice for die casting, a process used to manufacture intricate components for automotive, electronics, and construction sectors. Additionally, zinc compounds are employed in diverse sectors, such as pharmaceuticals, agriculture, and rubber industries, highlighting the versatility of this metal.
Global Zinc Market Synopsis
The outbreak of the COVID-19 pandemic had a significant impact on the zinc market, causing disruptions across the supply chain and demand dynamics. The stringent lockdown measures and travel restrictions imposed worldwide hampered manufacturing activities, leading to a decrease in zinc consumption. Moreover, the automotive and construction industries, major consumers of zinc, faced a downturn due to the economic uncertainties and reduced consumer spending during the pandemic.
However, as the world emerges from the crisis, the zinc market is gradually recovering, driven by the resumption of economic activities and increased demand from various sectors. The post-COVID scenario presents an opportunity for the zinc market to rebound and thrive as industries resume their growth trajectories.
ZincMarket Dynamics
The major factors that have impacted the growth of Zinc are as follows:
Drivers:
Ø  The Role of Zinc in the Renewable Energy Revolution
One of the driving factors shaping the zinc market's future is the growing demand for renewable energy sources. As the world embraces sustainability and aims to reduce carbon emissions, renewable energy installations are witnessing a significant surge. Zinc plays a crucial role in this transition, particularly in the photovoltaic (PV) sector. Zinc is a vital component in the production of thin-film solar cells and battery technologies used in solar panels and energy storage systems.
With the increasing adoption of solar power and the expansion of photovoltaic installations, the demand for zinc is expected to rise substantially. The renewable energy sector's growth offers a promising avenue for the zinc market, as the metal's unique properties make it an ideal choice for energy storage applications, contributing to a cleaner and greener future.
Restraint:
Fluctuating Raw Material Prices
While the zinc market presents immense potential, it also faces certain restraining factors. One significant challenge is the fluctuation in raw material prices, which impacts the overall market dynamics. The price of zinc is influenced by factors such as supply-demand dynamics, global economic conditions, and geopolitical events. Volatile raw material prices pose challenges for market players, including manufacturers and end-users, as they have to navigate through uncertain pricing scenarios.
Such price volatility can disrupt supply chains and create uncertainties, impacting the profitability of businesses associated with the zinc market. Additionally, price fluctuations may also lead to shifts in consumer preferences, as they seek cost-effective alternatives. Mitigating the effects of price volatility and ensuring a stable market environment is crucial for the sustainable growth of the zinc industry.
Opportunity:
⮚      Zinc's Role in Green Infrastructure Development
One of the significant opportunities for the zinc market lies in the growth of the global infrastructure sector, particularly in the context of sustainable and green infrastructure development. As countries around the world strive to transition towards a low-carbon economy and reduce their environmental footprint, there is a growing focus on investing in green infrastructure projects.
Zinc plays a crucial role in this paradigm shift due to its unique properties and applications. In sustainable construction, zinc-coated steel is widely used for roofing, cladding, and façade systems, providing durability and resistance to harsh weather conditions. Zinc is also utilized in the production of galvanized steel structures, which are used in bridges, highways, and other infrastructure projects.
Moreover, zinc is an essential component in the manufacturing of electric vehicle (EV) batteries, which are key to the advancement of sustainable transportation. As the demand for EVs continues to rise, the zinc market stands to benefit from increased consumption in the automotive sector.
Zinc Segment Overview
By Form
Based on the Form, the market is segmented based on Power, and Sheet. the Power segment holds the largest share of the Zinc market. Powdered zinc is widely used in various industries, including chemical manufacturing, paint production, and pharmaceuticals. It is valued for its versatility and ease of use in different applications. On the other hand, zinc sheets find extensive usage in the construction and roofing industries due to their durability, corrosion resistance, and aesthetic appeal.
By End-Use Industries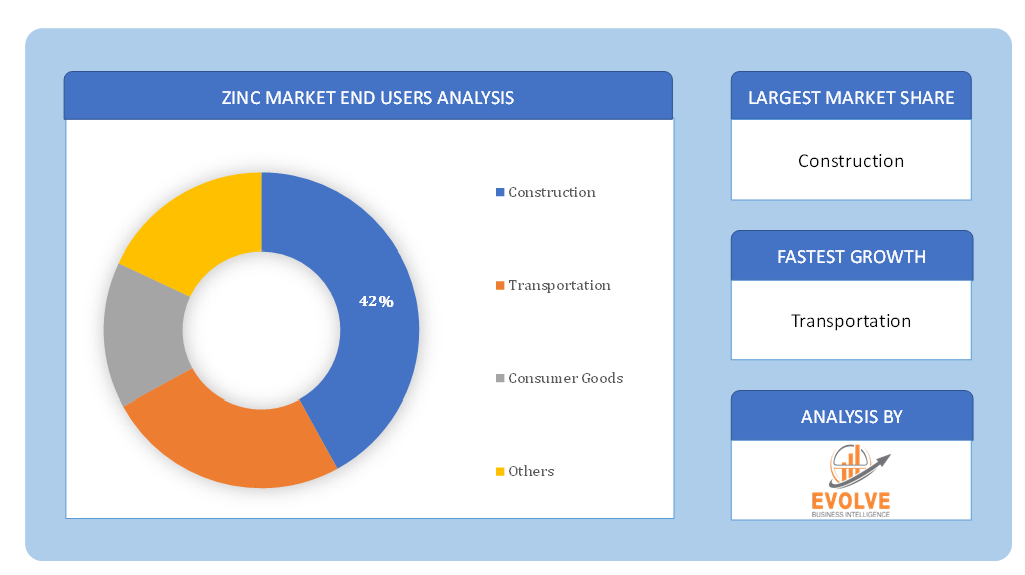 Based on End-Use Industries, the market has been divided into Construction, and Transportation, Consumer Goods, and Others. The Construction segment holds the largest share of the market.  The construction sector, driven by infrastructure development and urbanization projects, holds a substantial share in the zinc market. Zinc-coated steel is extensively used in roofing, cladding, and structural applications, providing durability and protection against corrosion.
Global Zinc Market Regional Analysis
Based on region, the global Logistics Intelligence Softwaremarket has been divided into North America, Europe, Asia-Pacific, South America and Middle East & Africa. North America is projected to dominate the use of the market followed by the Europe and Asia-Pacific regions.
North America Market
In North America, the United States is a major consumer of zinc, driven by the thriving construction and automotive sectors. The country's robust infrastructure development and the increasing demand for electric vehicles contribute to the steady growth of the zinc market. Additionally, Canada plays a vital role in the zinc industry, with its rich zinc reserves and mining operations.
Asia Pacific Market
Asia Pacific is a prominent player in the zinc market, both in terms of production and consumption. China, in particular, holds a significant share in the global zinc market. The country's expanding construction industry, rapid urbanization, and infrastructure development projects drive the demand for zinc. Moreover, India, Japan, and South Korea also contribute significantly to the growth of the zinc market in the region.
Competitive Landscape
The global 3D Carmera market is highly competitive, with numerous players offering a wide range of software solutions. The competitive landscape is characterized by the presence of established companies, as well as emerging startups and niche players. To increase their market position and attract a wide consumer base, the businesses are employing various strategies, such as product launches, and strategic alliances.
Prominent Players:
American Chemet Corporation
Changsha Lantian Chemical Co. Ltd.
EverZinc
Flaurea Chemicals
Global Chemical Co. Ltd
Hakusui Tech
Intermediate Chemicals Company
Brügge­mann GmbH & Co. KG
Nexa
Old Bridge Chemicals Inc.
Key Development:
April 2023: EverZinc, a leading global producer of zinc chemicals, made a significant development. The company announced the expansion of its production capacity to meet the growing demand for zinc chemicals in various industries. The expansion includes the establishment of a new manufacturing facility equipped with advanced technologies to enhance efficiency and productivity.
Scope of the Report
Global Zinc Market, by Form
Global Zinc Market, by End-Use Industries
Construction
Transportation
Consumer Goods
Others
Global Zinc Market, by Application
Galvanizing
Die Casting
Others
Global Zinc Market, by Region
North America
Europe

UK
Germany
France
Italy
Spain
Benelux
Nordic
Rest of Europe

Asia Pacific

China
Japan
South Korea
Indonesia
Austalia
Malaysia
India
Rest of Asia Pacific

South America

Brazil
Argentina
Rest of SouthAmerica

Middle East &Africa

Saudi Arabia
UAE
Egypt
SouthAfrica
Rest of Middle East & Africa
| Parameters | Indicators |
| --- | --- |
| Market Size | 2033: $95.60 Billion |
| CAGR | 10.83% CAGR (2023-2033) |
| Base year | 2022 |
| Forecast Period | 2023-2033 |
| Historical Data | 2021 |
| Report Coverage | Revenue Forecast, Competitive Landscape, Growth Factors, and Trends |
| Key Segmentations | Form,End-Use Industries, Application |
| Geographies Covered | North America, Europe, Asia-Pacific, Latin America, Middle East, Africa |
| Key Vendors | American Chemet Corporation, Changsha Lantian Chemical Co. Ltd., EverZinc, Flaurea Chemicals, Global Chemical Co. Ltd, Hakusui Tech, Intermediate Chemicals Company, Brügge­mann GmbH & Co. KG, Nexa, and Old Bridge Chemicals Inc.. |
| Key Market Opportunities | Zinc's Role in Green Infrastructure Development |
| Key Market Drivers | Sustainable Growth in Renewable Energy Sector |
REPORT CONTENT BRIEF:
High-level analysis of the current and future Zinc market trends and opportunities
Detailed analysis of current market drivers, restraining factors, and opportunities in the future
Zinc market historical market size for the year 2021, and forecast from 2023 to 2033
Zinc market share analysis at each product level
Competitor analysis with a detailed insight into its product segment, Transportation strength, and strategies adopted.
Identifies key strategies adopted including product launches and developments, mergers and acquisitions, joint ventures, collaborations, and partnerships as well as funding taken and investment done, among others.
To identify and understand the various factors involved in the global Zinc market affected by the pandemic
To provide a detailed insight into the major companies operating in the market. The profiling will include the Transportation health of the company's past 2-3 years with segmental and regional revenue breakup, product offering, recent developments, SWOT analysis, and key strategies.
Frequently Asked Questions (FAQ)
1. What is the study period of this market?
The study period of the global Zinc market is 2021- 2033
2. What is the growth rate of the global Zinc market?
The global Zinc market is growing at a CAGR of 10.83% over the next 10 years
3. Which region has the highest growth rate in the market of Zinc?
North America is expected to register the highest CAGR during 2023-2033
4. Which region has the largest share of the global Zinc market?
Asia Pacific holds the largest share in 2022
5. Who are the key players in the global Zinc market?
American Chemet Corporation, Changsha Lantian Chemical Co. Ltd., EverZinc, Flaurea Chemicals, Global Chemical Co. Ltd, Hakusui Tech, Intermediate Chemicals Company, Brügge­mann GmbH & Co. KG, Nexa, and Old Bridge Chemicals Inc. are the major companies operating in the market.
6. Do you offer Post Sale Support?
Yes, we offer 16 hours of analyst support to solve the queries
7. Do you sell particular sections of a report?
Yes, we provide regional as well as country-level reports. Other than this we also provide a sectional report. Please get in contact with our sales representatives.