Mycelium Market Overview
The Mycelium Market Size is expected to reach USD 0.94 Billion by 2033. The Mycelium industry size accounted for USD 0.17 Billion in 2023 and is expected to expand at a CAGR of 27.5% from 2023 to 2033. Mycelium is the vegetative and often underground part of a fungus, consisting of a network of thread-like structures called hyphae. It serves as the primary mode of nutrient absorption and distribution for the fungus, allowing it to extract essential nutrients and water from its surrounding environment. Mycelium plays a crucial role in the decomposition of organic matter, aiding in the recycling of nutrients in ecosystems, and it can form extensive, interconnected networks known as mycorrhizae with the roots of plants, facilitating a mutually beneficial exchange of resources. Additionally, mycelium has gained recognition for its potential in various applications, including bioremediation, agriculture, and the production of sustainable materials like mycelium-based packaging.
Global Mycelium Market Synopsis
The COVID-19 pandemic had an unforeseen positive effect on the mycelium market as it heightened awareness of sustainability and the need for eco-friendly alternatives. With increased interest in reducing plastic waste and a growing focus on environmentally friendly products, mycelium-based materials gained significant attention. These biomaterials, derived from fungal mycelium, offer a sustainable alternative to traditional plastics and packaging materials. The pandemic accelerated research and development efforts in this space, leading to innovative applications such as mycelium-based packaging, leather substitutes, and construction materials. As consumers and industries alike sought greener solutions, the mycelium market experienced a boost, capitalizing on the growing demand for sustainable and biodegradable products.
Mycelium Market Dynamics
The major factors that have impacted the growth of Mycelium are as follows:
Drivers:
Ø  Environmental Sustainability
The mycelium market is the increasing global focus on environmental sustainability. As consumers and industries become more conscious of the environmental impact of their choices, mycelium-based products, which are biodegradable and eco-friendly, gain traction as a viable alternative to traditional materials. This heightened awareness and commitment to sustainability are propelling the growth of the mycelium market.
Restraint:
A significant restraint for the mycelium market is the cost and scalability challenges associated with large-scale production. While mycelium-based materials are sustainable, they can be more expensive to produce compared to conventional materials. Achieving cost-competitive production methods and scaling up the process efficiently can be challenging. This can limit the widespread adoption of mycelium-based products, especially in price-sensitive markets.
Opportunity:
⮚      Innovation and Diverse Applications
An opportunity in the mycelium market lies in innovation and diversification of applications. Mycelium has a wide range of potential uses, including packaging, textiles, construction materials, and even food products. Continued research and development efforts to discover new applications and improve existing ones can open up new markets and revenue streams. Companies that can successfully innovate and explore diverse applications for mycelium-based materials have the potential to capitalize on this growing market.
Mycelium Segment Overview
By Form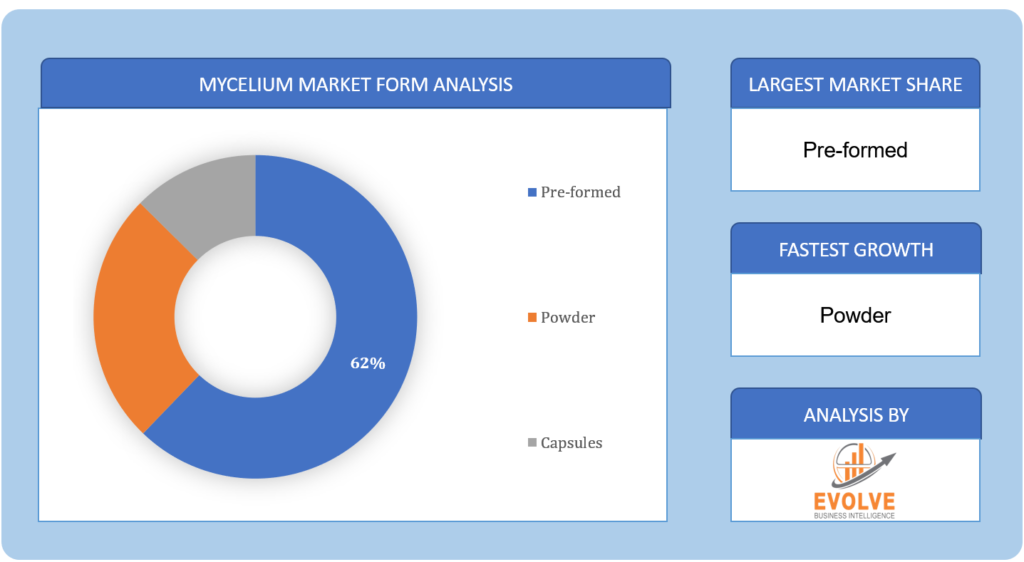 Based on Form, the market is segmented based on Pre-formed, Powder, and Capsules. The pre-formed segment is expected to experience significant growth throughout the forecast period in the Mycelium market due to its convenience and suitability for various applications, from packaging to construction, offering ready-to-use solutions for sustainable alternatives.
By Application
Based on the Application, the market has been divided into the Animal Feed Industry and the food and beverage Industry. The Animal Feed Industry segment is poised for substantial growth in the Mycelium market during the forecast period owing to its potential to provide sustainable and protein-rich alternatives, addressing the growing demand for animal feed while reducing reliance on traditional sources like soy and fishmeal.
Global Mycelium Market Regional Analysis
Based on region, the global Mycelium market has been divided into North America, Europe, Asia-Pacific, the Middle East & Africa, and Latin America. North America is projected to dominate the use of the Mycelium market followed by the Asia-Pacific and Europe regions.
North America Market
North America has consistently upheld its dominant position in the Mycelium market due to several factors. The region has a strong emphasis on sustainability and eco-conscious consumer preferences, driving demand for mycelium-based products. Additionally, North America has seen significant investments in research and development, fostering innovation and product diversification within the mycelium industry. The presence of key players and startups specializing in mycelium-based technologies has further propelled market growth. Moreover, stringent environmental regulations and the pursuit of greener alternatives in industries like packaging, textiles, and construction have boosted the adoption of mycelium materials. This sustained commitment to sustainability and innovation has allowed North America to maintain its leading role in the global mycelium market.
Asia-Pacific Market
The Asia-Pacific region has emerged as a rapidly growing market for the Mycelium industry, driven by several factors. With a burgeoning population and increasing urbanization, there is a heightened awareness of environmental sustainability and a growing demand for eco-friendly products in the region. As a result, mycelium-based materials, known for their biodegradability and reduced carbon footprint, have gained significant traction. Furthermore, the region's robust manufacturing capabilities and lower production costs make it an attractive destination for mycelium-based product development and commercialization. Governments in countries like China and India have also shown interest in promoting sustainable practices, offering potential incentives for mycelium-related initiatives. These factors, combined with a growing consumer preference for greener alternatives, have positioned the Asia-Pacific as a key growth hub for the Mycelium industry.
Competitive Landscape
The Global Mycelium market is highly competitive, with numerous players offering a wide range of software solutions. The competitive landscape is characterized by the presence of established companies, as well as emerging startups and niche players. To increase their market position and attract a wide consumer base, the businesses are employing various strategies, such as product launches, and strategic alliances.
Prominent Players:
Biomyc Limited
Bolt Threads Corporation
Chinova Bioworks Ltd
Ecovative LLC
Four Sigmatic Cop
FreshCap Mushrooms LTD
Groundwork BioAg Corporation
Guerlain Cooperative
Innomy Labs
KingHerbs Limited
Key Development:
In January 2022, Ecovative introduced Forager, a dedicated branch within their company with a primary focus on creating and marketing eco-friendly, leather-like materials devoid of animal products and plastics, alongside fungi-based foams. These innovations are specifically tailored for use in the fashion and automotive sectors.
In March 2021, MycoWorks formed a collaborative alliance with the renowned luxury brand Hermes to produce a modified version of the Victoria bag, marking the debut of a mycelium-derived leather known as Sylvania in one of their products.
Scope of the Report
Global Mycelium Market, by Form
Pre-formed
Powder
Capsules
Global Mycelium Market, by Application
Animal Feed Industry
Food & Beverage Industry
Global Mycelium Market, by Region
North America
Europe

UK
Germany
France
Italy
Spain
Benelux
Nordic
Rest of Europe

Asia Pacific

China
Japan
South Korea
Indonesia
Austalia
Malaysia
India
Rest of Asia Pacific

South America

Brazil
Argentina
Rest of South America

Middle East & Africa

Saudi Arabia
UAE
Egypt
South Africa
Rest of Middle East & Africa
| Parameters | Indicators |
| --- | --- |
| Market Size | 2033: $0.94 Billion |
| CAGR | 27.5% CAGR (2023-2033) |
| Base year | 2022 |
| Forecast Period | 2023-2033 |
| Historical Data | 2021 |
| Report Coverage | Revenue Forecast, Competitive Landscape, Growth Factors, and Trends |
| Key Segmentations | Form, Application |
| Geographies Covered | North America, Europe, Asia-Pacific, Latin America, Middle East, Africa |
| Key Vendors | Biomyc Limited, Bolt Threads Corporation, Chinova Bioworks Ltd, Ecovative LLC, Four Sigmatic Cop, FreshCap Mushrooms LTD, Groundwork BioAg Corporation, Guerlain Cooperative, Innomy Labs, KingHerbs Limited |
| Key Market Opportunities | • Innovation and Diverse Applications |
| Key Market Drivers | • Environmental Sustainability |
REPORT CONTENT BRIEF:
High-level analysis of the current and future Mycelium market trends and opportunities
Detailed analysis of current market drivers, restraining factors, and opportunities in the future
Mycelium market historical market size for the year 2021, and forecast from 2023 to 2033
Mycelium market share analysis at each product level
Competitor analysis with detailed insight into its product segment, Government and defense strength, and strategies adopted.
Identifies key strategies adopted including product launches and developments, mergers and acquisitions, joint ventures, collaborations, and partnerships as well as funding taken and investment done, among others.
To identify and understand the various factors involved in the global Mycelium market affected by the pandemic
To provide a detailed insight into the major companies operating in the market. The profiling will include the Government and defense health of the company's past 2-3 years with segmental and regional revenue breakup, product offering, recent developments, SWOT analysis, and key strategies.
Frequently Asked Questions (FAQ)
1. What is the study period of this market?
The study period of the global Mycelium market is 2021- 2033
2. What is the growth rate of the global Mycelium market?
The Global Mycelium market is growing at a CAGR of 27.5% over the next 10 years
3. Which region has the highest growth rate in the market of Mycelium?
Asia Pacific is expected to register the highest CAGR during 2023-2033
4. Which region has the largest share of the global Mycelium market?
North America holds the largest share in 2022
5. Who are the key players in the global Mycelium market?
Biomyc Limited, Bolt Threads Corporation, Chinova Bioworks Ltd, Ecovative LLC, Four Sigmatic Cop, FreshCap Mushrooms LTD, Groundwork BioAg Corporation, Guerlain Cooperative, Innomy Labs, KingHerbs Limited are the major companies operating in the market.
6. Do you offer post-sales support?
Yes, we offer 16 hours of analyst support to solve the queries
7. Do you sell particular sections of a report?
Yes, we provide regional as well as country-level reports. Other than this we also provide a sectional report. Please get in contact with our sales representatives.