IoT in Aviation Market Size is expected to reach USD 9.74 Billion by 2033. The IoT in Aviation industry size accounted for USD 2.14 Billion in 2023 and is expected to expand at a compound annual growth rate (CAGR) of 20.65% from 2023 to 2033. IoT in Aviation refers to the application of Internet of Things (IoT) technologies and principles in the aviation industry. It involves the integration of sensors, devices, and data networks to collect, transmit, and analyze real-time data from various aircraft systems, ground operations, and passenger services. The IoT in Aviation aims to enable enhanced operational efficiency, proactive maintenance, improved safety, and personalized passenger experiences through the seamless connectivity and intelligent management of interconnected devices, systems, and processes within the aviation ecosystem. It involves the utilization of advanced data analytics, cloud computing, machine learning, and automation to optimize aircraft performance, streamline ground operations, and transform the overall aviation experience.
Global IoT in Aviation Market Synopsis
COVID-19 Impact Analysis
The COVID-19 pandemic had a mixed impact on the IoT in Aviation market. While the overall aviation industry experienced significant disruptions and challenges due to travel restrictions and reduced air travel demand, the pandemic also highlighted the importance of IoT technologies in mitigating risks, enhancing safety, and improving operational efficiency. The need for contactless and remote monitoring solutions increased, leading to greater interest and investment in IoT applications. Airlines and airports focused on implementing IoT solutions for health monitoring, social distancing enforcement, touchless check-in, and sanitation management. Additionally, the pandemic highlighted the value of data-driven decision-making, predictive analytics, and remote maintenance, further driving the adoption of IoT in the aviation industry.
Global IoT in Aviation Market Dynamics
The major factors that have impacted the growth of IoT in Aviation are as follows:
Drivers:
      Safety Enhancement
The Internet of Things (IoT) offers tremendous potential for enhancing safety in the aviation industry. IoT devices can provide real-time monitoring of various components and systems within an aircraft, enabling early detection of potential faults or malfunctions. This proactive approach to maintenance can significantly reduce the risk of accidents and improve overall safety.
Restraint:
Data Security and Privacy Concerns
The widespread implementation of IoT in aviation introduces significant data security and privacy challenges. With numerous interconnected devices collecting and transmitting data, there is a higher risk of cyber attacks and unauthorized access to critical information. Protecting sensitive data and ensuring privacy compliance become crucial concerns that need to be addressed before IoT can be fully embraced in the aviation sector.
Opportunity:
    Operational Efficiency
IoT technology enables airlines and aviation companies to optimize their operations and achieve higher levels of efficiency. Connected sensors and devices can collect data on various aspects, such as fuel consumption, engine performance, and maintenance requirements. Analyzing this data can help identify inefficiencies, streamline processes, reduce downtime, and ultimately save costs for airlines.
IoT in Aviation Market Segment Overview
By Component
Based on the Component, the market is segmented based on Hardware, Software, and Services. The hardware segment was indeed anticipated to hold a significant market share in the IoT in Aviation market. IoT hardware encompasses various devices, sensors, and equipment used to collect and transmit data in aviation applications. These hardware components are essential for enabling connectivity, data acquisition, and communication within the IoT ecosystem. The demand for IoT hardware in aviation is driven by the need for robust and reliable devices that can withstand the demanding operational conditions in aircraft and provide accurate data for analysis and decision-making.
By Application
Based on Application, the market has been divided into Ground Operations, Passenger Experience, Asset Management, and Air Traffic Management. The Ground Operations segment is expected to hold the largest market share in the Market. It signifies the growing importance and adoption of IoT solutions in optimizing ground operations in the aviation industry. Ground operations involve various activities such as aircraft turnaround, baggage handling, fueling, maintenance, and airport logistics. By leveraging IoT technologies, such as sensors, tracking devices, and data analytics, airlines, and airports can enhance operational efficiency, improve resource utilization, and streamline processes in ground operations.
By End User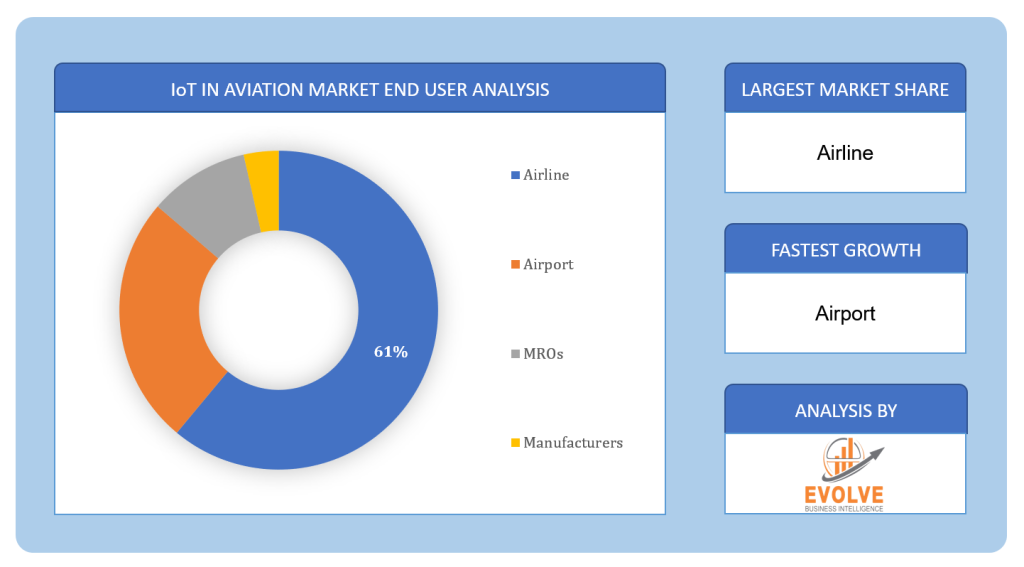 Based on End Users, the market has been divided into airlines, airports, MROs, and Manufacturers. The market is projected to see significant growth in the Airline segment. With the industry's focus on improving efficiency, enhancing passenger experience, and ensuring safety. Airlines have been increasingly adopting IoT solutions to transform various aspects of their operations. IoT technologies enable airlines to monitor and optimize aircraft performance, implement predictive maintenance practices, track and manage baggage more efficiently, enhance in-flight connectivity and entertainment, and improve overall operational efficiency.
Global IoT in Aviation Market Regional Analysis
Based on region, the market has been divided into North America, Europe, Asia-Pacific, the Middle East & Africa, and Latin America. The area of North America is anticipated to dominate the market for the usage of IoT in Aviation, followed by those in Asia-Pacific and Europe.
North America held a significant market share in the IoT in Aviation market. The region's dominance can be attributed to the presence of major aviation players, including aircraft manufacturers, airlines, and technology companies, which have been at the forefront of adopting and integrating IoT solutions in the aviation industry. North America's advanced technological infrastructure, strong aerospace industry, and emphasis on innovation have contributed to its leadership in leveraging IoT to enhance operational efficiency, improve passenger experience, and ensure safety in aviation.
Asia Pacific Market
The Asia-Pacific region had been witnessing a growing CAGR in the IoT in Aviation industry. This can be attributed to several factors, including the region's expanding aviation sector, increasing air travel demand, and the adoption of advanced technologies. Countries such as China, India, and Japan have witnessed substantial growth in their aviation industries, leading to a higher demand for IoT solutions to enhance operational efficiency, safety, and passenger experience. Additionally, the rising investments in smart airports and the focus on digital transformation in the region contribute to the growing CAGR of IoT in the aviation industry in the Asia-Pacific region.
Competitive Landscape
The competitive landscape includes key players (tier 1, tier 2, and local) having a presence across the globe. Companies such as SAP, IBM, Honeywell, and Cisco system are some of the leading players in the global IoT in Aviation Industry. These players have adopted partnership, acquisition, expansion, and new product development, among others as their key strategies.
Key Market Players:
Cisco Systems Inc
Honeywell International Inc
Huawei Technologies Co Ltd
Tata Communications Ltd
Globeranger Corporation
IBM Corporation
Microsoft Corporation
SAP
Wind River Systems Inc
Key Development:
On April 2021, Honeywell continued to innovate in IoT for aviation. They introduced Honeywell Forge, an advanced analytics platform that integrates IoT data from various aircraft systems. This platform enables airlines and operators to monitor and optimize flight operations, reduce maintenance costs, and enhance passenger experience through predictive analytics and machine learning algorithms.
In 2021, Boeing collaborated with technology partners to develop the Boeing AnalytX platform, which leverages IoT and data analytics to optimize maintenance operations, reduce fuel consumption, and improve overall aircraft performance.
Scope of the Report
Global IoT in Aviation Market, by Component
Hardware
Software
Services
Global IoT in Aviation Market, by Application
Ground Operations
Passenger Experience
Asset Management
Air Traffic Management
Global IoT in Aviation Market, by End User
Airline
Airport
MROs
Manufacturers
Global IoT in Aviation Market, by Region
North America
Europe

UK
Germany
France
Italy
Spain
Benelux
Nordic
Rest of Europe

Asia Pacific

China
Japan
South Korea
Indonesia
Austalia
Malaysia
India
Rest of Asia Pacific

South America

Brazil
Argentina
Rest of South America

Middle East & Africa

Saudi Arabia
UAE
Egypt
South Africa
Rest of Middle East & Africa
Parameters
Indicators
Market Size
2033: $9.74 Billion
CAGR
20.65% CAGR (2023-2033)
Base year
2022
Forecast Period
2023-2033
Historical Data
2021
Report Coverage
Revenue Forecast, Competitive Landscape, Growth Factors, and Trends
Key Segmentations
Component, Application, End User
Geographies Covered
North America, Europe, Asia-Pacific, Latin America, Middle East, Africa
Key Vendors
Cisco Systems Inc, Honeywell International Inc, Huawei Technologies Co Ltd, Tata Communications Ltd, Globeranger Corporation, IBM Corporation, Microsoft Corporation, SAP, Wind River Systems Inc
Key Market Opportunities
Fleet Management Optimization
Predictive Maintenance
Key Market Drivers
Enhanced Operational Efficiency
Enhanced Safety and Maintenance
REPORT CONTENT BRIEF:
High-level analysis of the current and future IoT in Aviation Industry trends and opportunities
Detailed analysis of current market drivers, restraining factors, and opportunities analysis in the future
Historical market size for the year 2021, and forecast from 2023 to 2033
IoT in Aviation market share analysis for each segment
Competitor analysis with a comprehensive insight into its product segment, financial strength, and strategies adopted.
Identifies key strategies adopted by the key players including new product development, mergers and acquisitions, joint ventures, collaborations, and partnerships.
To identify and understand the various factors involved in the global IoT in Aviation market affected by the pandemic
To provide year-on-year growth from 2022 to 2033
To provide short-term, long-term, and overall CAGR comparison from 2022 to 2033.
Provide Total Addressable Market (TAM) for the Global IoT in Aviation Market.
Frequently Asked Questions (FAQ)
1. What is the study period of this market?
The study period of the global IoT in Aviation market is 2022- 2033
2. What are the 10 Years CAGR (2023 to 2033) of the global IoT in Aviation market?
The global IoT in Aviation market is growing at a CAGR of ~65% over the next 10 years
3. Which region has the highest growth rate in the market of IoT in Aviation?
Asia Pacific is expected to register the highest CAGR during 2023-2033
4. Which region accounted for the largest share of the market of IoT in Aviation?
North America holds the largest share in 2022
5. Major Key Players in the Market of IoT in Aviation?
Cisco Systems Inc, Honeywell International Inc, Huawei Technologies Co Ltd, Tata Communications Ltd, Globeranger Corporation, IBM Corporation, Microsoft Corporation, SAP, and Wind River Systems Inc are the major companies operating in the IoT in Aviation
6. Do you offer Post Sale Support?
Yes, we offer 16 hours of analyst support to solve the queries
7. Do you deliver sections of a report?
Yes, we do provide regional as well as country-level reports. Other than this we also provide a sectional report. Please get in contact with our sales representatives.