Category: Energy & Power
Sub-Category: Power
A capacitor is a passive electrical device with dual terminals that stores the electric energy in an electric field. The capacitors include two electrical conductors often in the form of metallic plates or surfaces separated by a dielectric that is also known as an insulator. Capacitors are widely used in electrical energy systems and components.
The global high voltage capacitor market is expected to grow from $3,215.5 million in 2019 to $5,773.4 billion in 2027, at the CAGR of 7.6% from 2020 to 2027.
The high voltage capacitors are very essential parts of the circuit breakers and capacitive voltage transformers, used in the transport and distribution of electrical energy in electric utility grids and other high-voltage installations; they have diverse applications depending upon their type and voltage levels. They are widely used in power generation, transmission, distribution and high-voltage installations. HV capacitors have a capacity usually ranging from 25 volts for household electronics to 1000 volts for specialized industrial equipment. Polypropylene, ceramic, aluminum electrolytic, glass dielectric, tantalum wet capacitors, reconstituted mica capacitors and diamond-like carbon variants are the most common types of HV capacitors available in the market.
Impact of COVID-19 on High Voltage Capacitor Market
Impact of Market Size and Forecast
End User Trend, Preferences and Impact on Budget
Regulatory Framework/Government Policies
Recent Development to Tackle Negative Impact
Opportunity Window
The major factors that have impacted the growth of the high voltage capacitor market are increasing demand for energy and increasing demand from end-use industries that will surge the demand for high voltage capacitor, among others.
Increasing demand from end-use industries:
The growth of electronics & semiconductor industry demands for high voltage capacitors due to their high-temperature stability & insulation properties. HV capacitors have the potential to adjust or change the resistivity requirements which make them very flexible materials. With the development of electronics industry, there has been an increase in the production of mobile phones, televisions, multimedia players, and smart televisions that utilizes HV capacitors as one of a major component. It also finds its application in automotive industry, chemical & process technology, medical, and others. Thus the continuous advancements and innovation in the energy and power segment are expected to fuel the market growth of high voltage capacitors during the forecast period.
Key Insight in the report:
The Global High Voltage Capacitor market report covers Executive Summary, Market Dynamics, Trend Analysis, Market Size and Forecast, Competitive Intelligence, Market Positioning, Product Benchmarking, and Opportunity Analysis.
The report covers extensive competitive intelligence which includes following data points:
Business Overview
Business Model
Financial Data
Financial – Existing
Financial – Funding
Product Segment Analysis and specification
Recent Development and Company Strategy Analysis
SWOT Analysis
The report covers market sizing and forecasting at the country level as well as at the segment level. High Voltage Capacitor Market is analyzed across below-mentioned different segments:
| Type | Capacity | Application |
| --- | --- | --- |
| Plastic Film | 500-1,000V | Power Generation |
| Ceramic | 1001-7000V | Transmission |
| Electrolytic | 7,001-14,000V | Distribution |
| Others | Above 14,000V | Others |
In type segment plastic films is projected to have higher market share owing to its increased integration in Power Generation such as smartphone, laptops, cellphones, and digital cameras.  In Capacity segment 500-1000V capacitors is estimated to dominate the market attributed to its application in industrial electronics, power supplies, and high-end electronics.
High Voltage Capacitor Market is also analyzed across below-mentioned regions/countries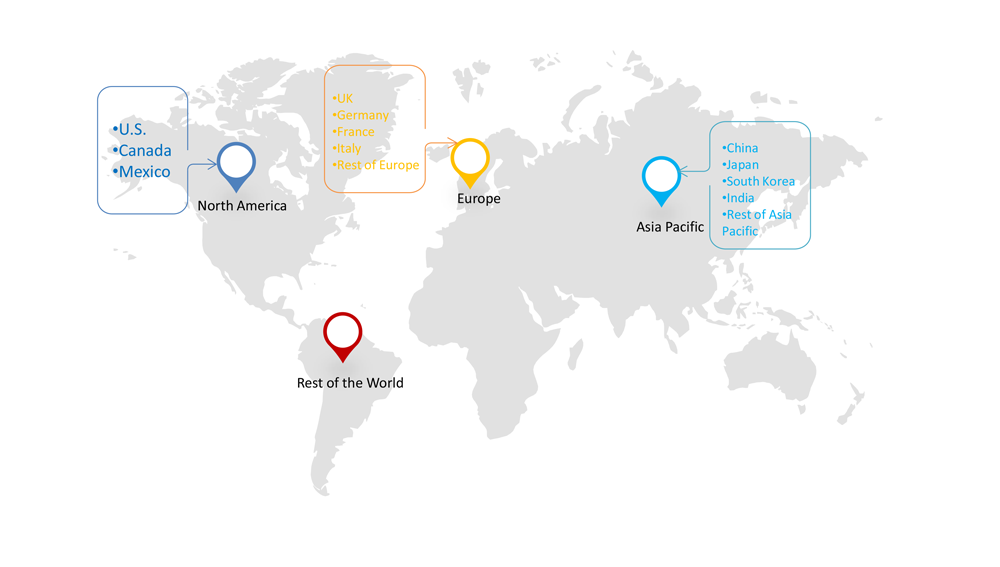 Asia-Pacific is expected to dominate the High Voltage Capacitor market. The rapid increasing urbanization and industrialization have resulted in a rise in energy consumption which in turn has demanded for energy-efficient solutions. Furthermore, increasing investments in smart cities and green construction, developing infrastructure and transportation sector is also estimated to boost the market growth. In Europe growing implementation of high voltage transmission network to satisfy the continuously increasing demand for electricity is anticipated to fuel the High Voltage Capacitor market growth in this region.
Some of the key players in of high voltage capacitor market include:
Walsin Technology
Vishay Intertechnology Inc
General Electric
Eaton Corporation
Maxwell Technologies
Siemens AG
Lifasa
ABB Ltd.
Taiyo Yuden
Transgrid Solutions
REPORT CONTENT BRIEF:
High level analysis of the current and future market trends and opportunities
Detailed analysis on current market drivers, restraining factors, and opportunities in the future
High Voltage Capacitor market historical market size for year 2019, and forecast from 2020 to 2027
Vendor market share analysis at each product level
High voltage capacitor competitor analysis with a detailed insight into its product segment, financial strength, and strategies adopted.
Identifies key strategies adopted including product launches and developments, mergers and acquisitions, joint ventures, collaborations and partnerships as well as funding taken and investment done, among others.