The Global Voice Recognition Market was estimated to be $ 9.9 Billion in 2019 and is anticipated to grow at a CAGR of 18.9% from 2020 to 2027. Voice recognition is a technique to receive and interpret spoken commands. The voice recognition machines and programs can take input from dictation and carryout the spoken instructions. Voice recognition has empowered human beings to communicate with technology. Voice recognition is an alternative to typing on a keyboard in most of the devices that support voice inputs. The user dictates his words on the external microphone, in-built microphone, or headsets and their words appear as text on the screen. The voice recognition technology was initially supported in dedicated voice recognition devices but now it has gained popularity in both the business and consumer sectors on smartphones and home-assistance systems. Smart home assistance devices such as Google's Home, Amazon's Alexa, and agents such as Apple's Siri and Microsoft's Cortana have brought voice-enabled technology in kitchens and living-rooms. As more users are getting attracted to voice recognition technology is expected to fuel the market growth. The global voice recognition market is dominated by the North America region as they are deploying voice biometrics for security systems. The demand for voice recognition solutions in industry verticals such as healthcare, defense, automotive is expected to boost the voice recognition market in the Asia-Pacific region. The presence of the young population and rising disposable income due to economic development is also expected to fuel the market in this region over the coming years.
The major drivers that impact the growth of the global voice recognition market are growing security concerns which leads to adaptation of voice-enabled security solutions, the adaptation of AI for better and easy handling of devices, among others.
Growing Security Concerns:
There is a rapid increase in digital transactions all over the globe. This demands for a better authentication technique to prevent data breaching. The security concerns such as cyberattacks, data breaching is forcing the government and organizations to go for voice recognized security and safety solution. The verticals like BFSI are mainly concerned with fraud due to the increased use of digital transactions which is driving their attention towards the voice-biometrics security solutions. The Voice recognition methods are proving to be a more reliable means of authentication to provide data security, thus fueling the growth of the voice recognition market.
Adaptation of Artificial Intelligence:
The increasing use of artificial intelligence (AI) and Machine learning-based systems for virtual assistance is fueling the market growth of the voice recognition market. The uses for voice recognition are also becoming popular among consumers as more and more devices are communicating through the proliferation of the Internet of things. Voice recognition systems are adopted in voice-driven navigation systems, voice biometrics, smartphones, mobile banking services, and other consumer electronics such as refrigerators, mixer-grinder, and so on. Google, Amazon, and Apple too have introduced their In-home digital voice assistants. The advancements and continuous innovation in the field of autonomous and connected vehicle technologies is also expected to contribute to the global voice recognition market growth. The growing use of voice recognition technology enables the consumers to transcribe voice to text, set up reminders, search the internet, respond to messages, and even use the voice activation features in automobiles. However, although the use of Voice recognition is in demand, the lack of accuracy in identification, and complexities in encoding, lack of efficient training to recognize different voices can restrain the market of voice recognition. Thus, there is a need for robust data processing software using advanced algorithms to meet the consumer requirements.
Key Insight in the report:
The Global Voice Recognition market report covers Executive Summary, Market Dynamics, Trend Analysis, Market Size and Forecast, Competitive Intelligence, Market Positioning, Product Benchmarking, and Opportunity Analysis.
The report covers extensive competitive intelligence which includes following data points:
Business Overview
Business Model
Financial Data
Financial – Existing
Financial – Funding
Product Segment Analysis and specification
Recent Development and Company Strategy Analysis
SWOT Analysis
The report covers market sizing and forecasting at the country level as well as at the segment level. Voice Recognition Market is analyzed across below-mentioned different segments:
| Deployment Type | Technology Type | Interface Type | Vertical |
| --- | --- | --- | --- |
| Cloud | Speech Recognition | AI-Based | BFSI |
| On-Premise | Voice Recognition | Non-AI Based | Automotive |
| | | | Military |
| | | | Education |
| | | | Consumer |
| | | | Retail |
| | | | Legal |
| | | | Healthcare |
| | | | Government |
| | | | Enterprise |
| | | | Others |
The continuous development in the automobile industry and growing demand for voice-enabled infotainment systems like voice-driven navigation systems and entertainment systems will drive the voice recognition market growth in the automotive segment. The increase in the number of customers using digital banking facilities in North America and Europe is expected to drive voice recognition technology demand in the BFSI sector to implement voice-enabled authentication security for secure transactions. The voice recognition market is estimated to grow significantly in healthcare vertical owing to the rising demand for voice-enabled health equipment. The growing interest in the implementation of AI-Based voice recognition technology is anticipated to drive the AI-Based voice recognition segment during the forecast period.
Voice Recognition Market is also analyzed across below-mentioned regions/countries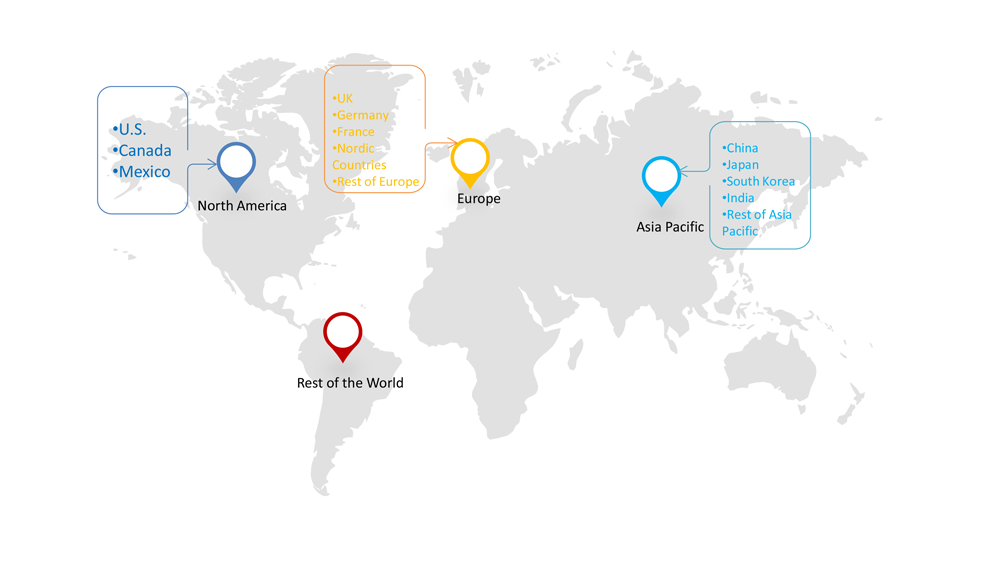 Some of the key players in of Voice Recognition Market include:
Microsoft Inc.
Google
Apple
Amazon
Advanced Voice Recognition Systems
MMODAL Inc.
VoiceBox Technologies Corp.
Agnitio S.L
LumenVox LLC.
Nuance Communications
RECENT DEVELOPMENTS:
In March 2020, LumenVox and OneVault partnered to deliver voice biometrics solution to the African market. With the help of LumenVox technology. OneVault will be able to provide a biometric solution with enhanced productivity and protection.
In May 2018, Nuance Communication launched Dragon Medical One, a universal cloud-based speech recognition platform which assists the doctors by providing them with the point of care information.
 Report Content Brief:
High level analysis of the current and future market trends and opportunities
Detailed analysis on current market drivers, restraining factors, and opportunities in the future
Voice Recognition market historical market size for year 2019, and forecast from 2020 to 2027
Vendor market share analysis at each product level
Competitor analysis with a detailed insight into its product segment, financial strength, and strategies adopted.
Identifies key strategies adopted including product launches and developments, mergers and acquisitions, joint ventures, collaborations, and partnerships as well as funding taken and investment done, among others.