Category: Information and Communication Technology
Sub-Category: Emerging Technology
The Global Predictive Maintenance Market was valued at $ 4,119.8 Million in 2019 and is anticipated to grow at a CAGR of 26.6% from 2020 to 2027. Predictive Maintenance is a technique that is designed to estimate when a machine needs maintenance and prevent equipment failure. It is a type of condition-monitoring that monitors the condition of a machine. Predictive Maintenance can identify abnormal patterns and predict asset failure and reduce operational costs. These predictions can be done based on historical data and trends and running predictive algorithms against them. Predictive Maintenance will increase Production efficiency by maximizing the machine run time. Predictive Maintenance will increase asset uptime by reducing failures, streamlining maintenance costs by lessened equipment, labor, and inventory costs, and improve safety resulting in production and maintenance efficiency. The benefits of Predictive Maintenance will encourage organizations to install this system for maintenance.
The traditional time-based maintenance performs too much or not enough maintenance and in the other technique i.e. reactive maintenance, maintenance is done when needed leading to the cost of unscheduled downtime. Predictive Maintenance is adopted by the companies to overcome issues that they were facing in older maintenance methods. Predictive Maintenance schedules maintenance when pre-defined conditions are met or before any machine breaks. According to the U.S. Department of Energy predictive maintenance will eliminate equipment failures resulting in saving the cost of 8-10 percent compared to preventive maintenance and 30-40 percent in comparison to reactive maintenance. The predictive maintenance will increase production by 20-25%, eliminate breakdown by 70-75%, and reduction in downtime will be 35-45%.
The major factors that have impacted the growth of the predictive maintenance market are increasing real-time streaming analytics that works on real-time data for maintenance, the Internet of Things, and Big data that provide maintenance operation by connecting equipment and detecting failures and among others.
GROWING ADOPTION OF REAL-TIME STREAMING ANALYTICS TECHNOLOGY:
One of the driving factors for predictive maintenance is the rapid adoption of analytical technology that works on real-time data. Streaming Analytics has the ability to continuously calculate statistical analytics while analyzing the stream of data. This provides quick and appropriate time-sensitive information, companies must act on the analytics data quickly within a small window of opportunity before the data loses its value. Streaming analytics helps in predictive maintenance as it monitors asset health by real-time data analysis and informs when maintenance operation is to be performed. Real-time supervision of these equipment allows immediate explanation to solve issues before they arise. Such type of technology will increase the demand for predictive maintenance to be installed on the work-floor which in turn will improve the market.
INCREASING PROLIFERATION OF INTERNET OF THINGS AND BIG DATA:
The gradually developing technologies like the Internet of Things and big data analytics are allowing industrial equipment to provide conditional data, making fault detection and maintenance operations easier. The data gathered from these tools can be converted into actionable insight by using the Internet of Things. Companies are deploying these technologies at their maintenance operations so that with the help of data they can detect or predict when equipment could fail and can carry out repair work before failure occurs. Predictive maintenance can be applied to verticals like automotive, aerospace, manufacturing, process industries like food& beverages, chemical where machines produce a significant amount of data. These machines are advanced and expensive and depreciation is a major cost so with the help of data produced, faults in machinery can be predicted easily, and can machine can be optimized easily using this data. IoT and big data will benefit the Predictive Maintenance market as it will help companies to reduce downtime, eliminate the causes of failure, and control repair costs which will help the Predictive Maintenance market to grow.
KEY INSIGHT IN THE REPORT:
The Global Predictive Maintenance market report covers Executive Summary, Market Dynamics, Trend Analysis, Market Size and Forecast, Competitive Intelligence, Market Positioning, Product Benchmarking, and Opportunity Analysis.
The report covers extensive competitive intelligence which includes the following data points:
Business Overview
Business Model
Financial Data
Financial – Existing
Financial – Funding
Product Segment Analysis and specification
Recent Development and Company Strategy Analysis
SWOT Analysis
The report covers market sizing and forecasting at the country level as well as at the segment level. Predictive Maintenance Market is analyzed across below-mentioned different segments:
| Component Type | Deployment Type | Type | Organization Size | End Users |
| --- | --- | --- | --- | --- |
| Services | Cloud | Vibrational Analysis | Large Enterprise | Automotive |
| Software | On-Premise | Sonic Acoustical Analysis | Small & Medium Enterprise | Healthcare |
| | | Ultrasonic Acoustical Analysis | | Aerospace |
| | | Infrared Analysis | | Transportation & Logistics |
| | | Others | | Government & Defense |
| | | | | Energy & Power |
| | | | | Others |
Predictive Maintenance Market is also analyzed across below-mentioned regions/countries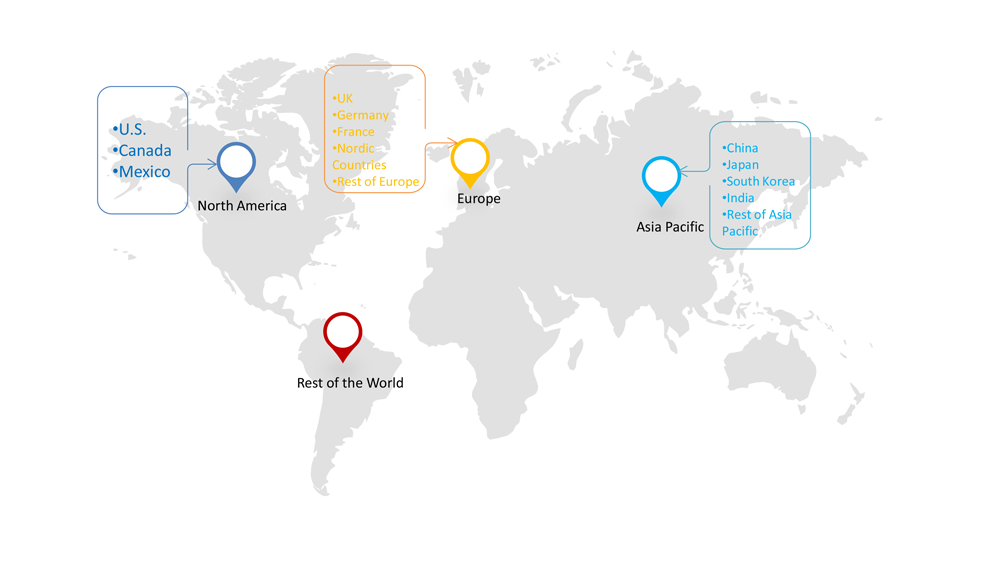 Asia-Pacific region is expected to grow at a higher CAGR during the forecast period. In major Asia-Pacific countries such as China, India, South Korea, and Japan a large amount of funds has been allocated by the tech companies in Predictive Maintenance. Asia-Pacific being the hub of industries with heavy equipment and machinery opportunities for this market growth is substantial. Government regulations and initiatives will also drive this market to grow at a higher pace in Asia-Pacific. In North America, companies are investing in this market due to an increase in demand for better productivity and process monitoring.
Some of the key players in of Predictive Maintenance Market include:
IBM Corporation
SAP ERP
Microsoft Corporation
Schneider Electric SE
Cisco Systems, Inc
General Electric Company
Siemens AG
Hitachi, Ltd.
Software AG
SAS Institute Inc
Accenture plc
Honeywell International Inc.
RECENT DEVELOPMENTS:
In October 2018, Hitachi launched the predictive maintenance for petrochemical plants. This service will be assisted by artificial intelligence that will estimate and analyses changes in conditions and irregularities that may cause an asset to fail.
In May 2014, IBM introduced Predictive Maintenance and Quality to monitor which monitor, analyze, and report on collected information and provide measures. It predicts instrument failure and helps to prevent that fault.
REPORT CONTENT BRIEF:
High-level analysis of the current and future market trends and opportunities
Detailed analysis of current market drivers, restraining factors, and opportunities in the future
Predictive Maintenance market historical market size for the year 2019, and forecast from 2020 to 2027
Vendor market share analysis at each product level
Competitor analysis with a detailed insight into its product segment, financial strength, and strategies adopted.
Identifies key strategies adopted including product launches and developments, mergers and acquisitions, joint ventures, collaborations, and partnerships as well as funding has taken and investment done, among others.