Category: Chemicals and Materials
Sub-category: Materials
The Global Plastic Conduit Market was valued at $ 17,267.4 Million in 2019 and is anticipated to grow at a CAGR of 6.1% from 2020 to 2027. A conduit is a pipe that enables and protects electrical wires or fluids to go through. Plastic conduits are used in numerous industries for example manufacturing, agriculture, telecom industry, banking sector, and even in all possible households. An electrical conduit can be made out of various materials such as fiber, plastic, fired clay, and metal, among others. There are 7 different types of conduit which are utilized in light commercial and residential wiring. Conduits are generally used to cover damaged or exposed wires in the electrical application.
The National Electrical Code (NEC) provides certain guidelines that must be followed during the installation process. The flexible conduit took the top most position in 2018 in the global plastic conduit market share with regards to the revenue generated and is supposedly going to secure the topmost position in the future. This is due to the ease of installation as compared to rigid conduits. Also, flexible non- metallic conduits are cheaper to manufacture. There exists a huge chunk of the unorganized sector in the electrical conduit pipe market which constitutes a whopping 50% of the market share. This can directly impact the organized sector as half the market is captured by the unorganized sector which reduces their revenue.
Growth Impact Factors
There are various factors that promote as well as hamper the growth of the global plastic conduit market. Rising demand for plastic conduits in residential buildings, demand for safe wiring systems and increasing industrialization are some of the factors contributing towards the growth of this particular industry whereas a rise in the prices of non-metallic raw materials and expensive cost of installation inhibit the growth
Increase in commercial and industrial activities
There has been a growing trend in entrepreneurship as a result of which there's a rise in the demand and construction of commercial buildings. The large size of these offices and buildings leads to high consumption of power. This, in turn, increases the demand for safe and secure plastic conduits which will allow a stable flow of electricity in an optimal manner. An increase in the number of residential complexes also affects the demand for plastic conduits.
Growing demand from the IT and telecom sector
There's a growing demand from the IT and telecom sectors. This may be because of the adoption of optical fiber in data centers. Factors such as the implementation of a 5G network across many regions, demand for safe and secure wiring systems, an increase in the demand for fiber for household connectivity, etc. also cause an impact.
Rise in urban population
There has been a drastic rise in the urban population from 75 million in 1950 to 4.2 billion in 2018 as per the United Nations. The growth in the urban population leads to a rise in the demand for residential complexes and thereby increases the demand for electrical conduit pipes.
Increase in Government Regulations
Guidelines are provided by the Government authorities in order to make efficient use of plastic and reduce waste and also to promote recycling. These regulations inhibit the growth of the plastic conduit market as they increase the cost of manufacturing and might even reduce the demand for plastic conduit pipes largely. Pipeline and Hazardous Materials Safety Administration (PHMSA) has amended the Federal Pipeline Safety Regulations which provide guidelines for the plastic piping systems used in the transportation of gases. These guidelines provide protection while transporting these in order to prevent any leakages or fatal accidents. Rules are also established by various national authorities in order to restrict the use of lead and other toxic materials while producing PVC conduit pipes as these toxic substances get mixed with the water flowing through these pipes affecting human health.
US has already established laws to restrict the use of lead in PVC pipes. They have issued standards for use of heat stabilizers in PVC material. 
Many companies are now focusing on producing non- toxic PVC pipes since it's now a pressing issue by the government. These companies can profit substantially since they're following the rules and regulations set by their respective authorities. They are searching for new and innovative ways to produce safer conduits for the transportation of gases as well so as to grab maximum market share. This is a significant area that all companies are expected to focus on over the next few years.
Key Insight in the report:
The Global Plastic Conduit market report covers Executive Summary, Market Dynamics, Trend Analysis, Market Size and Forecast, Competitive Intelligence, Market Positioning, Product Benchmarking, and Opportunity Analysis.
The report covers extensive competitive intelligence which includes following data points:
Business Overview
Business Model
Financial Data
Financial – Existing
Financial – Funding
Product Segment Analysis and specification
Recent Development and Company Strategy Analysis
SWOT Analysis
The report covers market sizing and forecasting at the country level as well as at the segment level. Plastic Conduit Market is analyzed across below-mentioned different segments:
| Type | Material | Industry Vertical |
| --- | --- | --- |
| Rigid Conduits | Polyvinyl Chloride (PVC) | Manufacturing |
| Flexible Conduits | High-Density Polyethylene (HDPE) | Construction |
| | Polypropylene (PP) | IT & Telecom |
| | Others | Healthcare |
| | | Others |
Plastic Conduit Market is also analyzed across below-mentioned regions/countries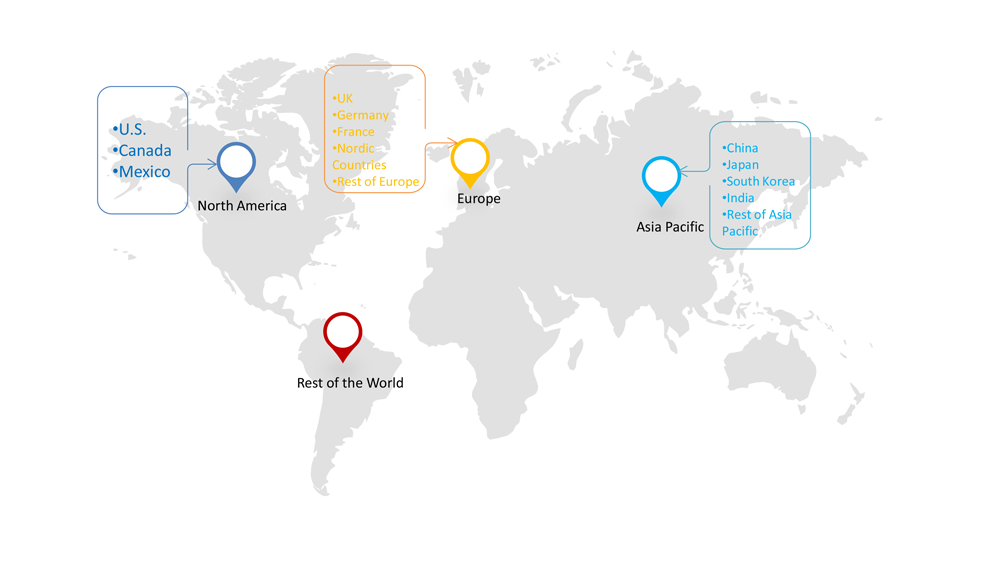 The Key Market Players in the Plastic Conduit Segment are as follows:
Mitsubishi Corporation
Atkore International
Eaton Corporation
Calpipe Industries
Cantex Inc.
Duraline Holdings Inc.
Precision Plastic Industry
AKG Group
Allied Tube & Conduit
Prime Conduit
Recent Developments
Duraline Holdings Inc. has introduced fiber optic sensing monitors in their fiber optic cables which monitors the vibration, temperature and strain. The sensor is the fiber itself which means that there are 1000 sensing points along the cable which monitors the asset. This is extremely beneficial for IT and telecom sector.
REPORT CONTENT BRIEF:
High level analysis of the current and future market trends and opportunities
Detailed analysis on current market drivers, restraining factors, and opportunities in the future
Plastic conduit historical market size for year 2019, and forecast from 2020 to 2027
Vendor market share analysis at each product level
Competitor analysis with a detailed insight into its product segment, financial strength, and strategies adopted.
Identifies key strategies adopted including product launches and developments, mergers and acquisitions, joint ventures, collaborations and partnerships as well as funding taken and investment done, among others.