The global lactic acid market size is expected to reach $6.73 Billion by 2028 growing at the CAGR of 8.89% from 2021 to 2028. A lactic acid is a form of acid that is found in sour milk and is also created in muscle tissue when a person exercises. The acid is colourless or yellowish and can be made from a variety of sources, including potato fermentation, molasses fermentation, and corn starch fermentation. They are frequently utilized in applications such as personal care, polylactic acid, food & drinks, and personal care, among others, and can be processed synthetically or organically.
| Parameters | Indicators |
| --- | --- |
| Market Size (2020) | $ Million |
| CAGR (2021 to 2028) | 8.89% |
| Market Classification | Raw Material, Application |
| Key Companies Profiled | Corbion, DuPont, Cargill, Galactic, DOW, Unitika, Henan Jindan Lactic Acid Technology, Sulzer, Mushashino Chemical, Vigon International. |
| Key Countries/Regions Analyzed | US, Canada, Mexico, UK, Germany, France, Italy, Rest of Europe, China, India, Japan, South Korea, Rest of Asia Pacific, Middle East & Africa, and South America |
| Base Year | 2020 |
| Estimated Year | 2021 |
| Forecast Years | 2022 to 2028 |
Driving Factors
The factors driving the growth of the global Lactic Acid market include End-user applications that have a high need for lactic acid and polylactic acid, increased demand for environmentally friendly alternative resources, technological advancements to promote lactic acid and polylactic acid production.
End-user applications that have a high need for lactic acid and polylactic acid
The market for lactic acid and polylactic acid has seen emerging trends, as evidenced by innovations and advances in a variety of end-user applications such as biopolymer, food & drinks, packaging, personal care & cosmetics, and pharmaceuticals. The biodegradable polymers business has seen substantial growth, notably in the North American and European regions, as consumers become more aware of the polymers made from polylactic acid. Polylactic acid (PLA) is already being used as a substitute in general-purpose packaging applications such as trays and yogurt cups by food packaging makers. These have been the most prevalent takeaway food packaging solutions.
Technological advancements to promote lactic acid and polylactic acid production
Technological advancements have enabled biotechnology to rapidly develop in the medical industry. A specific advancement has been the introduction of recombinant DNA technology in the microbial production of enzymes, vaccines, hormones, and bio-industrial products. This type of technology, when applied to the fermentation industry, has enabled the production of large quantities of lactic acid in relatively short periods.
Restraining factors
The factors such as raw material price fluctuations are limiting and concerns about the quality of lactic acid used in food and beverage products, are limiting the Lactic Acid market's growth.
Key Insight in the report:
The Global Lactic Acid market report covers Executive Summary, Market Dynamics, Trend Analysis, Market Size and Forecast, Competitive Intelligence, Market Positioning, Product Benchmarking, and Opportunity Analysis.
The report covers extensive competitive intelligence which includes the following data points:
Business Overview
Business Model
Financial Data
Financial – Existing
Financial – Funding
Product Segment Analysis and specification
Recent Development and Company Strategy Analysis
SWOT Analysis
Lactic Acid Market Segmentation
The report covers market sizing and forecasting at the country level as well as at the segment level. Lactic Acid Market is analyzed across below-mentioned different segments: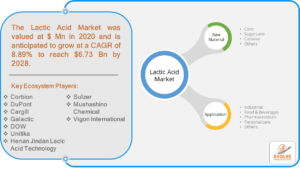 By Raw Material
Corn
Sugarcane
Cassava
Others
By Application
Industrial
Food & Beverages
Pharmaceuticals
Personal care
Others
Regional analysis
In terms of value, North America held the largest share of the global lactic acid market. The lactic acid market is driven by the growth of the US market. The North American market is regulated, with the U.S Environmental Protection Agency (EPA) overseeing chemical product monitoring and marketing.
The Lactic Acid Market is analyzed across the below mentioned region.
North America
Europe

UK
Germany
France
Italy
Rest of Europe

Asia Pacific

China
Japan
South Korea
India
Rest of Asia Pacific

Rest of the World
Lactic Acid Market Players:
key players in Lactic Acid Market include:
Corbion
DuPont
Cargill
Galactic
DOW
Unitika
Henan Jindan Lacic Acid Technology
Sulzer
Mushashino Chemical
Vigon International
REPORT CONTENT BRIEF:
High level analysis of the current and future Lactic Acid market trends and opportunities
Detailed analysis on current market drivers, restraining factors, and opportunities in the future
Lactic Acid market historical market size for year 2020, and forecast from 2021 to 2028
Lactic Acid market share analysis at each product level
Competitor analysis with a detailed insight into its product segment, financial strength, and strategies adopted.
Identifies key strategies adopted including product launches and developments, mergers and acquisitions, joint ventures, collaborations and partnerships as well as funding taken and investment done, among others.