Category: Construction & Manufacturing
Sub-Category: Industrial Equipment & Automation
The Industrial Air Filtration market was valued at $11.2 billion in 2019 and is expected to reach $21.0 billion by 2027 growing at a CAGR of 8.2% from 2020 to 2027.
The industrial air filtration systems are used to filter out harmful substances such as nanoparticle and smoke from the production and manufacturing units including, food, cement, plastic, metal processing, power, and pharmaceuticals. The industrial air filters reduce the concentration of contaminants to an acceptable level and make the inside air breathable. The increase in the number of industries arise a rise of technologically advanced air purifiers that must be eco-friendly and consumes less power. The manufacturing industries are investing a large amount in advanced filtration equipment, which makes the overall system expensive in terms of installation and maintenance. However, the rising concerns regarding worker's safety and environmental health are the major factors expected to fuel the market growth of the industrial air filters.
The major factors that have impacted the growth of the industrial Air Filtration market include favorable government reforms for controlling emissions and technological advancements for developing air filtration systems with enhanced quality, and among others.
Favorable government reforms:
The government across the globe are implementing norms for emission coming out of industries due to the rising air pollution and threats caused to human health due to harmful material and gases. The norms are also aimed at maintaining the health and security of the workforce in the production unit. Many countries have started programs for controlling air pollution including the Clean Air Act by United States Federal Law which aims at controlling air pollution at the national level, and Koyo Protocol for reducing greenhouse gas emissions globally. The increasing economic activities globally and growing setup of manufacturing units of industries such as automotive, cement, metal processing, power, and others in emerging economies of Asia Pacific have increased the demand for air filtration systems, thereby it is anticipated to drive the industrial air filtration market growth.
Technological Advancements:
The increased implementation of air filtration from end-use industries such as cement, food, agriculture, pharmaceutical, metal processing, pulp and paper, plastic, and power industries has provided opportunities for technological advancements in the industrial air filtration systems. The increasing demand has asked for industrial filters that are low in cost and has a long life. The end-use industries are demanding air filtration systems that can reduce their operating costs and energy costs and can abide by the emission norms. The companies producing industrial air filters are continuously working towards enhanced performance filtration systems to gain competitive advantage. Technological advancements are focused on the usage of materials that are corrosion resistance, cheap, and does not harm the environment. The use of advanced and modern technology in the industrial air filtration system is anticipated to trigger this market growth.
Key Insight in the report:
The Global Industrial Air Filtration market report covers Executive Summary, Market Dynamics, Trend Analysis, Market Size and Forecast, Competitive Intelligence, Market Positioning, Product Benchmarking, and Opportunity Analysis.
The report covers extensive competitive intelligence which includes the following data points:
Business Overview
Business Model
Financial Data
Financial – Existing
Financial – Funding
Product Segment Analysis and specification
Recent Development and Company Strategy Analysis
SWOT Analysis
The report covers market sizing and forecasting at the country level as well as at the segment level. Industrial Air Filtration Market is analyzed across below-mentioned different segments:
| Technology | Product | Industries |
| --- | --- | --- |
| Mechanical | Dust Collector | Oil & Gas |
| Electrostatic | HEPA Filter | Power Generation |
| Electronic | Mist Collector | Pharmaceutical |
| | Baghouse Filters | Metal & Mining |
| | Others | Process Industry |
| | | Manufacturing |
| | | Others |
In the product segment, HEPA filter is anticipated to witness high growth because it helps in the prevention of the spread of airborne bacterial and viral organism, thus, offering clean and high-quality air and safeguards the health of facility workers. This is widely used in industries such as automotive, healthcare, and pharmaceutical industries. Based on industries, power generation is projected to have lucrative growth opportunities due to increasing population and industrialization that asks for more energy, which in turn has increased the adoption of air filtration systems.
Industrial Air Filtration Market is also analyzed across below-mentioned regions/countries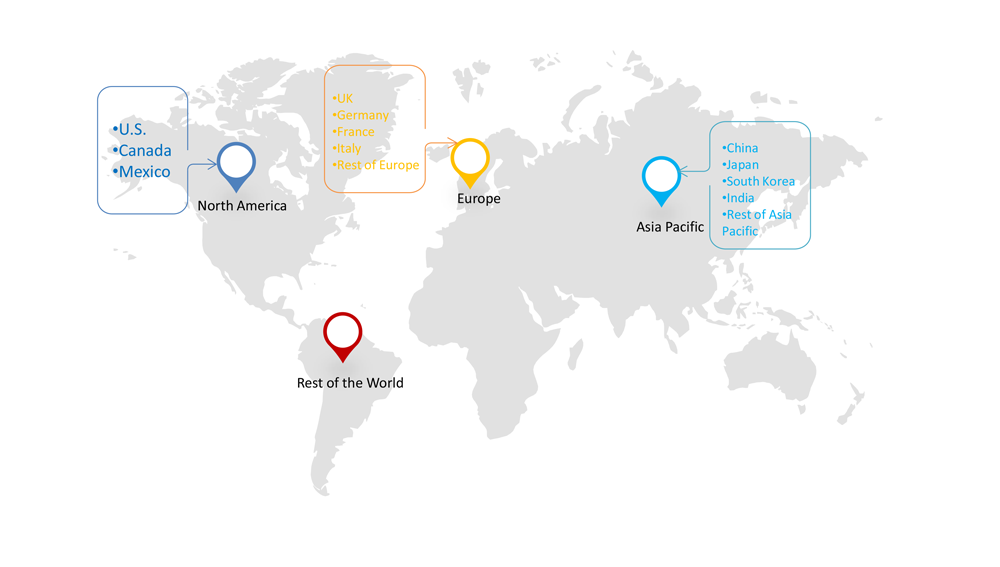 Asia Pacific region is expected to dominate the Industrial Air Filtration market owing to the rapid industrialization, high rate of imports and exports, and increasing disposable income. Furthermore, the increasing metal processing in pharmaceutical and chemical industries due to cheap labor and ease of availability of resources is also expected to drive this market growth. North America is expected to show lucrative growth in the Industrial Air Filtration market due to rising concerns towards environmental health and various regulation regarding emission control. The increasing production capabilities of manufacturing, power generation, oil & gas, and food & beverage industries is further expected to boost market growth. Europe is projected to witness higher growth due to the presence of several small-scale industries.
Some of the key players in of Industrial Air Filtration Market include:
AAF International B.V.
Donaldson Company Inc.
Eaton Filtration, LLC
Alfa Laval Inc.
BWF Protec
Lenntech B.V.
Testori
Parker Hannifin Corp.
Universal Air Filter Co.
Keller USA, Inc.
Recent developments:
In December 2019, Parker Hannifin Corporation launched two new filtration products designed specifically for the agriculture industry. The filters can trap airborne viruses and the dust particles. Thus, preventing them from entering the building and contaminating swine or poultry populations which can result in catastrophic losses to animal populations and business.
REPORT CONTENT BRIEF:
High level analysis of the current and future market trends and opportunities
Detailed analysis on current market drivers, restraining factors, and opportunities in the future
Industrial Air Filtration market historical market size for year 2019, and forecast from 2020 to 2027
Vendor market share analysis at each product level
Competitor analysis with a detailed insight into its product segment, financial strength, and strategies adopted.
Identifies key strategies adopted including product launches and developments, mergers and acquisitions, joint ventures, collaborations and partnerships as well as funding taken and investment done, among others.