Category: Electronics & Semiconductors
Sub-category: Electronic Device
The Global Hearables Market was valued at $21,665.2 million in 2019 and is anticipated to grow at a CAGR of 19.5% from 2020 to 2027. Hearables refer to the technology of a hybrid form which consists of a combination of hearing devices and wearable technology. Also known as Smart headphones, hearables are electronic in-ear devices, which serve various purposes such as communication, fitness tracking, medical monitoring and wireless transmission. Hearable devices are used across multiple industries and now possess more features such as wireless communication and built-in voice-enabled virtual systems. Hearables drastically increase and improve the sound quality and listening experience of the user. Additionally, smart headphones also possess movement, biometric, proximity, and, other sensors that allow collecting context about the consumer.
Drivers
The shift towards adoption of wireless headphones hearables
There has been an increase in the demand for wireless headphones as compared to wired headphones. The wireless headsets are connected with WiFi and Bluetooth technology which allows the user to connect the headset to their phone, laptop, tablet, computer, or any other smart device. Wireless headphones are much more convenient compared to wired headphones because the user doesn't need to keep your phone or laptop close to their body or carry it around everywhere. The consumer can just place it in one location and roam around freely within a certain distance. It also enables hands- free calling and communication. This will help boost the demand in the hearables market.
Aids for the hearing impaired
According to the World Health Organization (WHO), over 5% of the world's population have hearing disabling impairment. The Consumer Technology Association Foundation awarded a grant to the Front Porch Center for Innovation and Wellbeing (FPCIW) to start an initiative called Hearables for All. This initiative will explore and evaluate hearable devices to help the hearing impaired to obtain these devices. The FPCIW approaches companies and works with them to develop products which are suitable for the hearing impaired and sell them at discounted prices. Companies can try to target this segment as well as it will help the hearables market to grow.
Companies and manufacturers of the hearables market focus on producing headsets that can be used by workers for noise cancellation as well as produce hearing aids to those in need. Even though the market for consumers who need hearing aids is small, it's an extremely important segment and can even be taken up as a part of a CSR activity. This will not only help the needy ones but will also boost the reputation and goodwill of the companies thus helping the growth of the overall hearables market.
Restraints
The biggest issue related to hearables is that they need to be changed very frequently and for long hours since the battery drains quickly. This problem is not faced with wired headphones. The price of hearables is also considerably higher than wired headsets which can inhibit the growth of the market.
Key Insight in the report:
The Global Hearables market report covers Executive Summary, Market Dynamics, Trend Analysis, Market Size and Forecast, Competitive Intelligence, Market Positioning, Product Benchmarking, and Opportunity Analysis.
The report covers extensive competitive intelligence which includes following data points:
Business Overview
Business Model
Financial Data
Financial – Existing
Financial – Funding
Product Segment Analysis and specification
Recent Development and Company Strategy Analysis
SWOT Analysis
The report covers market sizing and forecasting at the country level as well as at the segment level.  Hearables Market is analyzed across below-mentioned different segments:
| Product Type | Type | Connectivity | Application | End-User |
| --- | --- | --- | --- | --- |
| Headsets | In-Ear | Bluetooth | Consumer | Construction |
| Earbuds | Over-Ear | Wi-Fi | Industrial | Manufacturing |
| Hearing Aids | | DECT | Healthcare | Mining |
| Others | | Others | Others | Others |
The global hearables market is segmented by end-user, application, Connectivity, product Type, and region. By end-user, it is bifurcated into construction, manufacturing, mining, and others. By application, it is categorized into Consumer, Industrial, Healthcare, and Others.  Connectivity it's divided into Bluetooth, Wi-Fi, DECT, and Others. By Type, it is classified into In-ear and Over-ear. By region, it is further divided into North America, US, Canada, Mexico, Europe, UK, Germany, France, Italy, Rest of Europe, Asia Pacific, China, Japan, South Korea, India, Rest of Asia Pacific and Rest of the World. By Product Type, the market classified into Headsets, Earbuds, Hearing Aids, and others.
Hearables Market is also analyzed across below-mentioned regions/countries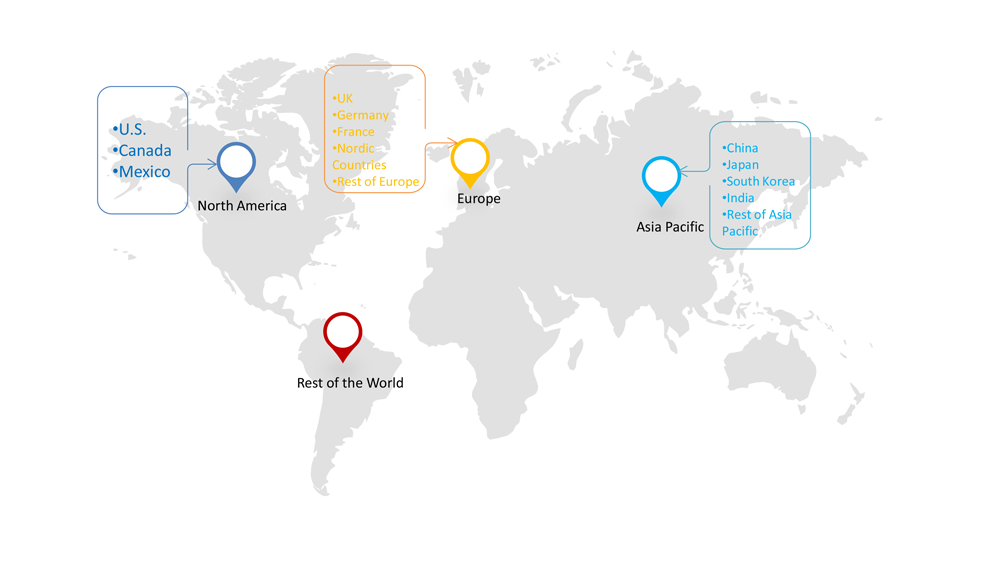 Asia Pacific has dominated hearables market due to growing developments in the manufacturing and construction industry. As a result of this, the demand for the noise-canceling headphones and industrial hearables for communication is at an all-time high demand. Asia Pacific region is expected to grow significantly from 2020 to 2027. The European region accounts for the second-largest share in terms of revenue is. The manufacturing and industrial sector are large in Europe as well because of which 29% of workers have to deal with high levels of noise pollution for at least one- fourth of their time. This leads to multiple health problems such as loss of hearing, anxiety, blood pressure, etc. The government has, therefore, come up with initiatives to prevent these issues and as a result, the demand for hearables has increased.
The some of the key players in of Hearables Market include:
Apple, Inc.
Bose Corporation
BRAGI GmbH
Koninklijke Philips N.V.
Samsung Electronics Co., Ltd.
Sony Corporation
Sennheiser Electronic GMBH & Co., KG
Skullcandy, Inc.
Jabra (GN Store Nord A/S)
LG Electronics
Recent developments
Apple is planning to launch a high-end over-ear Bluetooth earphone with a new noise cancellation feature in 2020 similar to the AirPods 3. These hearables are claimed to have superior sound quality as well as a new and innovative design. After the success of AirPods the launch of noise-canceling Bluetooth earphones might be the next big hit.
REPORT CONTENT BRIEF:
High level analysis of the current and future market trends and opportunities
Detailed analysis on current market drivers, restraining factors, and opportunities in the future
Historic market size for year 2019, and forecast from 2020 to 2027
Vendor market share analysis at each product level
Competitor analysis with a detailed insight into its product segment, financial strength, and strategies adopted.
Identifies key strategies adopted including product launches and developments, mergers and acquisitions, joint ventures, collaborations and partnerships as well as funding taken and investment done, among others.