Category: Electronics & Semiconductor
Sub-Category: Technology
The Global Augmented Reality and Virtual Reality Market was valued at $ 22.9 Billion in 2019 and is anticipated to grow at a CAGR of 48.2% from 2020 to 2027. Augmented Reality is a technology that uses existing user's environment and provides an advanced version of reality by performing digital transformation over it and deliver digital experience. Augmented reality merges the real world and digital world and provides a real-time environment for users so that they can have a better interaction with software and machines. Augmented reality is used in smartphones and other digital devices for gaming and commercial use. Virtual Reality is a technology that offers users with an artificial, computer-generated 3-D environment that resembles the original environment and offer a realistic experience to users. With VR users feel like they are experiencing reality by recreating an interactive simulated real-life environment.
The AR and VR market has shown prominent growth in the North America region, due to the implementation of advanced technology. The presence of numerous Augmented Reality and Virtual Reality companies has helped this region to dominate the market. The Asia-Pacific region is projected to have the highest growth rate owing to the increase in user base for technology and adaptation of technology for better business performance.
The major factors that have impacted the growth of the Augmented Reality and Virtual Reality are contemporary progress for better AR and VR technology, increased demand of AR and VR in the gaming industry, cost-efficient AR and VR solutions to make business more profitable, and among others.
CONTEMPORARY PROGRESS:
With the rapid growth in technology, many companies are working towards finding innovative and more advanced features that can be incorporated into AR and VR technology to meet the user demand. AR and VR technologies can be implemented to organize seminars, public lectures, and meetings. This technology can be used for military training, medical professional training, and the self-learning process. The success of each new AR and VR product launched depends on the novelty and feasibility of additional features that are introduced to the latest model. The key players of the market are stressing on bringing innovative advancement in AR and VR technologies. The increased investments for enhancing AR and VR technology will boost the market growth for this market.
INCREASED DEMAND OF AR AND VR IN GAMING INDUSTRY:
The gaming industry is adopting AR and VR technology for providing a more realistic gaming experience for the users. This provides an instant interaction between the user and the gaming scenario.  As the number of young populations is getting increased the number of gamers worldwide has also increased which has attributed to increased competition in the gaming industry. The key industry players are adopting AR and VR to their games to sustain in the market. The demand for AR and VR enabled games has fuelled the growth of the Augmented Reality and Virtual Reality market.
COST-EFFICIENT AR AND VR BASED SOLUTION:
The various application of AR and VR technologies such as training and skill development. Aviation, military, healthcare, and other industries are employing AR and VR training solutions. The AR and VR can provide a virtual environment similar to the real one eliminating the need of a trainer, resulting in cost-cutting. The benefit of providing training with AR and VR solution the trainee can understand the situation more accurately as the situation is created using the AR and VR technology which resembles real environment giving practical and more effective learning, thus driving the market growth.
 Key Insight in the report:
The Global Augmented reality and Virtual reality market report covers Executive Summary, Market Dynamics, Trend Analysis, Market Size and Forecast, Competitive Intelligence, Market Positioning, Product Benchmarking, and Opportunity Analysis.
The report covers extensive competitive intelligence which includes the following data points:
Business Overview
Business Model
Financial Data
Financial – Existing
Financial – Funding
Product Segment Analysis and specification
Recent Development and Company Strategy Analysis
SWOT Analysis
The report covers market sizing and forecasting at the country level as well as at the segment level. Augmented reality and Virtual reality Market is analyzed across below-mentioned different segments:
| Component | Application | Organization Size | End-User |
| --- | --- | --- | --- |
| Hardware | Consumer | Large Enterprise | Gaming |
| Software | Enterprise | Small and Medium Enterprise | Entertainment and Media |
| | | | Automotive |
| | | | Manufacturing |
| | | | Aerospace & Defense |
| | | | Healthcare |
| | | | Education |
| | | | Others |
The growing implementation of AR and VR solutions has encouraged different players to invest more in innovative technologies to gain competitive technology. The major vertical that will show higher CAGR growth in the Automotive industry. To enhance the driving experience automotive industry, better navigation system, security solutions etc. has boost the AR and VR market growth. The implementation of AR and VR in the retail and healthcare market are the major drivers for the growth for Augmented Reality and Virtual Reality
Augmented reality and Virtual reality Market is also analyzed across below-mentioned regions/countries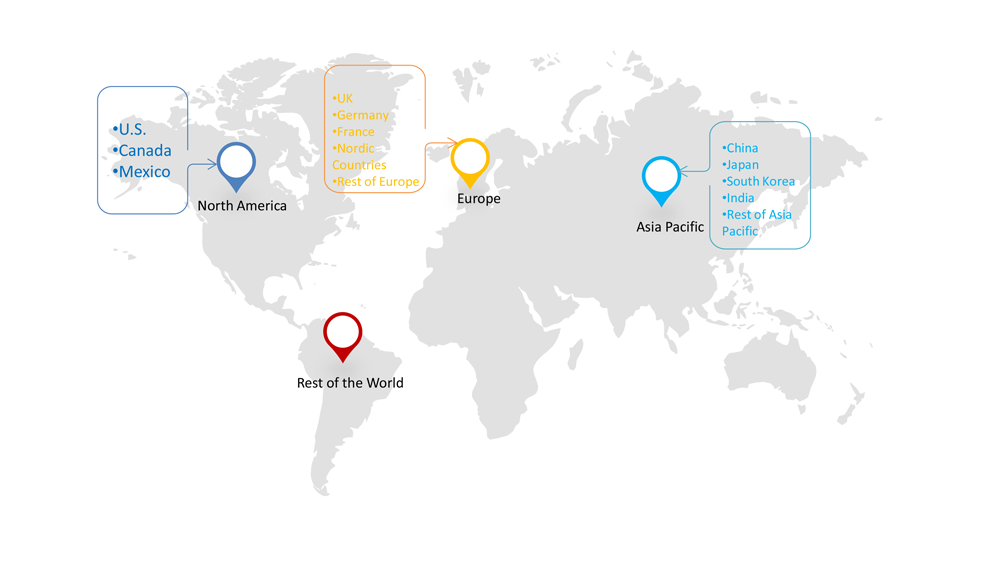 Some of the key players in Augmented reality and Virtual reality Market include:
Qualcomm Technologies Inc.
Google LLC
Samsung Electronics Corporation Limited
Intel Corporation
Sony Corporation
Microsoft Corporation
Facebook
Magic Leap
Seiko Epson Corporation
Vuzix Corporation
Himax Technologies Inc
HTC
RECENT DEVELOPMENTS:
In April 2020, Vuzix Announced M400 Smart Glasses Support by Help Lightning's Remote Support Merged Reality Platform. This glass will provide virtual interaction with over 50,000 users across 88 countries.
In February 2020, Qualcomm announced a new extended reality designed headset based on Qualcomm Snapdragon XR2 platform. It will be the world's first 5-G enabled XR. It will provide users with premium quality Augmented Reality, Virtual Reality and Mixed Reality for superior performance and interactivity.
REPORT CONTENT BRIEF:
High level analysis of the current and future market trends and opportunities
Detailed analysis on current market drivers, restraining factors, and opportunities in the future
Augmented reality and Virtual reality market historical market size for year 2019, and forecast from 2020 to 2027
Vendor market share analysis at each product level
Competitor analysis with a detailed insight into its product segment, financial strength, and strategies adopted.
Identifies key strategies adopted including product launches and developments, mergers and acquisitions, joint ventures, collaborations and partnerships as well as funding taken and investment done, among others.