Flavored Wine Market Overview
The global Flavored Wine Market Size is expected to reach USD 623.8 Billion by 2033. The global Flavored Wine industry size accounted for USD 382.4 Billion in 2023 and is expected to expand at a compound annual growth rate (CAGR) of 5.02% from 2023 to 2033. The world of wine has expanded beyond the realm of traditional flavors, and the flavored wine market has emerged as a vibrant and exciting segment. Flavored wines offer a unique blend of traditional winemaking techniques with added flavors, catering to the diverse taste preferences of consumers. By infusing wines with fruit extracts, spices, herbs, or other natural and artificial ingredients, flavored wines provide an array of options that tantalize the palate and elevate the drinking experience.
Flavored wines have gained popularity due to their versatility and ability to appeal to a broader consumer base. They are enjoyed by individuals who prefer sweeter or fruitier flavors, those seeking a refreshing and aromatic alternative to traditional wine, and even those who are new to the world of wine and wish to explore unique taste profiles. The application of flavors in wine production has not only opened doors to new flavor combinations but has also expanded the market, attracting a wider audience and rejuvenating interest in wine consumption.
Global Flavored Wine Market Synopsis

COVID-19 Impact Analysis
The COVID-19 pandemic presented a significant challenge to the flavored wine market. As the world grappled with lockdowns, social restrictions, and the closure of bars and restaurants, the demand for flavored wines plummeted. The absence of social gatherings and events, which typically feature wine, created a substantial decline in sales.
However, the flavored wine market showcased resilience and adaptability. With consumers forced to find alternative ways to enjoy their favorite beverages at home, the market started to recover. The convenience of flavored wines, which offer ready-to-drink options with diverse flavors, proved to be a compelling choice for individuals seeking to recreate the joy of socializing within the confines of their homes. Moreover, the surge in online sales and the rise of e-commerce platforms played a pivotal role in the market's recovery. As consumers turned to online channels to purchase their favorite flavored wines, online wine sales experienced a remarkable upswing. This shift in consumer behavior highlighted the importance of digital platforms and opened new avenues for the flavored wine market to explore.
Flavored Wine Market Dynamics
The major factors that have impacted the growth of Flavored Wine are as follows:
Drivers:
Evolving Consumer Preferences and Taste Exploration
The consumer's thirst for new taste sensations has fueled the creation of flavored wines that push the boundaries of traditional wine production. Winemakers are experimenting with an assortment of flavors, such as tropical fruits, berries, spices, and even unconventional ingredients like chocolate or coffee, to create bold and exciting flavor profiles. By blending these flavors harmoniously with the base wine, they offer consumers an opportunity to embark on a sensory adventure and discover new dimensions of enjoyment.
This driving factor has led to the rise of flavored wine brands that cater specifically to consumers seeking innovative taste experiences. These brands focus on research and development, constantly exploring new flavor combinations and refining their offerings to satisfy the ever-evolving consumer palate. By embracing the changing preferences and delivering unique flavors, the flavored wine market has successfully attracted a new generation of wine enthusiasts and expanded its reach.
Restraint:
Regulatory Challenges and Labeling Requirements
While the flavored wine market continues to flourish, it faces significant challenges due to regulatory hurdles and labeling requirements. As flavored wines diverge from traditional wine offerings, governing bodies often introduce stricter guidelines to ensure transparency, consumer safety, and accurate representation of the product. Compliance with these regulations can pose obstacles for producers and impact the growth and expansion of the flavored wine market. One of the primary challenges faced by flavored wine producers is the need for clear and accurate labeling. Regulatory bodies enforce strict guidelines on how flavored wines should be labeled, ensuring that consumers are informed about the ingredients used and that any potential allergens are clearly indicated. This requirement aims to protect consumers and provide them with the necessary information to make informed purchasing decisions.
Opportunity:
Global Market Expansion and Untapped Potential
While the flavored wine market has already made significant strides, there are ample opportunities for further growth and expansion, especially in untapped markets around the world. As consumer tastes continue to evolve and preferences for unique flavor experiences rise, the global market presents immense potential for flavored wine producers to tap into.
One of the key opportunities lies in expanding the market to regions where flavored wines are not yet prevalent. Emerging markets in Asia, Latin America, and Africa offer untapped consumer bases with a growing interest in wine consumption. These regions are witnessing an increase in disposable incomes, changing lifestyles, and a shift towards exploring different taste profiles. By strategically entering these markets and tailoring flavored wine offerings to suit local preferences, producers can tap into a vast customer base and establish themselves as pioneers in these regions.
Flavored Wine Segment Overview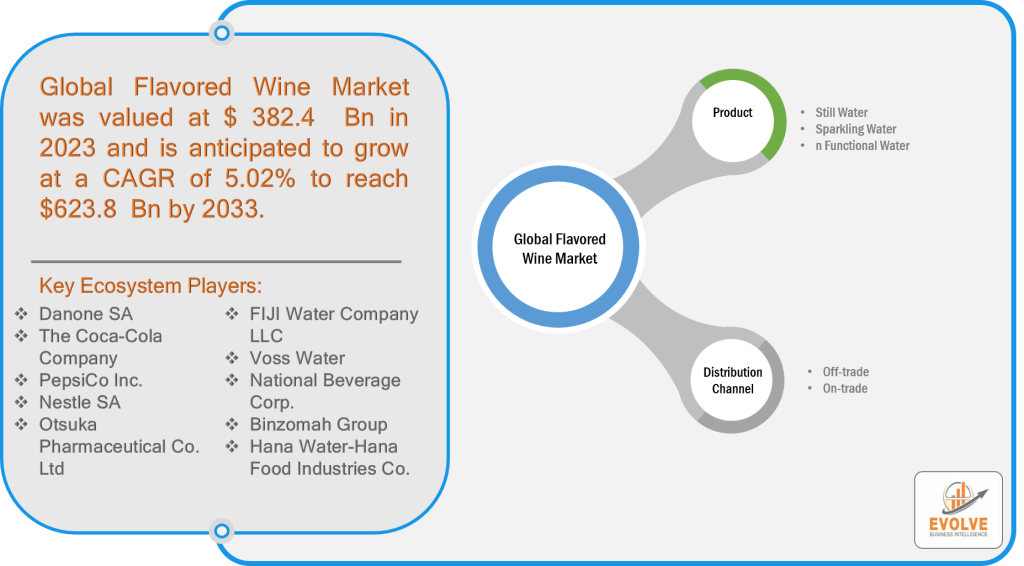 By Type
Based on the Type, the market is segmented based on Still Water, Sparkling Water, and Functional Water. Still water, being the traditional and most widely consumed variant, holds the largest share in the market. It offers a refreshing and pure drinking experience, making it a popular choice among consumers. Still water is often sourced from natural springs or purified through advanced filtration processes to ensure its quality and taste. Sparkling water, on the other hand, has gained significant popularity in recent years, driven by the growing preference for carbonated beverages. Sparkling water provides a bubbly and fizzy sensation, making it an enjoyable alternative to sugary sodas or alcoholic drinks. It is available in various flavors, both natural and artificial, to cater to different consumer preferences.
By Distribution Channel
Based on Distribution Channel, the market has been divided into Off-trade, Non-Off-trade. the Off-trade segment holds the largest share in the Flavored Wine market. The off-trade channel refers to the retail sales of Flavored Wine through supermarkets, convenience stores, online platforms, and other off-premise locations. This distribution channel caters to consumers who purchase Flavored Wine for home consumption or on-the-go needs. The on-trade channel, on the other hand, includes restaurants, cafes, hotels, and other establishments where Flavored Wine is consumed on-site. This channel serves consumers who prefer to dine out or enjoy Flavored Wine in social settings.
Global Flavored Wine Market Regional Analysis
Based on region, the global Flavored Wine market has been divided into North America, Europe, Asia-Pacific, South America and Middle East & Africa. North America is projected to dominate the use of the market followed by the Europe and Asia-Pacific regions.
North America Market
North America holds a significant share in the flavored wine market, with the United States being a major player in the region. The demand for flavored wines in North America is driven by the popularity of sweet and fruity wine options. Consumers in this region often seek wines with a wide range of flavors, appealing to diverse taste preferences. In the United States, flavored wine brands have gained substantial traction, offering an extensive selection of flavors and innovative products. From tropical fruit-infused wines to spiced and herbal varieties, producers have catered to the evolving preferences of American consumers. Additionally, the convenience factor of ready-to-drink flavored wines has resonated well with individuals seeking a hassle-free drinking experience.
Canada also contributes to the flavored wine market in North America. With a multicultural population and an appreciation for diverse flavors, Canadian consumers have shown a growing interest in flavored wines. The market in Canada is influenced by both local and international flavors, presenting opportunities for domestic and imported brands alike.
Asia Pacific Market
Europe has a rich heritage in wine production, and flavored wines have carved a niche within this traditional market. Countries such as Spain, Italy, and France have a long-standing tradition of producing flavored wines, such as Sangria, Vermouth, and Mulled Wine. These iconic flavored wines have gained popularity both within Europe and internationally.
In Spain, Sangria stands as a classic flavored wine, capturing the essence of Mediterranean flavors with its infusion of fruits, spices, and sometimes even spirits. It is widely consumed during social gatherings and celebrations. Italy has its own flavored wine traditions, with varieties like Fragolino and Moscato d'Asti showcasing the country's fruit-forward and aromatic wine offerings. France, renowned for its winemaking expertise, has ventured into flavored wines by introducing unique blends infused with herbs, flowers, and botanicals.
Apart from these traditional flavored wines, Europe has seen an influx of innovative and contemporary flavors in recent years. Producers are experimenting with combinations like elderflower, ginger, and even exotic tropical fruits to captivate the palates of a younger generation. These modern flavors have found popularity among European consumers seeking new taste experiences beyond the traditional wine offerings.
Competitive Landscape
The global Flavored Wine market is highly competitive, with numerous players offering a wide range of software solutions. The competitive landscape is characterized by the presence of established companies, as well as emerging startups and niche players. To increase their market position and attract a wide consumer base, the businesses are employing various strategies, such as Type launches, and strategic alliances.
Prominent Players:
Danone SA
The Coca-Cola Company
PepsiCo Inc.
Nestle SA
Otsuka Pharmaceutical Co. Ltd
FIJI Water Company LLC
Voss Water
National Beverage Corp.
Binzomah Group
Hana Water-Hana Food Industries Co.
Key Development:
February 2020: Agthia Group PJSC announced the launch of Al Ain Plant Bottle, the region's first plant-based water bottle. An MoU was also signed between Agthiaand Veolia, a global leader in optimized resource management, to launch a PET water bottle collection initiative in the United Arab Emirates.
Scope of the Report
Global Flavored Wine Market, by Type
Still Water
Sparkling Water
Functional Water
Global Flavored Wine Market, by Distribution Channel
Global Flavored Wine Market, by Region
North America
Europe

UK
Germany
France
Italy
Spain
Benelux
Nordic
Rest of Europe

Asia Pacific

China
Japan
South Korea
Indonesia
Australia
Malaysia
India
Rest of Asia Pacific

South America

Brazil
Argentina
Rest of South America

Middle East &Africa

Saudi Arabia
UAE
Egypt
South Africa
Rest of Middle East & Africa
| Parameters | Values |
| --- | --- |
| Market Size | 2033: USD 623.8 Billion |
| Compounded Average Growth Rate (CAGR) 2023 to 2033 | 5.02% |
| Base Year | 2022 |
| Forecast Period | 2023 to 2033 |
| Historical Data | 2021 (2017 to 2020 On Demand) |
| Report Coverage | Revenue Forecast, Competitive Landscape, Growth Factors, and Trends |
| Key Segmentations | Type, Distribution Channel |
| Key Market Opportunities | Global Market Expansion and Untapped Potential |
| Key Market Drivers | Evolving Consumer Preferences and Taste Exploration |
| Geographies Covered | North America, Europe, Asia-Pacific, South America, Middle East, Africa |
| Key Vendors | |
Report Content Brief:
High-level analysis of the current and future Flavored Wine market trends and opportunities
Detailed analysis of current market drivers, restraining factors, and opportunities in the future
Flavored Wine market historical market size for the year 2021, and forecast from 2023 to 2033
Flavored Wine market share analysis at each Type level
Competitor analysis with a detailed insight into its Type segment, Store strength, and strategies adopted.
Identifies key strategies adopted including Type launches and developments, mergers and acquisitions, joint ventures, collaborations, and partnerships as well as funding taken and investment done, among others.
To identify and understand the various factors involved in the global Flavored Wine market affected by the pandemic
To provide a detailed insight into the major companies operating in the market. The profiling will include the Store health of the company's past 2-3 years with segmental and regional revenue breakup, Type offering, recent developments, SWOT analysis, and key strategies.
Frequently Asked Questions (FAQ)
What is the study period of this market?
The study period of the global Flavored Wine market is 2021- 2033
What is the growth rate of the global Flavored Wine market?
The global Flavored Wine market is growing at a CAGR of 5.02% over the next 10 years
Which region has the highest growth rate in the market of Flavored Wine?
North America is expected to register the highest CAGR during 2023-2033
Which region has the largest share of the global Flavored Wine market?
Europe holds the largest share in 2022
Who are the key players in the global Flavored Wine market?
Danone SA, The Coca-Cola Company, PepsiCo Inc., Nestle SA, Otsuka Pharmaceutical Co. Ltd, FIJI Water Company LLC, Voss Water, National Beverage Corp., Binzomah Group, and Hana Water-Hana Food Industries Co the major companies operating in the market.
Do you offer Post Sale Support?
Yes, we offer 16 hours of analyst support to solve the queries
Do you sell particular sections of a report?
Yes, we provide regional as well as country-level reports. Other than this we also provide a sectional report. Please get in contact with our sales representatives.