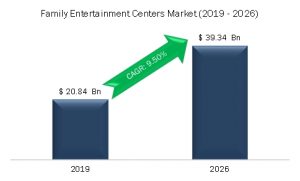 The Global Family Entertainment Centers (FECs) market was estimated to be USD 20.84 billion in 2019 and is anticipated to grow at a CAGR of 9.50% from 2020 to 2026.
Key Insight in the report:
The Global Family Entertainment Centers (FECs) market report covers Executive Summary, Market Dynamics, Trend Analysis, Market Size and Forecast, Competitive Intelligence, Market Positioning, Product Benchmarking, and Opportunity Analysis.
The report covers extensive competitive intelligence which include following data points:
Business Overview
Business Model
Financial Data
Financial – Existing
Financial – Funding
Product Segment Analysis and specification
Recent Development and Company Strategy Analysis
SWOT Analysis
The report covers market sizing and forecasting at the country level as well as at the segment level. FECs market is analyzed across below-mentioned different segments:
Age Group
Facility Size
Revenue Stream
Facility Type
Entertainment Type
·         0-8 Years

·         9-12 Years

·         13-19 Years

·         19-25 Years

·         25+ Years

·         Up to 5,000 sq. ft.

·         5,001 to 10,000 sq. ft.

·         10,001 to 20,000 sq. ft.

·         0.5 to 1 acres

·         1 to 10 acres

·         10 to 30 acres

·         Over 30 acres

·         Entry Fees & Ticket

·         Food & Beverages

·         Merchandising

·         Advertisement

·         Others

·         Children Entertainment Centers (CECs)

·         Children Edutainment Centers (CEDCs)

·         Adult Entertainment Centers (AECs)

·         Location-Based VR Entertainment Centers (LBECs)

·         Arcade Studios

·         AR and VR gaming Zones

·         Physical Play Activities

·         Skill/Competition Games

·         Others
FECs Market is also analyzed across below-mentioned regions/countries
·         North America

o   US

o   Canada

·         Europe

o   UK

o   Germany

o   France

o   Nordic Region

o   Rest of Europe

·         Asia Pacific

o   China

o   Japan

o   South Korea

o   India

o   Rest of Asia Pacific

·         Rest of the World
The some of the key players in of FECs Market include:
Dave & Buster's
CEC Entertainment, Inc.
Cinergy Entertainment
KidZania
Scene 75 Entertainment Centers,
The Walt Disney Company
Lucky Strike Entertainment
FunCity
Smaaash Entertainment Pvt. Ltd.
LEGOLAND Discovery Center
REPORT CONTENT BRIEF:
High level analysis of the current and future market trends and opportunities
Detailed analysis on current market drivers, restraining factors, and opportunities in the future
Historic market size for year 2018, market estimates for 2019 and forecast from 2020 to 2026
Vendor market share analysis at each product level
Competitor analysis with a detailed insight into its product segment, financial strength, and strategies adopted.
Identifies key strategies adopted including product launches and developments, mergers and acquisitions, joint ventures, collaborations and partnerships as well as funding taken and investment done, among others.