Blister Packaging Market Size is expected to reach USD 41.70 Billion by 2033. The Blister Packaging industry size accounted for USD 18.33 Billion in 2023 and is expected to expand at a compound annual growth rate (CAGR) of 4.94% from 2023 to 2033. Blister packaging is a widely employed packaging method in the retail sector that serves the purpose of enclosing and safeguarding products. It entails the utilization of transparent plastic or thermoformed blisters, typically composed of PVC or PET materials, which are shaped to conform to the product's contours. These blisters are then sealed onto a backing card or foil, resulting in a transparent and tamper-evident package that allows for prominent product display while ensuring protection against potential harm, contamination, and unauthorized access. Blister packaging finds extensive application in various industries such as consumer goods, pharmaceuticals, electronics, and retail merchandise. It offers notable advantages including product visibility, durability, and the potential incorporation of printed graphics, labeling, and information inserts for branding purposes and conveying essential product details.
Global Blister Packaging Market Synopsis
COVID-19 Impact Analysis
The blister packaging market experienced a detrimental effect due to the Covid-19 pandemic. Several factors played a significant role in this negative impact. Disruptions in the global supply chain resulted in delays in the procurement of raw materials necessary for blister packaging production. Moreover, reduced consumer spending on non-essential goods, coupled with a shift in consumer behavior towards online shopping, led to a decreased demand for blister packaging. The pharmaceutical industry, a major consumer of blister packaging, also faced disruptions during the pandemic, further contributing to the market's adverse conditions. Overall, the pandemic had a detrimental effect on the blister packaging market, causing challenges such as supply chain disruptions, reduced demand, and industry-specific disruptions.
Global Blister Packaging Market Dynamics
The major factors that have impacted the growth of Blister Packaging are as follows:
Drivers:
Increasing Consumer Demand
The blister packaging market is driven by the growing consumer demand for a wide range of products, including consumer goods, pharmaceuticals, and electronic items. Blister packaging offers several advantages that appeal to consumers, such as product visibility, protection, and convenience in displaying and accessing the contents. Consumers appreciate the ability to see the product before purchase, as well as the protection provided by the blister packaging against damage, tampering, and contamination. The convenience of blister packaging, which often includes easy-to-open features and individual compartments, enhances the overall consumer experience and contributes to the increasing demand for blister packaging solutions.
Restraint:
One significant restraint on the blister packaging market is environmental concerns associated with the use of certain materials, particularly PVC (Polyvinyl Chloride). PVC is a widely used material in blister packaging due to its clarity and durability. However, PVC is non-biodegradable and can have adverse environmental impacts during its production and disposal. As environmental awareness increases, there has been a rise in scrutiny and regulations surrounding the use of PVC and other non-sustainable materials in packaging. This poses a restraint on the blister packaging market, as manufacturers need to explore alternative materials and sustainable packaging solutions to address these concerns.
Opportunity:
Shift Towards Sustainable Packaging
The growing emphasis on sustainable practices and the demand for eco-friendly packaging presents a significant opportunity for the blister packaging market. Manufacturers are actively exploring and adopting sustainable packaging options to meet consumer preferences and regulatory requirements. This includes the use of environmentally friendly materials like PET (Polyethylene Terephthalate), bio-based plastics, and recyclable alternatives. Innovative designs, such as easy-to-separate components for recycling, are also being developed. By embracing sustainable packaging practices, the blister packaging market can align with the growing consumer focus on environmental responsibility and differentiate itself as an eco-conscious packaging solution. This shift towards sustainable blister packaging not only presents an opportunity for market growth but also contributes to reducing the environmental impact of packaging materials.
Blister Packaging Market Segment Overview
By Raw material
Based on the Raw material, the market is segmented based on Low-barrier Film, Medium-barrier Film, and High-barrier Film. The largest market share is anticipated to go to the High-barrier Film segment. High-barrier films are known for their excellent barrier properties against moisture, oxygen, and other environmental factors that can affect the product's shelf life and quality. These films help maintain the integrity and freshness of the packaged products, making them particularly suitable for sensitive or perishable items.
By Type
Based on Type, the market has been divided into Calendar Pack, Carded Pack, and Clamshell. The market is projected to see significant growth in the Carded Pack segment. The carded pack segment refers to blister packaging that is attached to a printed card or backing material. This type of packaging is often used for retail products, where the blister pack is attached to a cardboard or paperboard backing with product information and branding displayed on the card.
By Production Technique
Based on the Production Technique, the market has been divided into Thermoforming, Cold Forming, and Thermos-cold Complex Blistering. The market is projected to see significant growth in the Cold Forming segment. Due to increasing demand for secure and tamper-evident packaging solutions, stricter regulations for pharmaceutical packaging, the need for product differentiation and branding, and the growing pharmaceutical and healthcare industries.
By Application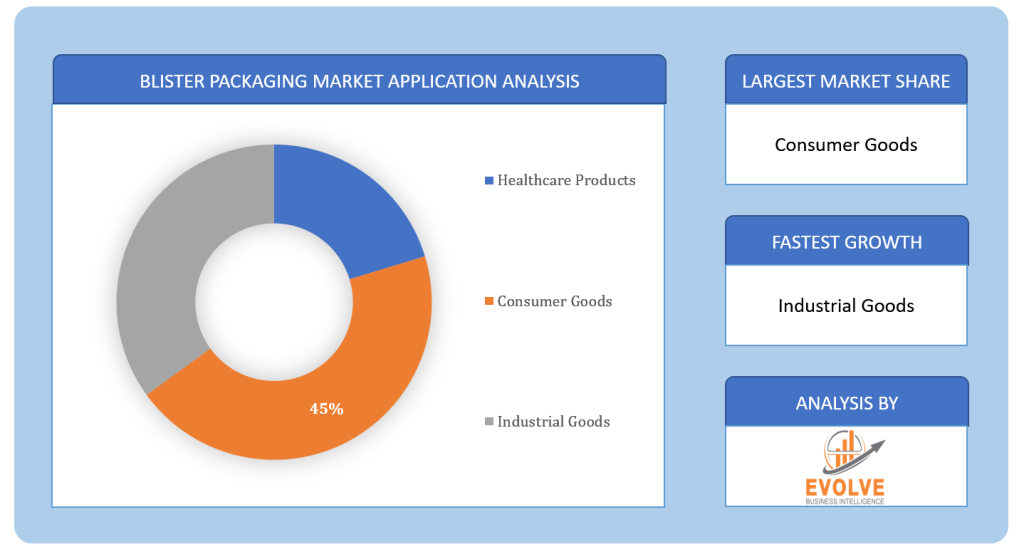 Based on Application, the market has been divided into Healthcare Products, Consumer Goods, and Industrial Goods. The Consumer Goods segment is expected to hold the largest market share in the Market. Consumer goods are products that people regularly purchase and use, such as food, beverages, personal care items, and household products. The consistent demand for these products contributes to the segment's market share.
Global Blister Packaging Market Regional Analysis
Based on region, the market has been divided into North America, Europe, Asia-Pacific, the Middle East & Africa, and Latin America. The area of North America is anticipated to dominate the market for the usage of Blister Packaging, followed by those in Asia-Pacific and Europe.
North America Market
The North American region holds a dominant position in the blister packaging market. It is characterized by advanced packaging technologies, a strong consumer goods industry, and a well-developed healthcare and pharmaceutical sector. North America is known for its high-quality manufacturing standards, stringent regulations, and focus on product visibility and protection. The region's dominance can be attributed to its robust infrastructure, technological advancements, and a large consumer base. Additionally, the presence of major market players and continuous innovation contribute to North America's leadership in the blister packaging market.
Asia Pacific Market
The Asia-Pacific region is witnessing rapid growth and emerging as a significant market for the blister packaging industry. Factors such as increasing consumer demand, a growing manufacturing sector, expansion of healthcare and pharmaceutical industries, rapid urbanization, and the e-commerce boom contribute to the region's growth. The Asia-Pacific region's large consumer population, rising disposable incomes, and changing lifestyles drive the demand for blister packaging across various sectors. Moreover, the region's focus on sustainable packaging solutions presents additional opportunities for market expansion. With these favorable conditions, the Asia-Pacific region is poised to experience continued growth and play a crucial role in the global blister packaging market.
Competitive Landscape
The competitive landscape includes key players (tier 1, tier 2, and local) having a presence across the globe. Companies such as Amcor, WestRock Company, Sonoco Products Company, Berry Global Inc, and Tekni-Plex are some of the leading players in the global Blister Packaging Industry. These players have adopted partnership, acquisition, expansion, and new product development, among others as their key strategies.
Key Market Players:
Amcor
WestRock Company
Sonoco Products Company
Berry Global Inc
Tekni-Plex
Constantia Flexibles Group GmbH
Huhtamaki Oyj
Winpak Ltd
Uflex Ltd
Prent Corporation
Key Development:
On January 2021, Amcor and Moda joined forces to introduce inventive packaging solutions. Through this partnership, they offer a range of innovative solutions in flexible packaging, which are anticipated to bring valuable resources and enhance Amcor's position in the flexible packaging market.
Scope of the Report
Global Blister Packaging Market, by Raw Material
Low-barrier Film
Medium-barrier Film
High-barrier Film
Global Blister Packaging Market, by Type
Calendar Pack
Carded Pack
Clamshell
Global Blister Packaging Market, by Production Technique
Thermoforming
Cold Forming
Thermos-cold Complex Blistering
Global Blister Packaging Market, by Application
Healthcare Products
Consumer Goods
Industrial Goods
Global Blister Packaging Market, by Region
North America
Europe

UK
Germany
France
Italy
Spain
Benelux
Nordic
Rest of Europe

Asia Pacific

China
Japan
South Korea
Indonesia
Austalia
Malaysia
India
Rest of Asia Pacific

South America

Brazil
Argentina
Rest of South America

Middle East & Africa

Saudi Arabia
UAE
Egypt
South Africa
Rest of Middle East & Africa
Parameters
Indicators
Market Size
2033: $41.70 Billion
CAGR
4.94% CAGR (2023-2033)
Base year
2022
Forecast Period
2023-2033
Historical Data
2021
Report Coverage
Revenue Forecast, Competitive Landscape, Growth Factors, and Trends
Key Segmentations
Raw Material, Type, Production Technique, Application
Geographies Covered
North America, Europe, Asia-Pacific, Latin America, Middle East, Africa
Key Vendors
Amcor, WestRock Company, Sonoco Products Company, Berry Global Inc, Tekni-Plex, Constantia Flexibles Group GmbH, Huhtamaki Oyj, Winpak Ltd, Uflex Ltd, Prent Corporation
Key Market Opportunities
Shift Towards Sustainable Packaging
Growing E-commerce Industry

Key Market Drivers
Increasing Consumer Demand
Technological Advancements

REPORT CONTENT BRIEF:
High-level analysis of the current and future Blister Packaging Industry trends and opportunities
Detailed analysis of current market drivers, restraining factors, and opportunities analysis in the future
Historical market size for the year 2021, and forecast from 2023 to 2033
Blister Packaging market share analysis for each segment
Competitor analysis with a comprehensive insight into its product segment, financial strength, and strategies adopted.
Identifies key strategies adopted by the key players including new product development, mergers and acquisitions, joint ventures, collaborations, and partnerships.
To identify and understand the various factors involved in the global Blister Packaging market affected by the pandemic
To provide year-on-year growth from 2022 to 2033
To provide short-term, long-term, and overall CAGR comparison from 2022 to 2033.
Provide Total Addressable Market (TAM) for the Global Blister Packaging Market.
Toggle title
Frequently Asked Questions (FAQ)
1. What is the study period of this market?
The study period of the global Blister Packaging market is 2022- 2033
2. What are the 10 Years CAGR (2023 to 2033) of the global Blister Packaging market?
The global Blister Packaging market is growing at a CAGR of ~94% over the next 10 years
3. Which region has the highest growth rate in the market of Blister Packaging?
Asia Pacific is expected to register the highest CAGR during 2023-2033
4. Which region accounted for the largest share of the market of Blister Packaging?
North America holds the largest share in 2022
5. Major Key Players in the Market of Blister Packaging?
Amcor, WestRock Company, Sonoco Products Company, Berry Global Inc, Tekni-Plex, Constantia Flexibles Group GmbH, Huhtamaki Oyj, Winpak Ltd, Uflex Ltd, and Prent Corporation are the major companies operating in the Blister Packaging
6. Do you offer Post Sale Support?
Yes, we offer 16 hours of analyst support to solve the queries
7. Do you deliver sections of a report?
Yes, we do provide regional as well as country-level reports. Other than this we also provide a sectional report. Please get in contact with our sales representatives.