Category: Automotive
Sub-Category: Component
Sensors are devices that detect events or changes in the environment and then provide a corresponding output. Automotive sensors are designed to detect, measure, transmit, analyze, record, and display the internal and external environment of the vehicle. The automotive sensors are used to measure position, exhaust temperature, angular rate, pressure, torque, flexible fuel composition, long-range distance, and ambient gas concentrations, engine oil quality, short-range distance, and others.
The global automotive sensors market is expected to grow from $20.2 billion in 2019 to $42.8 billion in 2027, at the CAGR of 9.9% from 2020 to 2027.
The advancements in communication capabilities between the sensors and vehicles without any interference with the basic functionalities together with the increasing demand for safety and security in automobiles is expected to raise the demand for automotive sensors. Additionally, the rising demand for vehicle automation and connected vehicles across the world, the demand for automotive sensors is expected to grow significantly during the forecast period. Also, the rising disposable income of the middle-class population is a factor that drives the market growth of automotive sensors.
The major factors that have impacted the growth of the automotive sensors market are increasing adoption of ADAS features which has sensors as one of its key components and the surging demand of intelligent sensors coupled with technological advancements in electronics industries has increased the capabilities of smart electronic sensors, among others.
Increasing adoption of ADAS features:
The vehicle safety has gaining continuous development across the globe. The manufacturers are developing technologies for providing the passenger safe and secure travel. The increasing safety concerns have initiated ADAS deployment for providing better safety of passengers. ADAS features include adaptive cruise control (ACC), lane departure warning systems, collision warning systems, blind-spot detection systems, electronic stability control, night vision systems, and parking assistance systems to ensure vehicle safety. These features of ADAS works on five key components sensors, processors, mapping, and software. The increase in driver knowledge about ADAS technology will eventually lead to trust and encouraged to go for vehicles that have ADAS integrated in them and this will drive the automotive sensors market.
Surging demand for intelligent sensors coupled with technological advancements in electronics industries:
The increasing incidents of road fatalities and loss of lives is increasing the demand for intelligent sensors in the vehicles. These intelligent electronic sensors are used in various systems such as accelerometers, which are equipped in vehicles to provide benefits such as safety and fuel efficiency, mode of communication between engine, suspension, braking, and other controls of vehicles. The intelligent sensors provide drivers a higher level of safety & security, reliability, and information & entertainment. The continuously evolving electronic industry is further improving the abilities of electronic sensors. The advanced electronic systems are now integrated with more sensors in their devices to add additional features and manufacturers are using them as their USP to gain competitive advantage. The advancement in electronic technology and the increasing use of sensors in hybrid semi hybrid and electric vehicles are expected to drive the automotive sensors market.
Key Insight in the report:
The Global Automotive Sensors market report covers Executive Summary, Market Dynamics, Trend Analysis, Market Size and Forecast, Competitive Intelligence, Market Positioning, Product Benchmarking, and Opportunity Analysis.
The report covers extensive competitive intelligence which includes the following data points:
Business Overview
Business Model
Financial Data
Financial – Existing
Financial – Funding
Product Segment Analysis and specification
Recent Development and Company Strategy Analysis
SWOT Analysis
The report covers market sizing and forecasting at the country level as well as at the segment level. Automotive Sensors Market is analyzed across below-mentioned different segments:
| Type | Application | Vehicle Type |
| --- | --- | --- |
| Temperature | Powertrain | Passenger Cars |
| Pressure | Chassis | Commercial Vehicles |
| Position | Body Electronics | |
| Speed | Safety & Security | |
| Motion | Telematics | |
| O2 Sensors | Others | |
| Gas | | |
| Image | | |
| Others | | |
Automotive Sensors Market is also analyzed across below-mentioned regions/countries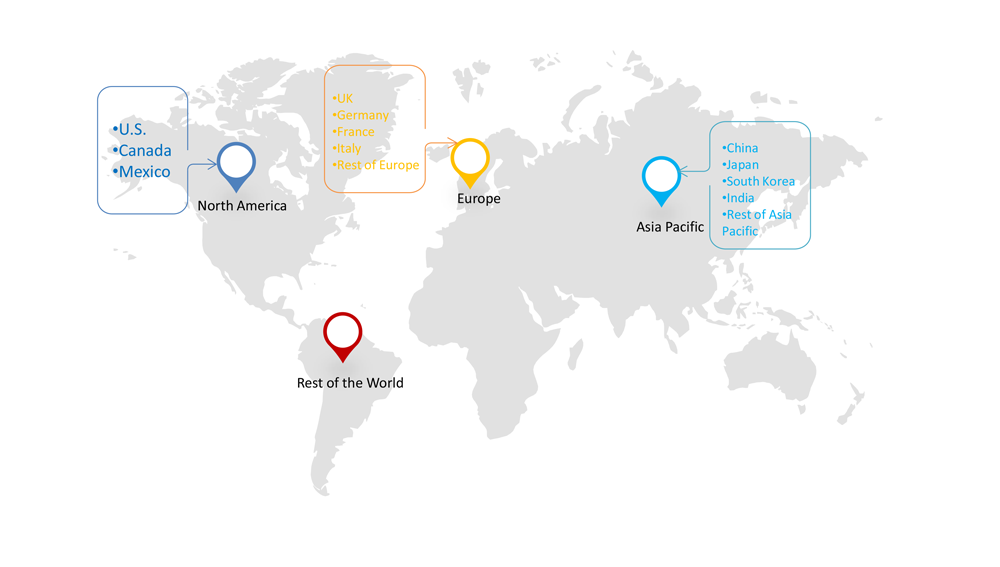 North America is projected to have significant market share due to the infrastructural development which has led to increased sales of high and mid-level cars and increased adoption of luxury cars by the young population. Asia Pacific is expected to dominate the market due to the increasing passenger vehicles sale in emerging economies such as India, China, and Japan as the purchasing power of the population is strengthening. Moreover, increasingly stringent government reforms and the initiative to install ADAS features in vehicles are also estimated to drive this market growth. Europe is expected to have significant growth in the market owing to the increasing demand for high-end cars with advanced driver assistance systems. The increasing demand for efficient and safety features in vehicles is projected to drive the market growth in European nations.
Some of the key players in of Automotive Sensors Market include:
DENSO Corporation
Delphi Automotive Company
Infineon Technologies
Robert Bosch
ZF Friedrichshafen AG
Continental AG
NXP Semiconductor
Valeo
STMicroelectronics N.V
AUTOLIV INC
Recent Developments:
In August 2018, Denso launched 24-GHz Band Submillimetre-wave Electronic Radar Sensor to enhance vehicle safety systems. The sensor is integrated into the rear bumper of the vehicle to detect other vehicles to enter into the driver's blind spot.
REPORT CONTENT BRIEF:
High level analysis of the current and future market trends and opportunities
Detailed analysis on current market drivers, restraining factors, and opportunities in the future
Automotive Sensors market historical market size for year 2019, and forecast from 2020 to 2027
Vendor market share analysis at each product level
Automotive Sensors competitor analysis with a detailed insight into its product segment, financial strength, and strategies adopted.
Identifies key strategies adopted including product launches and developments, mergers and acquisitions, joint ventures, collaborations and partnerships as well as funding taken and investment done, among others.