Athleisure Market Overview
Athleisure Market Size is expected to reach USD 714.25 Billion by 2033. The Athleisure industry's size accounted for USD 336.30 Billion in 2023 and is expected to expand at a compound annual growth rate (CAGR) of 9.14% from 2023 to 2033. "Athleisure" refers to a fashion trend and style that combines athletic apparel with casual wear, resulting in clothing and accessories that are suitable for both athletic activities and everyday wear. It is characterized by the integration of performance-oriented features, such as moisture-wicking fabrics, stretchability, and comfort, into garments designed for leisure and non-athletic activities. Athleisure emphasizes a balance between functionality and fashion, providing individuals with versatile clothing options that can seamlessly transition from the gym or sports activities to social or casual settings.
Global Athleisure Market Synopsis
The Covid-19 pandemic had a significant impact on the athleisure market. With lockdowns, work-from-home arrangements, and a heightened focus on health and comfort, consumer behavior shifted towards athleisure wear. The closure of gyms and the rise of remote work further fueled the demand for comfortable and versatile clothing. Athleisure brands adapted by strengthening their online presence, while athleisure wear became a fashion statement and gained endorsement from celebrities and influencers. However, the pandemic also led to supply chain disruptions, affecting production and availability. Despite these challenges, the athleisure market showed resilience and is expected to continue growing as consumers prioritize comfort and flexible lifestyles.
Global Athleisure Market Dynamics
The major factors that have impacted the growth of Athleisure are as follows:
Drivers:
Changing Consumer Preferences
The shift towards a more active and health-conscious lifestyle has been a significant driver for the athleisure market. Consumers today are placing a greater emphasis on leading a healthy lifestyle and incorporating regular exercise into their routines. This shift has resulted in a demand for clothing that is not only comfortable but also functional and suitable for various activities. Athleisure wear fits this need perfectly, as it provides the flexibility and versatility required for both workouts and daily activities.
Restraint:
Economic factors can act as a restraint on the athleisure market. During periods of economic downturn or uncertainty, consumers often tighten their budgets and prioritize essential purchases over discretionary items like athleisure wear. In such situations, consumer spending on non-essential items may decline, which can potentially slow down the growth of the athleisure market. The affordability and pricing of athleisure products can also play a role in consumer purchasing decisions during economically challenging times.
Opportunity:
Growing Popularity of Wellness Culture
The increasing popularity of the wellness culture presents a significant opportunity for the athleisure market. More individuals are becoming conscious of their health, fitness, and overall well-being. This has led to a rise in the adoption of fitness routines, participation in recreational activities, and the prioritization of self-care. Athleisure wear aligns with this trend as it offers clothing options that are not only comfortable but also suitable for various physical activities. The demand for athleisure wear is likely to continue growing as the emphasis on health and wellness becomes more prevalent in society. Overall, the changing consumer preferences towards a more active lifestyle, coupled with the growing popularity of wellness culture, provide a strong driver and opportunity for the athleisure market. However, economic uncertainty can act as a restraint, impacting consumer spending on non-essential items like athleisure wear.
Athleisure Market Segment Overview
By Gender
Based on Gender, the market is segmented based on males and females. Women have been major consumers of athleisure apparel, which combines comfort, style, and functionality. Athleisure aligns with the increasing focus on health, wellness, and fitness among women. The trend of wearing activewear beyond the gym or workout sessions has gained traction, reflecting a more casual and comfortable approach to fashion.
By Product Type
Based on Product Type, the market has been divided into Sneaker, Joggers, Leggings, Hoodies, and Others. The Joggers segment is expected to hold the largest market share in the Market, due to the rising popularity and demand for comfortable and versatile leisurewear. Joggers, which are a type of athleisure bottoms characterized by their relaxed fit and tapered leg design, has gained significant traction in recent years.
By Distribution Channel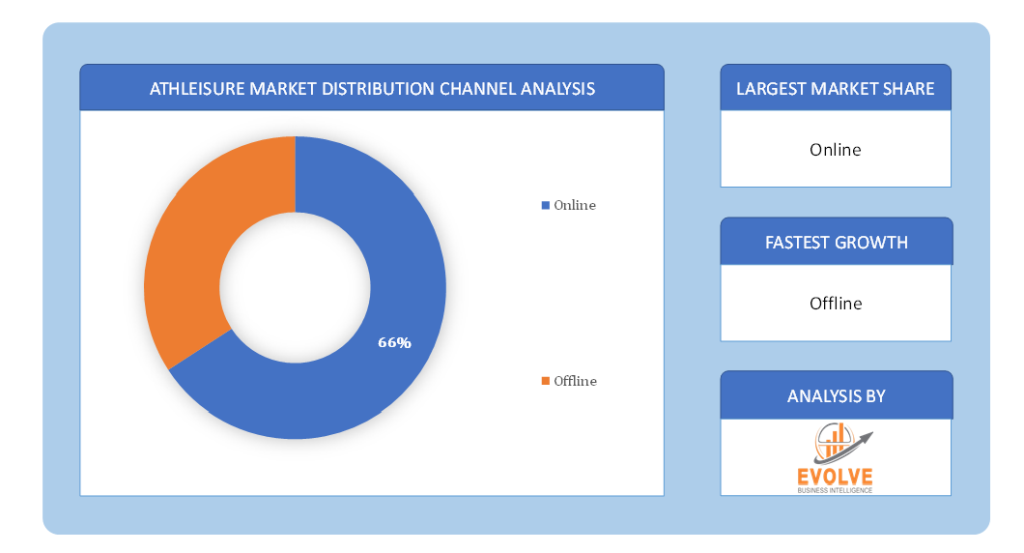 Based on Distribution Channel, the market has been divided into Online and Offline. The market is projected to see significant growth in the Online segment. The rise of e-commerce and the increasing popularity of online shopping have greatly influenced consumer behavior, including the way people shop for athleisure apparel.
Global Athleisure Market Regional Analysis
Based on region, the market has been divided into North America, Europe, Asia-Pacific, the Middle East & Africa, and Latin America. The area of North America is anticipated to dominate the market for the usage of Athleisure, followed by those in Asia-Pacific and Europe.
North America Market
The North American region has emerged as a prominent market for Athleisure. Athleisure, a fashion trend that combines athletic and leisurewear, has gained significant popularity in North America. The region has witnessed a substantial rise in consumer demand for comfortable and stylish clothing that can be worn for both exercise and everyday activities. Several factors contribute to the North American region's leading position in the Athleisure market. There is a strong emphasis on fitness and a health-conscious lifestyle among North American consumers. This focus on wellness and physical activity has created a high demand for apparel that seamlessly blends comfort, functionality, and style. North America is home to several well-established and influential sportswear brands. These brands have been at the forefront of promoting Athleisure as a mainstream fashion choice and have successfully tapped into the growing market. Their innovative designs, advanced fabric technologies, and endorsement by popular athletes have played a significant role in driving the Athleisure trend in the region.
Asia Pacific Market
The Asia-Pacific region has been emerging as a significant and rapidly growing market for the Athleisure industry. Over the past few years, there has been a notable surge in the popularity of Athleisure in countries across the Asia-Pacific region, driven by several factors. Changing lifestyles and increasing disposable incomes have led to a greater focus on health and fitness among consumers in the Asia-Pacific region. As individuals become more health-conscious and adopt active lifestyles, the demand for comfortable and fashionable activewear has risen substantially. The rise of social media and digital platforms has played a crucial role in promoting Athleisure in the region. Influencers and celebrities showcasing their workout routines and Athleisure outfits on platforms like Instagram and Weibo have significantly influenced consumer preferences and contributed to the industry's growth.
Competitive Landscape
The competitive landscape includes key players (tier 1, tier 2, and local) having a presence across the globe. Companies such as Adidas,  Nike Inc, PVH Corp, PUMA, and The Gap Inc are some of the leading players in the global Athleisure Industry. These players have adopted partnership, acquisition, expansion, and new product development, among others as their key strategies.
Key Market Players:
Adidas
ASICS Corporation
Columbia Sportswear Company
Lululemon Athletica Inc
Nike Inc
PVH Corp
PUMA
The Gap Inc
The North Face
Under Armour Inc
Key Development:
May 2022, Under Armour revealed its intention to establish a direct-to-consumer platform, UnderArmour.com, in the coming period, following the appointment of Underdog Athletics as its local distributor and master franchisee in India.
March 2022, Puma formed a collaboration with Lega Serie A. Through this partnership, Puma became the technical partner of Lega Serie A, a football league, and the official provider of athleisure and football apparel for all European matches.
Scope of the Report
Global Athleisure Market, by Gender
Global Athleisure Market, by Product Type
Sneaker
Joggers
Leggings
Hoodies
Others
Global Athleisure Market, by Distribution Channel
Global Athleisure Market, by Region
North America
Europe

UK
Germany
France
Italy
Spain
Benelux
Nordic
Rest of Europe

Asia Pacific

China
Japan
South Korea
Indonesia
Austalia
Malaysia
India
Rest of Asia Pacific

South America

Brazil
Argentina
Rest of South America

Middle East & Africa

Saudi Arabia
UAE
Egypt
South Africa
Rest of Middle East & Africa
Parameters
Indicators
Market Size
2033: $ 714.25 Billion
CAGR
9.14% CAGR (2023-2033)
Base year
2022
Forecast Period
2023-2033
Historical Data
2021
Report Coverage
Revenue Forecast, Competitive Landscape, Growth Factors, and Trends
Key Segmentations
Gender, Product Type, Distribution Channel
Geographies Covered
North America, Europe, Asia-Pacific, Latin America, Middle East, Africa
Key Vendors
Adidas, ASICS Corporation, Columbia Sportswear Company, Lululemon athletica Inc, Nike Inc, PVH Corp, PUMA, The Gap Inc, The North Face, Under Armour Inc
Key Market Opportunities
• Growing Popularity of Wellness Culture
• Innovation and Technological Advancements

Key Market Drivers
• Changing Consumer Preferences
REPORT CONTENT BRIEF:
High-level analysis of the current and future Athleisure Industry trends and opportunities
Detailed analysis of current market drivers, restraining factors, and opportunities analysis in the future
Historical market size for the year 2021, and forecast from 2023 to 2033
Athleisure market share analysis for each segment
Competitor analysis with a comprehensive insight into its product segment, financial strength, and strategies adopted.
Identifies key strategies adopted by the key players including new product development, mergers and acquisitions, joint ventures, collaborations, and partnerships.
To identify and understand the various factors involved in the global Athleisure market affected by the pandemic
To provide year-on-year growth from 2022 to 2033
To provide short-term, long-term, and overall CAGR comparison from 2022 to 2033.
Provide Total Addressable Market (TAM) for the Global Athleisure Market.
Frequently Asked Questions (FAQ)
1. What is the study period of this market?
The study period of the global Athleisure market is 2022- 2033
2. What are the 10 Years CAGR (2023 to 2033) of the global Athleisure market?
The global Athleisure market is growing at a CAGR of ~14% over the next 10 years
3. Which region has the highest growth rate in the market of Athleisure?
Asia Pacific is expected to register the highest CAGR during 2023-2033
4. Which region accounted for the largest share of the market of Athleisure?
North America holds the largest share in 2022
5. Major Key Players in the Market of Athleisure?
Adidas, ASICS Corporation, Columbia Sportswear Company, Lululemon Athletica Inc, Nike Inc, PVH Corp, PUMA, The Gap Inc, The North Face, and Under Armour Inc are the major companies operating in the Athleisure
6. Do you offer Post Sale Support?
Yes, we offer 16 hours of analyst support to solve the queries
7. Do you deliver sections of a report?
Yes, we do provide regional as well as country-level reports. Other than this we also provide a sectional report. Please get in contact with our sales representatives.