Category: Chemical & Material
Sub-Category: Material
The Antistatic Agents market was valued at $383.3 million in 2019 and is expected to reach $685.6 million by 2027 growing at a CAGR of 7.5% from 2020 to 2027.
Antistatic agents are chemical reagents that are added to Conductive Polymers to prevent static electricity and increase the dielectric surface and volume conductivity. The antistatic agents can be categorized as internal and external antistatic agents. The external agents are applied on the surface through external spraying whereas internal agents are combined with the ingredients in the compounding stage. The static builds up on plastic surfaces causes handling problems during the stage of packaging, transportation, and storage.
The antistatic agent Additives form a layer on the surface thus reducing the static force, which protects the surface from unwanted particles from settling down. The antistatic agents are used for preventing static electricity by making the component conductive to decrease the risk of electrical shock to consumers as well as employees in manufacturing plants. The antistatic agents are used in numerous applications including automotive parts, injection molding, PVC, PET products, and polystyrene, among others. The physical properties such as low toxic, high ionic strength, and environment-friendliness have increased its usage in several industry verticals including packaging, automotive, and electronics. This is expected to trigger the market growth.
The major factors that have impacted the growth of the Antistatic Agents market are increasing adoption of plastics in large scale applications which increase the demand for antistatic agents and increasing the adoption of antistatic agents from various verticals, among others.
Increasing adoption of plastics in large scale applications:
The increasing usage of plastics in various applications such as packaging is increasing the demand for the antistatic agents. The physical properties of plastics such as lightweight, corrosion resistance, chemically inert, durable, and recyclable has increased its application in various end-use industries including electronics and automotive. The manufacturers and consumers are shifting towards plastics from metal and wood. The electronics industry has adopted plastics as it is cost-effective and flexible. The increasing demand for lightweight and fuel-efficient vehicles has also increased the demand for plastics. Moreover, the antistatic agents are environment friendly as they are biodegradable and non-hazardous when dissolved in water which has increased its integration in plastics, which is further expected to drive the antistatic agents market growth during the forecast period.
Growing demand for antistatic agents in various Industries:
The need for removing or reducing antistatic agents has continuously increased from the end-use industries. The industries such as electronics, textiles, automotive, and others are utilizing the antistatic agents to evade electric discharge. The packaging industries are using these agents to remove the risk of electric shocks during transportation. The furniture, bedding, and automotive industries are utilizing applications of polyurethane foams. They are used as setting agents for producing textile dyes. The surging urbanization rate coupled with increasing disposable income is expected to increase the demand for packed goods. This is anticipated to increase the antistatic agents demand in food processing and food packaging industries.
Key Insight in the report:
The Global Antistatic Agents market report covers Executive Summary, Market Dynamics, Trend Analysis, Market Size and Forecast, Competitive Intelligence, Market Positioning, Product Benchmarking, and Opportunity Analysis.
The report covers extensive competitive intelligence which includes the following data points:
Business Overview
Business Model
Financial Data
Financial – Existing
Financial – Funding
Product Segment Analysis and specification
Recent Development and Company Strategy Analysis
SWOT Analysis
The report covers market sizing and forecasting at the country level as well as at the segment level. The market is analyzed across below-mentioned different segments:
| Product | Thermoplastic Type | Conductive Polymers Type | Applications |
| --- | --- | --- | --- |
| Carbon Black | Polyamide | Polyolefins | Textile |
| Carbon Fiber | Polylactic Acid | Polyacetylene | Automotive |
| Glycerol Monostearate | Polyoxymethylene | Polypyrrole | Packaging |
| Ethoxylated Fatty Acid Amines | Acrylonitrile Butadiene Styrene | Poly(3,4-ethylenedioxythiophene) | Electronics |
| Alkyl Sulfonates | Polyvinyl Chloride | | others |
| Others | Polycarbonate | | |
| | Others | | |
Antistatic Agents Market is also analyzed across below-mentioned regions/countries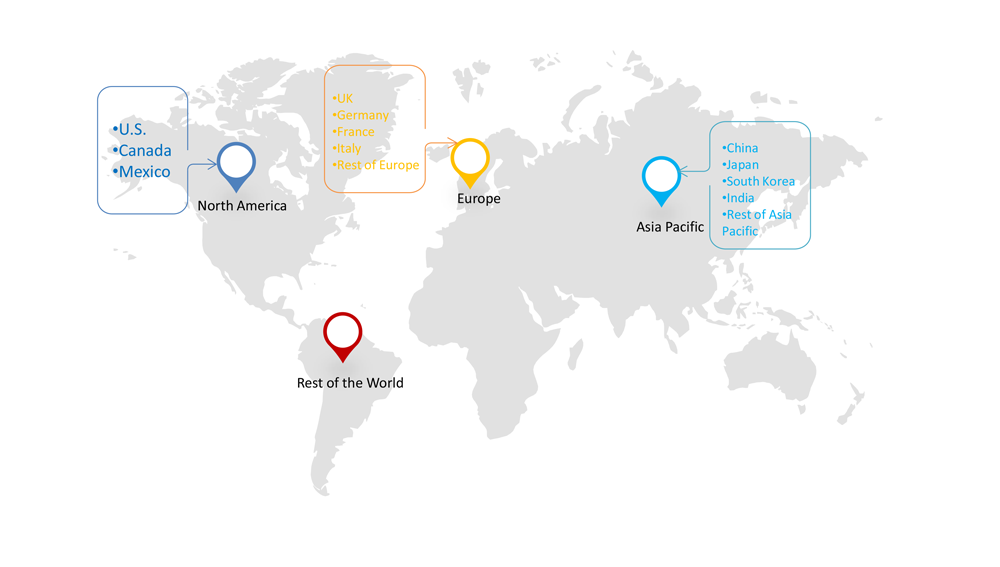 The Asia Pacific is projected to dominate the market due to the increasing investments in the packaging industry, and surging electronics, automotive, and textile industries. North America is expected to show lucrative growth in the market owing to increasing demand for antistatic agents in the automotive, electronics, military and aerospace industry in the region. Europe is projected to have significant market share owing to the high production and sales of automotive parts in several European countries including the UK, France, Germany, and Italy.
Some of the key players in of Antistatic Agents Market include:
Croda International Plc
Ampacet Corporation
Azkonobel N.V.
Deuteron
Cytec Industries Inc.
BASF S.E.
Schulman
Arkema S.A.
3M Company
Dupont
Clariant
Recent developments:
In September 2017, Clariant announced a new amide/amine-free anti-static concentrate for clean-room and API films. This product is part of MEVOPUR, the brand of 'Controlled, Consistent, and Compliant' products for plastics applications in the medical and pharmaceutical industries.
REPORT CONTENT BRIEF:
High level analysis of the current and future market trends and opportunities
Detailed analysis on current market drivers, restraining factors, and opportunities in the future
Historical market Size for year 2019, and forecast from 2020 to 2027
Vendor market share analysis at each product level
Competitor analysis with a detailed insight into its product segment, financial strength, and strategies adopted.
Identifies key strategies adopted including product launches and developments, mergers and acquisitions, joint ventures, collaborations and partnerships as well as funding taken and investment done, among others.