Category: Aerospace & Defense
Sub-Category: Technology
The Global Unmanned aerial vehicles market was valued at $ 18.9 billion in 2019 and is anticipated to grow at a CAGR of 16.2% from 2020 to 2027.
Unmanned aerial vehicles are remotely operated aircraft or drones that operate without a pilot on board. The drones are controlled by pre-programmed schedules or automation systems. These are low in cost and can fly at a lower distance also. Unmanned aerial vehicles have found applications in several industries including military, film-making, agriculture, government, and among others. These vehicles are used for military, media coverage, wildlife research, border management, traffic monitoring, and aerial remote sensing. The camera deployed by unmanned aerial vehicles is used for inspecting oil rigs, monitoring agriculture fields and mines, and checking on telecom towers. The major sector that has been extracting benefits from unmanned aerial vehicles is military and defense coupled with increasing budgets for the military and defense activities may contribute to the unmanned aerial vehicle market growth.
The major factors that have impacted the growth of the Unmanned Aerial Vehicle market are the increasing adoption of unmanned aerial vehicles for military purposes, among others.
Increasing adoption of the unmanned aerial vehicle for the military purpose:
The growing adaptation of unmanned aerial vehicles in performing intelligence surveillance and reconnaissance missions, for target recognition, and electronic warfare for military and commercial purposes is resulting in the growth of the global unmanned aerial vehicle market. Defense ministries across the globe are investing in AUVs to reduce the loss of human life at risk. It is a less costly alternative to manned aircraft resulting in increasing demand for unmanned aerial vehicles in the military sector. Furthermore, due to the increase in terrorist activities across the globe is rising the demand for drones patrolling in border areas. This is also expected to increase the growth of the global unmanned aerial vehicle market.
Growing application of unmanned aerial vehicle in commercial and government & law enforcement sector:
The sophisticated unmanned aerial vehicles provide a 3D image of the pitch which is helpful in planning for future expansion. Drones are playing a vital role in the law enforcement sector due to rising terrorist activities and local disturbance. The UAVs are also being used for search and rescue operations in case of natural calamities propelling the growth of the unmanned aerial vehicle market. They are also being used in green-house monitoring. They also find their applications in the agriculture sector, photo and videography, oil, gas, and mineral exploration, recreational uses, aerial remote sensing, and so on. In filming top view, helicopters were used which are now replaced by drones hence, reducing the expenditure. All these factors are expected to fuel the growth of the unmanned aerial vehicle global market.
Key Insight in the report:
The Global Unmanned Aerial Vehicle market report covers Executive Summary, Market Dynamics, Trend Analysis, Market Size and Forecast, Competitive Intelligence, Market Positioning, Product Benchmarking, and Opportunity Analysis.
The report covers extensive competitive intelligence which includes the following data points:
Business Overview
Business Model
Financial Data
Financial – Existing
Financial – Funding
Product Segment Analysis and specification
Recent Development and Company Strategy Analysis
SWOT Analysis
The report covers market sizing and forecasting at the country level as well as at the segment level. Unmanned Aerial Vehicle Market is analyzed across the below-mentioned different segments:
| Mode of Operation | Size | Application | Type |
| --- | --- | --- | --- |
| Remotely Piloted | Small | Commercial | Fixed Wing |
| Optionally Piloted | Medium | Defense | Rotor Wing |
| Fully Autonomous | Large | Civil | |
In the mode of operation segment fully autonomous aerial vehicles is expected to witness the highest growth attributed to due to its advanced features such as stability enhancement and waypoint flight. Based on the size segment small aerial vehicles is expected to dominate the market due to the increasing demand for small unmanned aerial vehicles in the commercial sector for precision agriculture, logistics & transportation, wildlife survey, search & rescue operations, firefighting, law enforcement, photography, and disaster management and in defense segment for surveillance and reconnaissance applications. In the type segment, rotor-wing is expected to have a higher market share due to its several advantages including greater maneuverability and compact design, easy to use nature, higher payload capacity, and comparatively lower price than the other types of vehicles.
Unmanned Aerial Vehicle Market is also analyzed across the below-mentioned regions/countries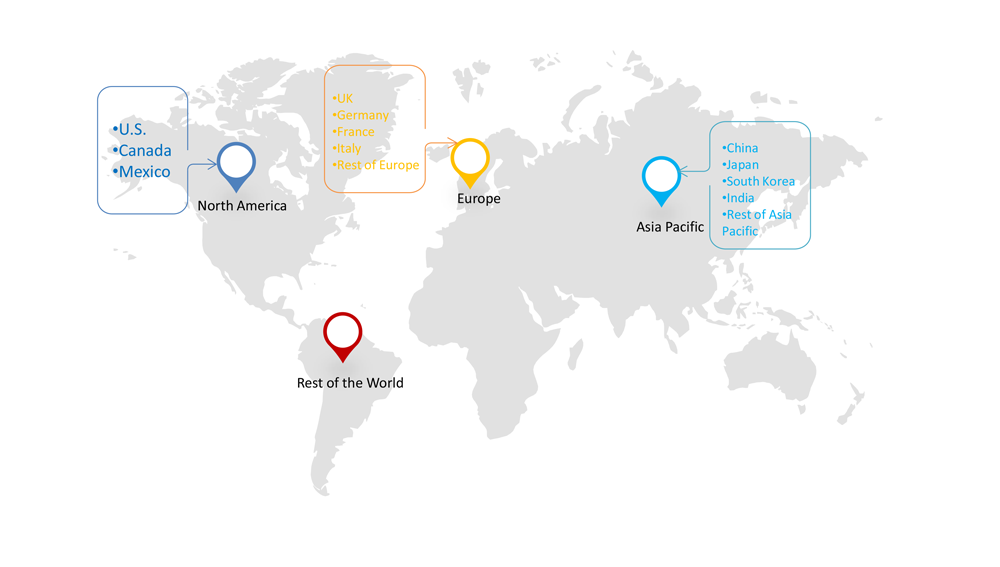 North America is estimated to dominate the unmanned aerial vehicle market growth due to the adoption of unmanned aerial vehicles for maritime surveillance activities in countries including the US and Canada. The Asia Pacific is projected to have a higher market share due to the increasing budget for defense and military activities in developing countries such as India and China. Moreover, the growing preference for automation in this region is further expected to drive the unmanned aerial vehicle market growth. Europe is expected to account for a significant share in the unmanned aerial vehicle market due to the increasing adoption of these vehicles for military and agricultural applications.
Some of the key players in of Unmanned Aerial Vehicle Market include:
General Atomics
AeroVironment
Northrop Grumman Corporation
Elbit Systems Ltd
Israel Aerospace Industries
Microdrones GmbH
Lockheed Martin Corporation
Parrot S.A
The Boeing Company
Raytheon Company
Recent developments:
In May 2020, Parrot and DroneSense partnered enables public safety organizations to build, manage, and scale their unmanned aircraft programs to better equip public safety UAS programs. The 4k HDR camera and Flir thermal sensor can easily capture thermal and visual readings for faster response times, along with higher precision and efficiency.
REPORT CONTENT BRIEF:
High level analysis of the current and future market trends and opportunities
Detailed analysis on current market drivers, restraining factors, and opportunities in the future
Unmanned Aerial Vehicle market historical market size for year 2019, and forecast from 2020 to 2027
Vendor market share analysis at each product level
Competitor analysis with a detailed insight into its product segment, financial strength, and strategies adopted.
Identifies key strategies adopted including product launches and developments, mergers and acquisitions, joint ventures, collaborations and partnerships as well as funding taken and investment done, among others.