Industry: Information and Communication Technology
Sub-industry: Security
The global network security market is expected to grow from $25.98 billion in 2019 to $73.07 billion in 2027, at the CAGR of 13.10% from 2020 to 2027.
This growth is attributed to the worldwide increase in cybercrime rates. With the growing trend towards update and upgrade of network technology requires continuous research in the network security industry. Further, the increasing number of 5G trials also makes the 5G network commercialization real in the near future. This would require a proper update in the network security technology and will be one of the most lucrative opportunities in the market.
Network security is a type of security that protect and prevent corporate or personal network against external unauthorized intrusion. It is one of the most important parts of cybersecurity, as most of the cyber-attacks reaches the end-point devices or edge devices through network. A weaker network security might increase the risk of cyberattacks at the edge of the network devices. There are different types of networks, such as LAN, PAN, MAN, and WAN, where the network security protocols and software are implemented. Different types of network security implementation methodology include Firewall, Antivirus/Antimalware, Data Loss Prevention and DDoS Mitigation, Unified Threat Management, Intrusion Detection System/Intrusion Prevention System, Network Access Control and Secure Web Gateways, and Vulnerability Scanning and Sandboxing.
Impact of COVID-19 on Market
Impact of Market Size and Forecast
End-User Trend, Preferences and Impact on Budget
Regulatory Framework/Government Policies
Recent Development to Tackle Negative Impact
Opportunity Window
The report covers extensive competitive intelligence which include following data points:
Business Overview
Business Model
Financial Data
Financial – Existing
Financial – Funding
Product Segment Analysis and specification
Recent Development and Company Strategy Analysis
SWOT Analysis
The report covers market sizing and forecasting at the country level as well as at the segment level. The market is analyzed across below-mentioned different segments:
| Offering | Solution Type | Service | Organization Size | Deployment | Application |
| --- | --- | --- | --- | --- | --- |
| Solution | Firewall | Integration & Deployment | SME/SMB | On-Premise | Aerospace and Defense |
| Service | Antivirus/Antimalware | Advisory & Consulting | Large Enterprises | Cloud | Government |
| | Data Loss Prevention and DDoS Mitigation | Support & Maintenance | | | BFSI |
| | Unified Threat Management | | | | IT & Telecom |
| | Intrusion Detection System/Intrusion Prevention System | | | | Healthcare |
| | Network Access Control and Secure Web Gateways | | | | Retail |
| | Vulnerability Scanning and Sandboxing | | | | Manufacturing |
| | | | | | Energy and Utilities |
| | | | | | Others |
The market is also analyzed across below-mentioned regions/countries: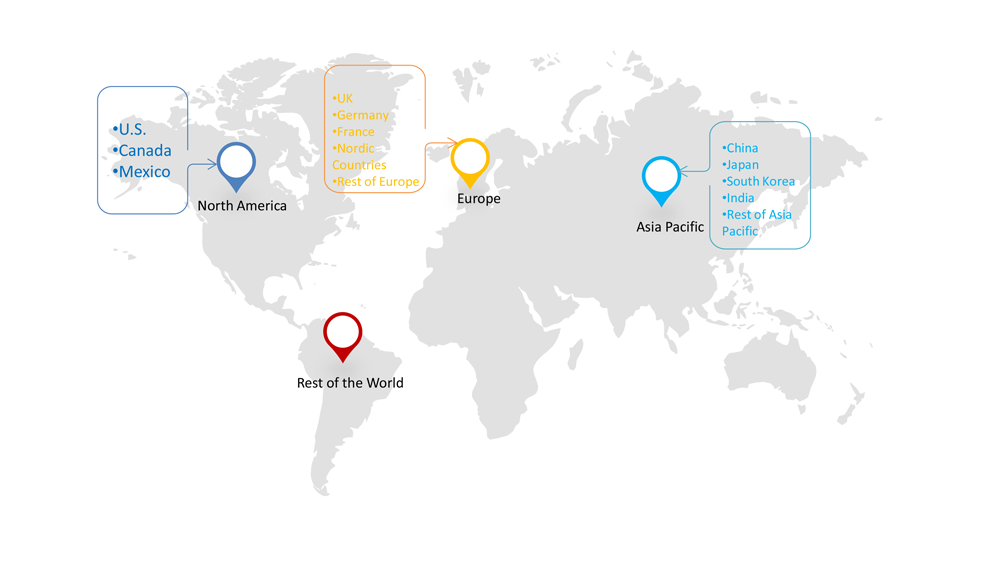 Some of the key players operating in the market include:
Cisco Systems
Symantec
FireEye
Avast
Qualys
Juniper Networks
FireMon
IBM Corporation
AT&T
SolarWinds
REPORT CONTENT BRIEF:
High level analysis of the current and future market trends and opportunities
Detailed analysis on current market drivers, restraining factors, and opportunities in the future
Network security market estimates for 2019 and forecast from 2020 to 2027
Vendor market share analysis at each product level
Network security Competitor analysis with a detailed insight into its product segment, financial strength, and strategies adopted.
Identifies key strategies adopted for network security including product launches and developments, mergers and acquisitions, joint ventures, collaborations and partnerships as well as funding taken and investment done, among others.