Category: Semiconductor and Electronics
Sub-category: Display Technology
An Interactive Kiosk is a computer terminal that is integrated with software that offers access to information and various applications for the purpose of education, commerce, communication, and entertainment. Interactive kiosks provide a wide variety of services such as issuing hotel key-cards, sell goods in exchange for money like in the case of vending kiosks, surf through any library book, access all kinds of information, carry out online bank transactions, and print out airplane tickets or railway tickets, among others. The global Interactive Kiosk Market is valued at USD  17.6 billion in 2020 and is estimated to reach USD  37.4 billion by the year 2028 with a CAGR of 9.5%.
Growth Factors
Some of the drivers responsible for influencing the interactive Kiosk Market are innovations and developments in display technology, lower investment costs as compared to traditional outlets, enhanced applications besides the conventional ones and better shopping experience.
1) Rising Penetration of Vending kiosks
In 2019, the largest share in the market was acquired by the vending kiosks segment. These types of kiosks are used at airports, supermarkets, hospitals, hotels, railway stations, malls, gas stations, and almost every place where anyone can imagine. Since vending kiosks are extremely efficient and easy to use and don't need any employee or manpower to make use of it the demand for these are extremely high. This is a definite boost to the interactive Kiosk Market.
2) Increasing demand of interactive kiosk from various sectors
Interactive Kiosks are highly demanded across all industries and are used widely in retail stores, malls, airports, hospitals, banks, and railway stations among others. Interactive kiosks are significantly used in the aforementioned application area due to its ease of use, enhanced customer experience, decreased transaction time, improved interaction and sales efficiency. The interactive kiosks are significantly being deployed as ticket vending machine in transportation applications such as bus stands, railways and airports. The growing use of interactive kiosks in these applications is expected to increase its demand over the next few years.
Restraining factors
Some of the challenges faced by the interactive Kiosk market are security concerns with increasing cybercrime, phishing attacks, and customer data privacy. High cost of ownership is also expected to pose as another barrier to the interactive Kiosk market growth.
Key Insight in the report:
The global interactive kiosk market report covers Executive Summary, Market Dynamics, Trend Analysis, Market Size and Forecast, Competitive Intelligence, Market Positioning, Product Benchmarking, and Opportunity Analysis.
The report covers extensive competitive intelligence which includes following data points:
Business Overview
Business Model
Financial Data
Financial – Existing
Financial – Funding
Product Segment Analysis and specification
Recent Development and Company Strategy Analysis
SWOT Analysis
The report covers market sizing and forecasting at the country level as well as at the segment level. The interactive kiosk market is analyzed across below-mentioned different segments:
| | | | | |
| --- | --- | --- | --- | --- |
| Offering | Type | Location | Panel Size | Industry Vertical |
| Hardware | Bank Kiosks | Indoor | 17"–32" | Retail |
| Software | Self-service Kiosks | Outdoor | Above 32" | Healtdcare |
| Services | Vending Kiosks | | | BFSI |
| | | | | Government |
| | | | | Transportation |
| | | | | Hospitality |
| | | | | Others |
The global interactive kiosk market is divided by offering, location, panel size, type, vertical and region. By location it is categorized as indoor and outdoor. By panel size it is classified as between 17"–32" and above 32". By offering it is further bifurcated into Hardware, Software, and Services. By Type it segmented as, Bank Kiosks, Self-service Kiosks and Vending Kiosks. Lastly, by vertical the interactive Kiosk market is classified as Retail, Healthcare, Banking & Financial Services, Government, Transportation, Hospitality, Entertainment and Others (Corporate and Education). By region it is further sub- divided into  North America, Europe, Asia Pacific, and Rest of the World.
Interactive Kiosk Market is also analyzed across below-mentioned regions/countries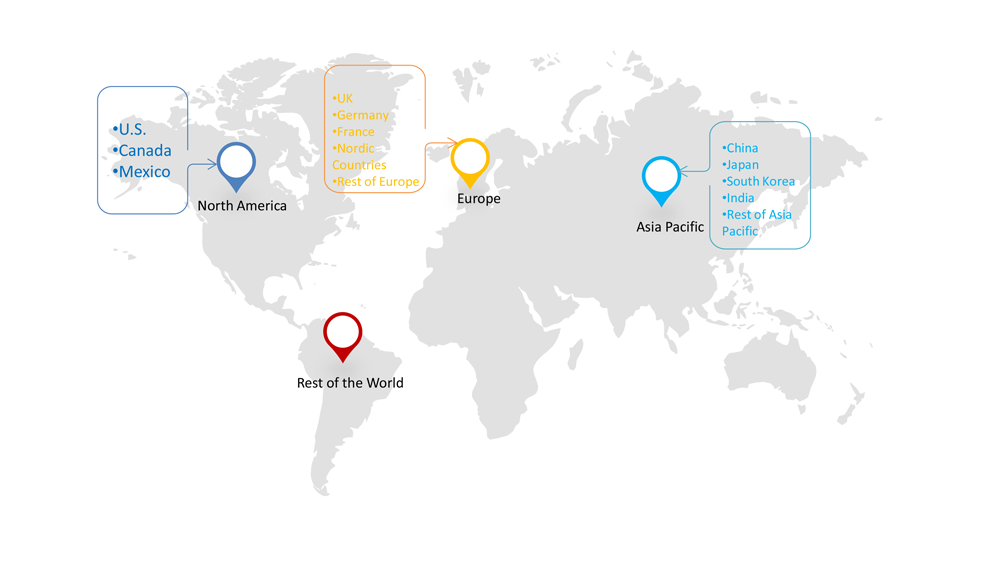 Regional analysis
North America accounted for the largest share in interactive kiosk market in 2020. The reasons contributing to the highest market share include high customer adopting rates coupled with strong economic conditions. Furthermore, rising demand from healthcare, retail, finance, travel and entertainment industries fuels the market growth in this region. Retailers in North America are constantly trying to improve the customer experience and increase their satisfaction levels which is leading to an aggregated demand for Interactive Kiosks in this region. Asia Pacific is estimated to have the highest growth compared to any other region during the forecast period owing to the growing retail sector in several developing countries.
Some of the key players in of interactive Kiosk Market include:
Siemens AG
IBM Corporation
Diebold Inc.
KIOSK Information Systems Inc.
Phoenix Kiosk Inc.
Meridian Kiosks Inc
Embross Group Pvt Ltd
IER SAS
Wincor Nixdorf AG
Kontron AG
Recent developments
In January 2020, Meridian Kiosks Incorporated revealed their latest kiosk series-the Evolution. The first line of this new series of kiosks was launched at the National Retail Federation's 2020 'Big Show' in New York City. The Evolution line of kiosks consists of a new feature that is an interchangeable head unit which can be configured in three different ways which are wall mounted unit, countertop and freestanding. This will definitely put Meridian Kiosks Incorporated at an edge over the other companies in the interactive Kiosk market.
REPORT CONTENT BRIEF:
High level analysis of the current and future market trends and opportunities
Detailed analysis on current market drivers, restraining factors, and opportunities in the future
Interactive kiosk market historical market size for year 2020, and forecast from 2021 to 2028
Vendor market share analysis at each product level
Competitor analysis with a detailed insight into its product segment, financial strength, and strategies adopted.
Identifies key strategies adopted including product launches and developments, mergers and acquisitions, joint ventures, collaborations and partnerships as well as funding taken and investment done, among others.