Category: Information & Communication Technology
Sub-Category: Emerging Technology
The Global Video Analytics Market was valued at $ 4,598.8 Million in 2019 and is anticipated to grow at a CAGR of 23.6% from 2020 to 2027.  Video analytics is a technique that is used to monitor, analyze, and manage large volumes of video data in real-time. Video Analytics is configured to identify attributes, patterns, or events of a particular behavior and provide alerts to specific incidents as they happen or post-event when searched already occurred event. The video analytics software monitors video inputs and transforms them into knowledgeable data which can help to make smarter and better decisions. Video analytics uses algorithms to inspect video feeds. Applying analytical filters on video data to meet definite corporate and security needs.
The major factors that have impacted the growth of the video analytics market are growing demand for IP- Based security systems due to growing security and safety concerns, increased video data due to digitalization, and better internet accessibility, among others.
Growing Demand for IP-Based Security Systems:
The growing concerns towards security have increased the demand for IP-based security systems. Developing IP infrastructure and trends like IP cameras, network video recorders, and remote access to data have fueled the adoption of video analytics. The video analytics applications like intrusion detection, facial recognition, traffic monitoring, and crowd management are providing better safety and security measures. These analytical applications will monitor the situations and will provide alerts in case of any abnormality. The safety features provided by video analytics will boost the growth of the video analytics market.
Increased Video Data:
The use of digital devices and smartphones has increased the amount of video data. Digitalization and internet connectivity are also generating huge chunk of video data. It is not viable to supervise and evaluate the large volumes of data manually. The video analytics provide a solution for analyzing and interpreting data to get meaningful insights.  The demand for video management systems will certainly boost the growth of the video analytics market.
Key Insight in the report:
The Global Video Analytics market report covers Executive Summary, Market Dynamics, Trend Analysis, Market Size and Forecast, Competitive Intelligence, Market Positioning, Product Benchmarking, and Opportunity Analysis.
The report covers extensive competitive intelligence which includes the following data points:
Business Overview
Business Model
Financial Data
Financial – Existing
Financial – Funding
Product Segment Analysis and specification
Recent Development and Company Strategy Analysis
SWOT Analysis
The report covers market sizing and forecasting at the country level as well as at the segment level. Video Analytics Market is analyzed across below-mentioned different segments:
| Type | Deployment Type | Application | Vertical |
| --- | --- | --- | --- |
| Software | Cloud | Facial Recognition | Retail |
| Services | On-Premise | Traffic Monitoring | Healthcare |
| | | Automatic Number Plate Recognition | Transportation & Logistics |
| | | Incident Detection | BFSI |
| | | Intrusion Management | Government |
| | | Motion Detection | Mining |
| | | Others | Manufacturing |
| | | | Others |
The industry verticals like retail, BFSI, healthcare, mining, manufacturing and others are installing cameras for security reasons, this will generate a large amount of data and implementing video analytics will help enterprises to track and monitor video data. The video analytics provide different solutions to different verticals. In retail, video analytics provide applications like queue management, aisle management, product placement analysis, and others. In manufacturing units, video analytics provide solutions like security and safety management, streamlining operations, site management, post-incident investigation and others.
Video Analytics Market is also analyzed across below-mentioned regions/countries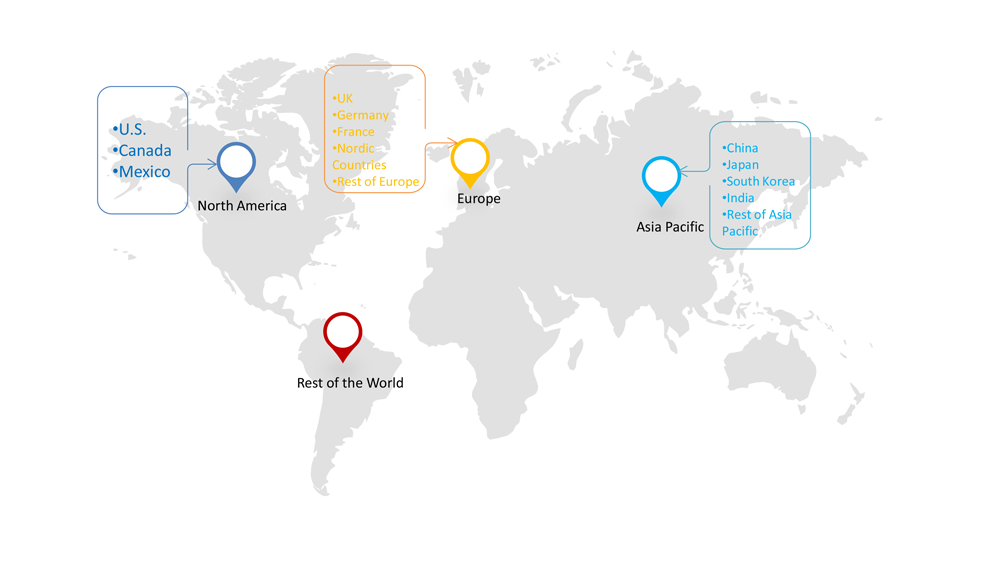 Rapid Technological growth and presence of key industry players have attributed to the higher growth of the Video Analytics market in North America, the U.S. is the largest consumer of Video Analytics. The Asia-Pacific region is estimated to be one of the leaders in the Video Analytics market. The growing economies such as India, China, and Japan are moving towards an intelligent security system to ensure the safety of the citizens.
Some of the key players in of Video Analytics Market include:
Cisco Systems, Inc.
IBM Corporation
Honeywell International, Inc.
Axis Communications
Agent Video Intelligence Ltd Corporation
AllGoVision Technologies Pvt. Ltd.
Aventura Technologies, Inc.
Intellivision
PureTech Systems, Inc.
Verint Systems, Inc.
Quognify
Recent Developments:
In October 2019, Canon announced a partnership with Agent Video Intelligence to launch Singapore's first AI-powered cloud-based video analytics service. The product is designed to provide video analytics services to meet the company's requirements.
In July, 2019 Honeywell International launched 30 IP Series Cameras that will strengthen building security with advanced analytics power. The camera is developed on the guidelines of U.S. government procurement standards instituted under the John S. McCain National Defense Authorization Act for Fiscal Year 2019 (NDAA Section 889). The camera comes with secure channel encryption, advanced motion people detection, and improved storage and image quality.
In August 2019, Sprint in partnership with Ericsson and Hitachi Vantara announced Curiosity Smart Video Analytics. This software will send automated alerts using advanced video analytics technology for smarter and faster decision-making.
Report Content Brief:
High level analysis of the current and future market trends and opportunities
Detailed analysis on current market drivers, restraining factors, and opportunities in the future
Video Analytics market historical market size for year 2019, and forecast from 2020 to 2027
Vendor market share analysis at each product level
Competitor analysis with a detailed insight into its product segment, financial strength, and strategies adopted.
Identifies key strategies adopted including product launches and developments, mergers and acquisitions, joint ventures, collaborations and partnerships as well as funding taken and investment done, among others.