Category: Information & Communication Technology
Sub-Category: Emerging Technologies
The Global Smart Cities Market was valued at $ 663.1 Billion in 2019 and is anticipated to grow at a CAGR of 22.9% from 2020 to 2027. The smart city is defined as a city that is well-connected through technologies and information sharing systems to improve infrastructure and government services. They have well interconnection and information sharing between the locals and the government ensuring improved public safety. The smart city provides a wide range of monitoring and communication technologies using sensors and high-end camera installations to reduce crime rates, disaster management, emergency preparedness, and so on.
The growth of smart cities market will be driven by factors like growing urbanization which will lead to smart technology for management, government initiatives due to increased management and development concerns, growing security concerns, emergence of artificial intelligence in smart cities, among others.
GROWING URBANIZATION:
The development and rapid expansion of cities demand the need of smart solutions to manage the infrastructure, transportation, energy, public security, etc. Various countries all over the globe are thus investing in the development of smart city projects. This will boost the smart city market in the near future. According to the Consumer Technology Association, USD 34.35 billion will be spent worldwide on smart city development by 2020. The developing countries are undergoing rapid urbanization. The economic development of a country is intrinsically linked with the growth of cities. According to a United Nations report, 54% of the world's population lives in urban areas and it is expected to grow by 66% by 2050. According to the report, 2.5 billion people will be added to the urban population. Managing Urban areas by using smart technology will be a key development challenge that is going to positively impact the smart cities market.
GOVERNMENT INITIATIVES TOWARDS SMART CITIES:
Governments all over the world are playing a major role in smart cities market development. They are setting rules and regulations to implement various smart solutions for transportation, energy, security, disaster management, crowd management, traffic control, etc. to develop smart cities. Governments are paying greater attention to emerging economies such as China, South Korea, Dubai, India, Singapore, and Japan for the development of smart cities. The increased investment by governments is attributed to the rapid growth of the smart cities market.
GROWING SECURITY CONCERNS
The development of Smart cities involves the use of various sensors and smart devices. These components communicate through each other via communication protocols and thus are vulnerable to breaching. The data collected is used to provide better healthcare facilities, better transport services, controlling crime, etc. The large amount of personal data collected by these devices is stored on multiple systems.  The various devices used to monitor the city and collect the information are vulnerable to several risks due to connectivity with the internet which allows the hackers to hack the system easily. Thus, the data security and privacy concern are also taken into consideration while planning a smart city to avoid any restrain in the growth of the global smart cities market.
EMERGENCE OF ARTIFICIAL INTELLIGENCE IN SMART CITIES
The Implementation of artificial intelligence (AI) through the Internet of things in smart city applications is unlocking the opportunities for connected vehicles, traffic and parking management, smart healthcare, video-surveillance, and adaptive energy systems. The AI and machine learning algorithms are already being used excessively in CCTV cameras for video analytics and facial recognition. In case of any medical emergencies, these AI-based cameras can provide real-time assistance to the citizens in case of any emergency. Similarly, sensors installed at parking lots and traffic signals are now using AI for accumulating useful data to plan the city initiatives among governments efficiently. The use of AI for collecting useful civilian data helps the government to manage the city efficiently and it provides productive opportunities for the smart cities market growth.
Key Insight in the report:
The Global Smart Cities market report covers Executive Summary, Market Dynamics, Trend Analysis, Market Size and Forecast, Competitive Intelligence, Market Positioning, Product Benchmarking, and Opportunity Analysis.
The report covers extensive competitive intelligence which includes the following data points:
Business Overview
Business Model
Financial Data
Financial – Existing
Financial – Funding
Product Segment Analysis and specification
Recent Development and Company Strategy Analysis
SWOT Analysis
The report covers market sizing and forecasting at the country level as well as at the segment level. Smart Cities Market is analyzed across below-mentioned different segments:
| Component Type | Application Type |
| --- | --- |
| Hardware | Smart Governance |
| Software | Smart Energy |
| Services | Smart Building |
| | Smart Utilities |
| | Smart Transportation |
| | Smart Healthcare |
| | Others |
The application of smart city in the healthcare segment will provide connected healthcare and telemedicine to the public. The infrastructure segment can be divided into transportation management, water management, public safety and security among others. The facility management, building safety and security and real-time maintenance and others are the major attributes to be considered in the residential segment. The security, water and utilities, waste management, electricity management and traffic management systems are witnessing higher investments with the growth of the smart cities market. The smart city application in infrastructure is attaining more investment and government initiatives as it will improve the private-public relationships.
Smart Cities Market is also analyzed across below-mentioned regions/countries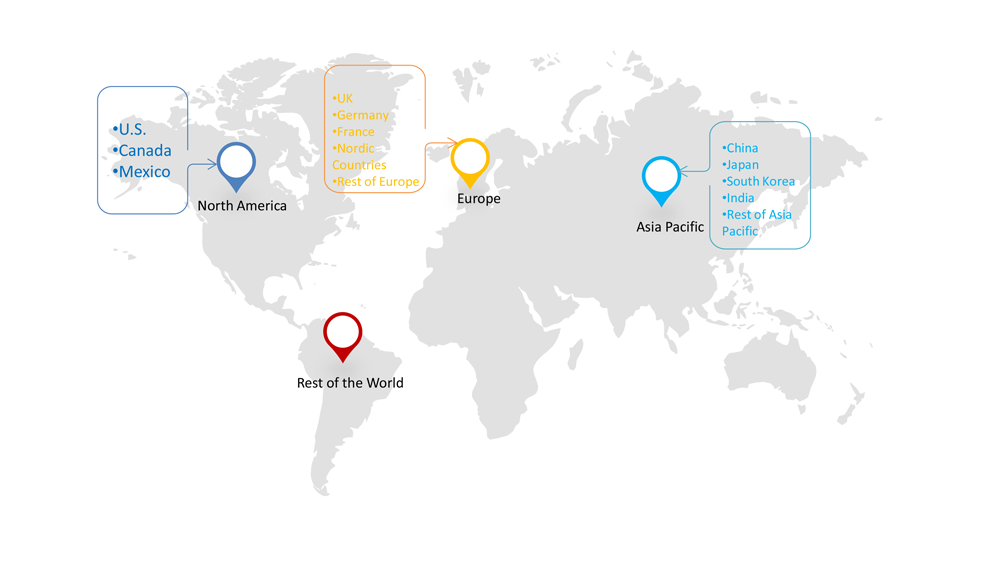 The Asia-Pacific region is expected to have the highest growth rate in the smart cities market, where China is expected to contribute significantly. According to World Urbanization Prospects by UN DESA's Population division India and China will show the highest growth in urbanization resulting in the growth of the smart cities market. North America is currently the dominating market for smart cities owing to the early adoption and considerable government investments in information and communication technology.
Some of the key players in the Smart Cities Market include:
IBM Corporation
Ericsson
Honeywell
Huawei Technologies Co Ltd.
AT&T Inc.
Siemens AG
Hitachi Corporation
Cisco Systems, Inc.
Oracle Corporation
Microsoft Corporation
Schneider Electric SE
RECENT DEVELOPMENTS:
In February 2018, Honeywell launched Command and Control Suite release 200(CCS R200) which will connect buildings with data analytics which will notify about the efficiency of the building and improvements if needed. This will help to reduce operational costs and risks.
REPORT CONTENT BRIEF:
High level analysis of the current and future market trends and opportunities
Detailed analysis on current market drivers, restraining factors, and opportunities in the future
Smart Cities market historical market size for year 2019, and forecast from 2020 to 2027
Vendor market share analysis at each product level
Competitor analysis with a detailed insight into its product segment, financial strength, and strategies adopted.
Identifies key strategies adopted including product launches and developments, mergers and acquisitions, joint ventures, collaborations and partnerships as well as funding taken and investment done, among others.