The sensor market was valued at 147.00 billion in 2019 and is expected to grow at the CAGR of 9.2% from 2020 to 2027. This growth is attributed to the ongoing transition from traditional to highly automated manufacturing facility along with increasing knowledge on predictive maintenance solution. Further, high penetration of industry 4.0 or industrial internet of thing technology (Industrial IoT) is also expected to contribute to the sensor market growth. Additionally, sensor is an integral part of automobiles to enable fully autonomous vehicle, which is expected to be provide significant avenues for sensor providers in a near future. Further, development of smart cities is also expected to increase the sensor market opportunities over the next few years. However, integrating sensor in any application area increases the overall cost of a product/process. This may hamper the sensor market growth during the forecast period.
Sensor are a small component in a device/equipment/machine that is used to detect changes in environment, output of which is used to derive specific action. The sensor sense environmental parameters such as temperature, pressure, moisture, motion, light, and touch among other. The change in environmental is sensed and displayed on the output screen for further processing. Further, there are majorly three types of sensor technology, CMOS, CCD and Organic. Sensors are used for applications in several end use industry with significant use in consumer electronics, industrial, automotive, aerospace & defense, and telecom & IT, among others.
The report covers extensive competitive intelligence which include following data points:
Business Overview
Business Model
Financial Data
Financial – Existing
Financial – Funding
Product Segment Analysis and specification
Recent Development and Company Strategy Analysis
SWOT Analysis
The report covers market sizing and forecasting at the country level as well as at the segment level. Sensor market is analyzed across below-mentioned different segments:
| Sensor Type | Technology | End User |
| --- | --- | --- |
| Radar Sensor | CMOS | Consumer Electronics |
| Optical Sensor | CCD | Industrial & Manufacturing |
| Biosensor | Organic | Energy & Power |
| Touch Sensor | MEMS | Automotive |
| Image Sensor | Others | Aerospace & Defense |
| Pressure Sensor | | Healthcare |
| Temperature Sensor | | Oil & Gas |
| Proximity & Displacement Sensor | | Metallurgy |
| Level Sensor | | Others |
| Position Sensor | | |
| Humidity Sensor | | |
| Accelerometer & Speed Sensor | | |
| Others | | |
Sensor market is also analyzed across below-mentioned regions/countries: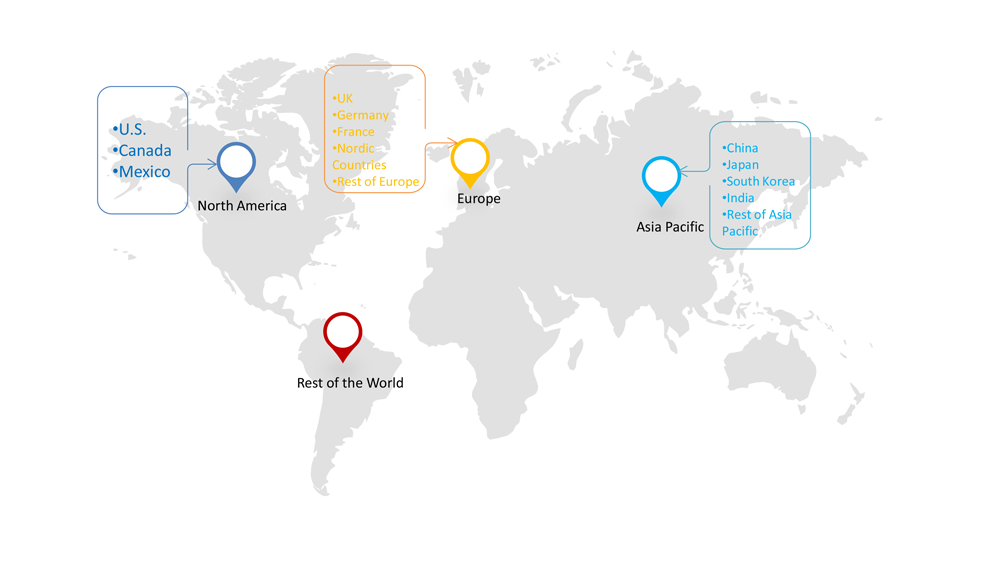 The some of the key players in of telehealth market include:
STMicroelectronics
NXP Semiconductors
Infineon Technologies
TE Connectivity
Texas Instruments
Robert Bosch
Broadcom
Sensirion AG
Knowles Electronic
Honeywell
REPORT CONTENT BRIEF:
High level analysis of the current and future market trends and opportunities
Detailed analysis on current market drivers, restraining factors, and opportunities in the future
Market estimates for 2019 and forecast from 2020 to 2027
Vendor market share analysis at each product level
Competitor analysis with a detailed insight into its product segment, financial strength, and strategies adopted.
Identifies key strategies adopted including product launches and developments, mergers and acquisitions, joint ventures, collaborations and partnerships as well as funding taken and investment done, among others.