The global Non-Fungible Token (NFT) market size is expected to reach $ Billion by 2028 growing at the CAGR of more than 100% from 2021 to 2028. A non-fungible token is a unique, non-interchangeable unit of data. It can vary widely in the marketplace and be used for validating anything ranging from real estate to film rights to WiFi access. NFTs offers a unique value in each data unit and are ideal for an exchange of rare collectibles like signed copies of first tweets, among others.
| Parameters | Indicators |
| --- | --- |
| Market Size (2019) | $Billion |
| CAGR (2021 to 2028) | More than 100% |
| Market Classification | Type, Application |
| Key Companies Profiled | Larva Labs, NBA Top Shot, Decentraland, Dapper Labs, SuperRare, Cloudflare, Inc, Dolphin Entertainment, Inc, Takung Art Co., Ltd, Funko, PLBY Group, Inc |
| Key Countries/Regions Analyzed | US, Canada, Mexico, UK, Germany, France, Italy, Rest of Europe, China, India, Japan, South Korea, Rest of Asia Pacific, Middle East & Africa, and South America |
| Base Year | 2020 |
| Estimated Year | 2021 |
| Forecast Years | 2022 to 2028 |
Driving Factors
The major factor driving the growth of Non-Fungible Tokens is their potential to streamline the exchange of assets, such as in-game items, digital art, and real-world collectibles. This comes from their immutability and security. Immutability means that the ledger will record each transaction permanently, without any way to erase or alter it. This makes the record indelible and unalterable and will give people the confidence that it's secure and safe.
Used as a form of payment in various industries
One of the main factors of the industry's growth is the inherent value of NFT in different industries. For instance, it can be used as a form of payment and as a collectible. It can also be used in combination with games on different platforms. With this type of token, one can have fun playing games and also have a tangible item that they can show to others and share with others. In this way, the token is used in a variety of sectors and has a potential market in the gaming industry.
Increasing demand for digital collectibles
The major factor driving the growth of the Non-Fungible Token (NFT) is the increasing demand for digital collectibles such as CryptoKitties. Non-fungible Token is a new type of digital token that has become rather popular in recent years. These tokens are unlike any other digital tokens because they are not interchangeable. Each one is unique and therefore has its history and traits. In short, they are unique, just like real-world collectibles. The popularity of NFTs can be attributed to the growing popularity of video games and the concept of digital asset ownership.
Restraining factors
The major factor restraining the growth of the Non-Fungible Token (NFT) is the lack of gameplay experience.  Furthermore, there is a lack of proper infrastructure and a lack of standardization for NFTs.
Key Insight in the report:
The Global Non-Fungible Token (NFT) market report covers Executive Summary, Market Dynamics, Trend Analysis, Market Size and Forecast, Competitive Intelligence, Market Positioning, Product Benchmarking, and Opportunity Analysis.
The report covers extensive competitive intelligence which includes the following data points:
Business Overview
Business Model
Financial Data
Financial – Existing
Financial – Funding
Product Segment Analysis and specification
Recent Development and Company Strategy Analysis
SWOT Analysis
Non-Fungible Token (NFT) Market Segmentation
The report covers market sizing and forecasting at the country level as well as at the segment level. Non-Fungible Token (NFT) Market is analyzed across the below-mentioned different segments: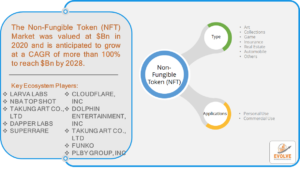 By Type
Art
Collections
Game
Insurance
Real Estate
Automobile
Others
By Application
Personal Use
Commercial Use
Regional analysis
North America dominates the market accounted for the highest proportion of the Non-Fungible Token (NFT) Market.  This can be attributed to the high adoption of blockchain technology in the region due to the presence of a large number of high-market players such as Cryptokitties, Etheremon, and Decentraland. Canada, the U.S., and Mexico are some of the major contributors to the global NFT market.
The Global Non-Fungible Token Market is analyzed across the below-mentioned region.
North America
Europe

UK
Germany
France
Italy
Rest of Europe

Asia Pacific

China
Japan
South Korea
India
Rest of Asia Pacific
Rest of the World
Non-Fungible Token (NFT) Market Players:
Some of the key players in the Non-Fungible Token (NFT) Market include:
LARVA LABS
NBA TOP SHOT
TAKUNG ART CO., LTD
DAPPER LABS
SUPERRARE
CLOUDFLARE, INC
DOLPHIN ENTERTAINMENT, INC
TAKUNG ART CO., LTD
FUNKO
PLBY GROUP, INC
REPORT CONTENT BRIEF:
High-level analysis of the current and future Non-Fungible Token (NFT) market trends and opportunities
Detailed analysis on current market drivers, restraining factors, and opportunities in the future
Non-Fungible Token (NFT) market historical market size for the year 2020, and forecast from 2021 to 2028
Non-Fungible Token (NFT) market share analysis at each product level
Competitor analysis with a detailed insight into its product segment, financial strength, and strategies adopted.
Identifies key strategies adopted including product launches and developments, mergers and acquisitions, joint ventures, collaborations, and partnerships as well as funding taken and investment done, among others.