The Global Nanotechnology Market was estimated to be $ 1,883.6 Million in 2019 and is anticipated to grow at a CAGR of 14.6% from 2020 to 2027. Nanotechnology is a science that states how we can manipulate and create a matter at molecular and atomic levels at scales of less than 100 nanometers thus increasing the efficiency of energy consumption and reducing the quantity of raw materials usage. The products developed using nanotechnology are smaller, cheaper, lighter, long-lasting, and helps clean the environment. Nanotechnology has opened a world of possibilities in a variety of industries and scientific endeavors including healthcare, among others.
The major factors impacting the growth of the Nanotechnology market are the growing demand for nanotechnology in healthcare in medical diagnosis, government initiatives to use nanotechnology for development, renewable and sustainable energy sources that can provide energy-efficient technologies, and environmental applications to find eco-friendly solutions through nanotechnology, among others.
Growing Demand for Nanotechnology in healthcare:
The nanotechnology applications in the healthcare industry such as diagnosis and treatment of diseases like cancer, heart alignments, and among others are expected to significantly contribute to the nanotechnology market growth. Nanotechnology has provided a breakthrough in the detection of disease at an earlier stage and instant treatment facilities. Nanotechnology has enabled better imaging and diagnostic tools that have paved the way for early diagnosis providing more treatment options resulting in higher success rates. The other main application of nanotechnology in the healthcare sector is delivering the drug and other substances to a specified cell in human bodies. The nanoparticles help to deliver the drug. It is also used to give anti-bacterial treatment with the help of gold nanoparticles coupled with infrared light that can kill the bacteria. The nanotechnology-enabled medical equipment is used to sense the body temperature, heartbeat, and among others. This application of nanotechnology in the healthcare industry is expected to boost nanotechnology market growth.
Government initiatives: 
Many governments are looking towards nanotechnology to improve their country's productivity and wealth. The government's investments in nanotechnology research & development have prominently increased over the last few years. Countries such as China, Brazil, South Korea, and Thailand have started government-funded programs for R&D of nanotechnology. The increased government initiatives to harness the potential of nanotechnology is anticipated to boost the nanotechnology market growth during the forecast period.
 Renewable and Sustainable Energy 
Nanotechnology is finding alternatives for traditional sources of energy. The application of nanotechnology in the field of renewable and sustainable energy will help to meet the world's increasing energy demands. Nanotechnology is enhancing alternative energy approaches that could provide cleaner, affordable, and renewable energy sources. The energy application of nanotechnology is attracting investments that will boost nanotechnology market growth.
 Environmental Application
With the growing concern to save the environment, nanotechnology is used to develop products that are good for the environment. Nanotechnology enabled products can help detect and clean up environmental contaminants. The nanotechnology product water filter could help meet the need for affordable, clean drinking water through rapid, low-cost detection and treatment of impurities in water. Nanotechnology-enabled sensors and products will be able to detect and identify chemical or biological agents in the air and soil. The environmental application of nanotechnology is expected to fuel the nanotechnology market growth.
Key Insight in the report:
The Global Nanotechnology market report covers Executive Summary, Market Dynamics, Trend Analysis, Market Size and Forecast, Competitive Intelligence, Market Positioning, Product Benchmarking, and Opportunity Analysis.
The report covers extensive competitive intelligence which includes the following data points:
Business Overview
Business Model
Financial Data
Financial – Existing
Financial – Funding
Product Segment Analysis and specification
Recent Development and Company Strategy Analysis
SWOT Analysis
The report covers market sizing and forecasting at the country level as well as at the segment level. Nanotechnology Market is analyzed across below-mentioned different segments:
| Component | Application |
| --- | --- |
| Nanomaterials | Electronics |
| Nanodevices | Healthcare |
| Nanotools | Energy |
| Others | Aerospace & Defense |
| | Chemical |
| | Food and Agriculture |
| | Cosmetics |
| | Others |
The nanodevices segment can further be bifurcated into nanomanipulators, nanomechanical test instruments, nanoscale infrared spectrometers, and others. The electronic segment is estimated to show prominent growth in the nanotechnology market due to the increase in nanotechnology-enabled electronic products.
Nanotechnology Market is also analyzed across below-mentioned regions/countries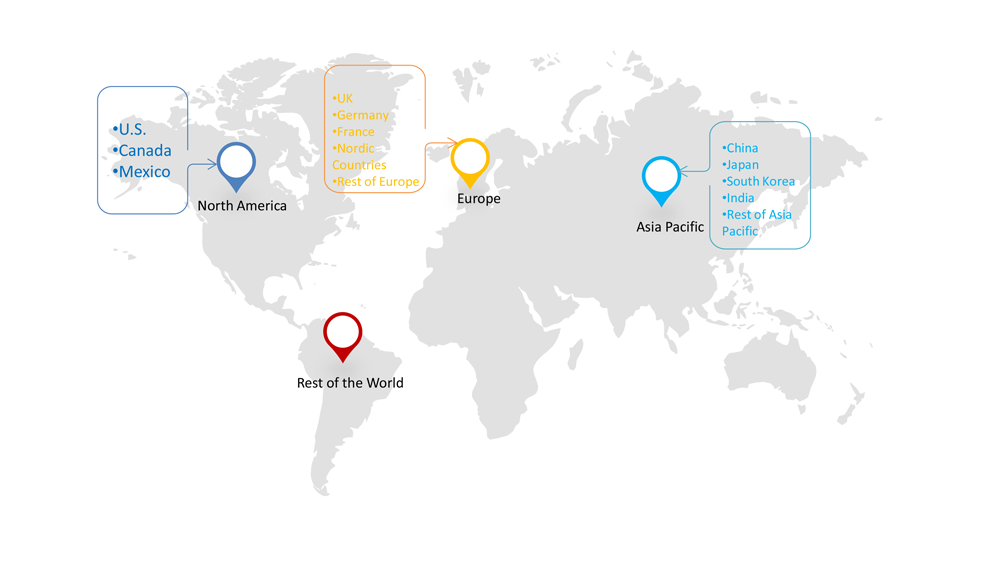 Some of the key players in of Nanotechnology Market include:
Nanoics Imaging Ltd.
Biosensor International
Applied Nanotech Holdings Inc.
Imina Technologies Sa
Kleindiek Nanotechnik Gmbh
Advanced Nano Products
Thermofisher Scientific
eSpin Technologies, Inc.
Bruker Axs
3rdTech Inc
RECENT DEVELOPMENTS:
In September 2019, Nanonics Imaging Ltd, launched Photon Force Imaging to perform NSOM imaging using Quartz Tuning-Fork Sensors.
REPORT CONTENT BRIEF:
High level analysis of the current and future market trends and opportunities
Detailed analysis on current market drivers, restraining factors, and opportunities in the future
Nanotechnology market historical market size for year 2019, and forecast from 2020 to 2027
Vendor market share analysis at each product level
Competitor analysis with a detailed insight into its product segment, financial strength, and strategies adopted.
Identifies key strategies adopted including product launches and developments, mergers and acquisitions, joint ventures, collaborations and partnerships as well as funding taken and investment done, among others.