The Global MEMS Sensors Market was estimated to be $ 50.5 Billion in 2019 and is anticipated to grow at a CAGR of 13.14% from 2020 to 2027. MEMS technology integrates mechanical and electrical components, all working together for a single functional requirement. MEMS are low-cost, simple to incorporate into systems, and high-performance inertial sensors that are used in various industrial applications. These sensors can detect and measure the external stimulus such as temperature, pressure, sound, and image, which is measured using mechanical arrangements. The sensors analyze the environmental parameters and gather information and output as an electronic signal proportional to the measured parameter. The key benefits of MEMS sensors include low cost, energy-efficient, less space consumption, and high performance which is expected to drive the MEMS Sensors market growth.
The major factors that have impacted the growth of the MEMS Sensor market are the growing demand of sensors in the automotive industry due to increasing safety concerns in vehicles, and increasing consumption of consumer products, among others.
Growing Demand of sensors in the automotive industry:
The MEMS sensors increase efficiency, provide better safety measures in the vehicles. The MEMS sensor's capabilities provide vehicle designers with multiple options to enhance vehicle safety and reliability. The MEMS sensors including a pressure sensor, inertial sensor, and flow sensors are used in the automotive industry to improve safety, fuel efficiency, and comfort. Airbag deployment, collision avoidance and skid detection, automobile navigation, antitheft system, active suspension, and rollover detection, and among others are some of the automobile applications of MEMS sensors. These sensors facilitate communication among engine, braking, suspension, and other electromechanical systems of vehicles. The MEMS sensor-enabled airbags are more efficient compared to traditional airbags as they are more effective in sensing accidents, thus minimizing injuries to the passengers. These sensors are also used in the automobile production process. They are used to keep track of several parameters such as pressure, temperature, flow, level, and among others., thus easing the production process. Better safety measures provided by MEMS Sensors in the automobile industry is expected to boost the MEMS sensor market growth.
Increased Consumption of Consumer Products:
The MEMS sensors are widely used in consumer products such as smartphones, laptops, tablets, navigation devices digital cameras, portable media players, and wearable devices. The advantages associated with MEMS sensors is expected to increase its demand for consumer products. The robust demand for consumer goods has encouraged companies to come up with more innovative products in the market. The higher consumption of consumer products and technological advancement of the sensors is expected to be the key driver for the MEMS Sensor market.
Key Insight in the report:
The Global MEMS Sensors market report covers Executive Summary, Market Dynamics, Trend Analysis, Market Size and Forecast, Competitive Intelligence, Market Positioning, Product Benchmarking, and Opportunity Analysis.
The report covers extensive competitive intelligence which includes following data points:
Business Overview
Business Model
Financial Data
Financial – Existing
Financial – Funding
Product Segment Analysis and specification
Recent Development and Company Strategy Analysis
SWOT Analysis
The report covers market sizing and forecasting at the country level as well as at the segment level. MEMS Sensors Market is analyzed across below-mentioned different segments:
| Type | Application |
| --- | --- |
| Pressure Sensor | Automotive |
| Optical Sensor | Healthcare |
| Inertial Sensor | Consumer Products |
| Ultrasonic Sensor | Aerospace & Defense |
| Chemical Sensor | Telecommunication |
| Environment Sensor | Others |
| Others | |
An Increase in the adaption of MEMS Sensors in the healthcare sector is anticipated to boost the market growth in the healthcare segment. The pressure sensor segment is estimated to show significant growth as it has more applications in the healthcare segment such as blood pressure sensors, endoscopes, and intracranial pressure sensors. The other segments that will fuel the global MEMS Sensor market are consumer products due to the rise in demand for smart consumer electronics, and automotive due to evolving trends in the automotive industry.
MEMS Sensors Market is also analyzed across below-mentioned regions/countries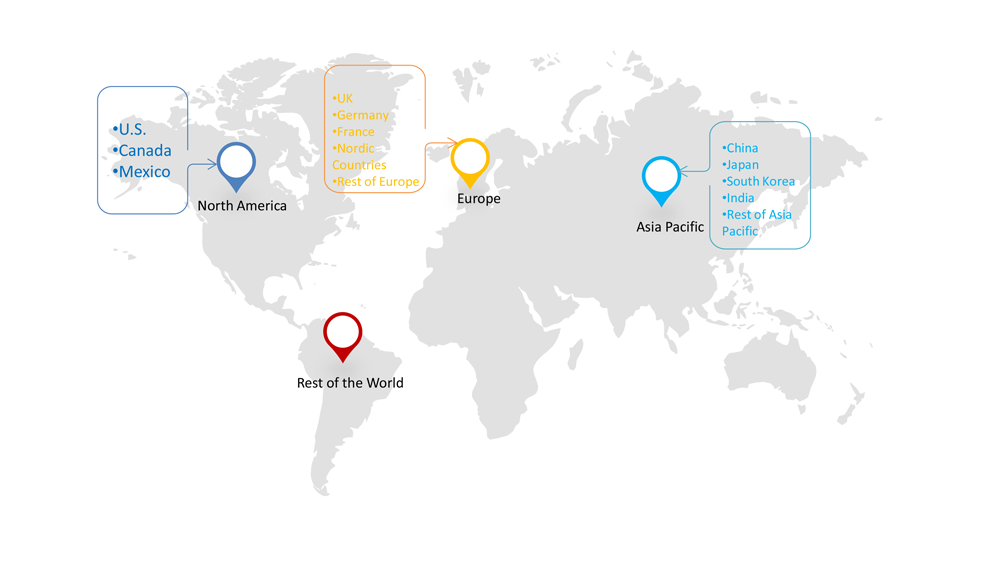 Asia-Pacific region is expected to exhibit significant growth due to the adoption of emerging technologies in Japan, India, and China. North America contributes the highest share in the MEMS Sensor market due to the increased use of smart devices like smartphones, smart wearables, and computing devices.
 Some of the key players in of MEMS Sensor Market include:
Texas Instruments Inc.
NXP Semiconductors N.V
Robert Bosch GmbH
STMicroelectronics
Panasonic
Seiko Epson
Canon
Avago Technologies
Infineon Technologies
Analog Devices Inc.
RECENT DEVELOPMENTS:
In November 2018, STMicroelectronis launched Tiny MEMS pressure sensors which has enhanced measurement capacity and avoids time-consuming calibration.
REPORT CONTENT BRIEF:
High level analysis of the current and future market trends and opportunities
Detailed analysis on current market drivers, restraining factors, and opportunities in the future
MEMS Sensors market historical market size for year 2019, and forecast from 2020 to 2027
Vendor market share analysis at each product level
Competitor analysis with a detailed insight into its product segment, financial strength, and strategies adopted.
Identifies key strategies adopted including product launches and developments, mergers and acquisitions, joint ventures, collaborations and partnerships as well as funding taken and investment done, among others.