Category: Information & Communication Technology
Sub-Category: Emerging Technology
The Global Manufacturing Predictive Analytics Market was valued at $ 1,074.5 Million in 2019 and is anticipated to grow at a CAGR of 25.2% from 2020 to 2027. Manufacturing companies are always keen to improve their productivity. The predictive analytics is a solution to gain higher efficiency which results in higher profit. Predictive Analytics help manufacturers to improve proficiency in design and production with the help of statistical techniques, machine learning, and data analytics. The software-centric approach adopted by manufacturing for predictive analytics companies is been dominating since 2018. The Use of predictive analytics tools can help manufacturers to capitalize on the information that is at their fingerprint, which is dominating the market since 2018. This age is going to be dominantly driven by Data. The data provides many exciting possibilities but to get benefit from this data, analytics is of the utmost importance. The data analytics tools can share various ways of working with data using machine learning, deep learning, and predictive data analytics algorithms to extract most of the information. This information will be ultimately used to make data-driven decisions.
The major factors that have impacted the growth of the manufacturing predictive analytics is increasing industrial sector in Europe and the Asia Pacific, increasing instances of machine breakdown leading to loss of productivity and growing safety concerns, and rapidly expanding analytics opportunity, among others.
Increasing Industrial Sector in Europe and the Asia Pacific"
We are living through the initial age of the Fourth Industrial Revolution which we often call Industry 4.0. The technology has evolved so drastically in recent years and had called industries to adopt the technology to survive in the digital world. This analytical age has the capability of solving problems that the world has ever faced. The potential of Industry 4.0 very huge, the companies can grasp to their full potential if they can adopt a data-driven culture. Utilizing this data of forecasting and predicting future and acting upon that will help manufacturers in better decision-making and more profitable businesses. Artificial Intelligence coupled with machine learning will help the manufacturers to predict future faults so that they can act upon it before it occurs. This will reduce the operational costs of the company. To minimize cost and create transformative business insight using predictive analytics manufacturers will adopt this technology which will boost the manufacturing predictive analytics market.
Increasing Instances of Machine Breakdown:
Machine breakdown causes adamant loss in production. Predictive Analytics can exploit the optimization time of machines. Predictive Analytics gathers the past data to get an insight into the circumstances that incline to cause the machine to break. Predictive Analytics forecast when one machine is likely to fail, what is the root cause of machine failure, and for how much time it will be out of order which can't be observed by conventional methods. The data collected can provide the solution before the machine becomes rupture thus minimizing lost production time. The use of predictive analysis will reduce the machine downtime by 30-50 percent and will increase a machine's life by 20-40 percent. Machine breakdown is a major concern for the manufacturing units. For optimal utilization of machines by reducing machines downtime and the cost associated with its manufacturers wants to achieve the highest productivity. One of the key applications for implementing predictive analytics in manufacturing units is machinery inspection and maintenance. Predictive Analytics will help to investigate and keep an eye on all the machines so that it can predict any failure before they occur and help the manufacturers by providing ways to handle the shortcoming. Implementing Manufacturing Predictive Analytics to handle machines will help the manufacturer to improve the production capacity that in turn will boost the market of Manufacturing Predictive Analytics.
Rapid Expanding Analytics Opportunity:
Industries produce enormous data that they are not able to utilize. With expanding growth in the field of analytics. With the help of analytics, the manufacturer can utilize their asset i.e. data to gain competitive advantage. Manufacturers can put that data to work by taking advantage of machine learning models, data analytics in order to optimize their process and increase production capabilities.  Analytics may also help Manufacturers to solve their previous impassable problems and can disclose the problems that were yet unnoticed like unprofitable production line or hidden bottlenecks. The escalating analytics opportunity will impact in a positive growth of the market as with the help of analytics manufacturers can increase their profit by investing the amount in analytics technology.
Key Insight in the Report:
The Global Manufacturing Predictive Analytics market report covers Executive Summary, Market Dynamics, Trend Analysis, Market Size and Forecast, Competitive Intelligence, Market Positioning, Product Benchmarking, and Opportunity Analysis.
The report covers extensive competitive intelligence which includes the following data points:
Business Overview
Business Model
Financial Data
Financial – Existing
Financial – Funding
Product Segment Analysis and specification
Recent Development and Company Strategy Analysis
SWOT Analysis
The report covers market sizing and forecasting at the country level as well as at the segment level. Manufacturing Predictive Analytics Market is analyzed across below-mentioned different segments:
| Deployment Type | Component Type | Application Type | End Users |
| --- | --- | --- | --- |
| Cloud | Software | Machinery Inspection and Maintenance | Automotive |
| On-Premise | Services | Product Development | Energy and Power |
| | | Demand Forecasting | Building Construction |
| | | Quality Improvement | Chemical |
| | | Supply Chain Management | Semiconductors and Electronics |
| | | Others | Aerospace |
| | | | Heavy Metal & Machine Manufacturing |
| | | | Others |
Manufacturing Predictive Analytics Market is also analyzed across below-mentioned regions/countries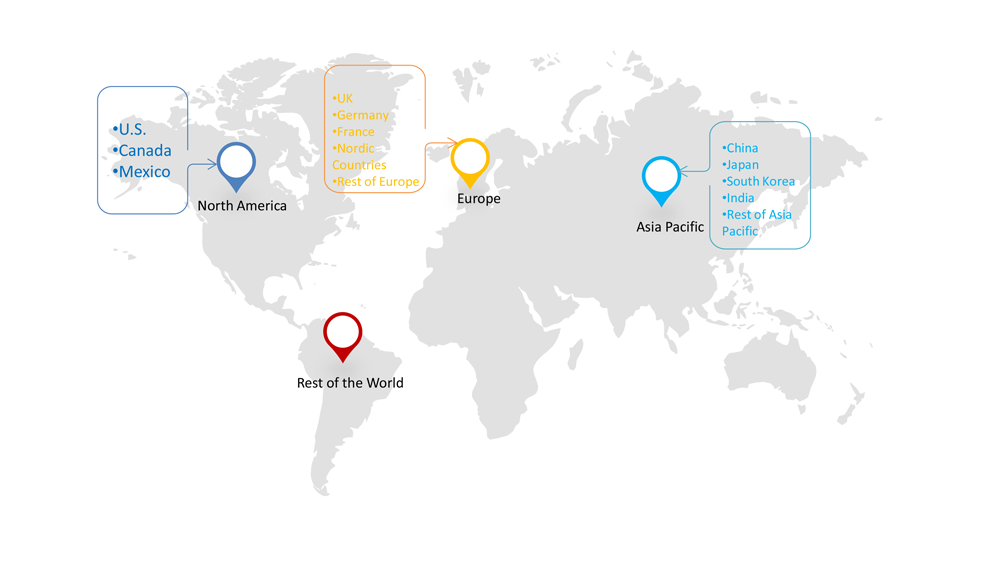 The market across North America has the highest market share in 2018 accounting for two-fifth of the market in manufacturing predictive analytics, owing to the presence of the key predictive analytics companies in the region. The other main reason for the dominance of North America is the availability of highly organized and sophisticated IT infrastructure. Asia-Pacific region is anticipated to grow at the fastest rate during the forecast period. The major factor that drives this market growth in this region is a shift towards the emerging technology from the old methods and technology.
Some of the key players in Manufacturing Predictive Analytics Market include:
IBM Corporation
Microsoft Corporation
Oracle Corporation
SAP SE
Dell
Bridgei2i Analytics Solutions
Tibco Software
1010Data
Zensar Technologies Ltd.
Alteryx
SAS Institute
Civis Analytics
Recent Development:
In March 2020 Alteryx announced a new tool named Holistic Data Profiling which would give business users a complete view of their data which would help the business to better understand their information which will help them to develop workflows.
IBM Watson IoT Solution will connect industrial equipment through IoT and help analyze factory floor and equipment data in real-time. Implementing Watson IoT Solution, the efficiency and production of the business unit will increase as this IoT solution will improve quality control, reduce the loss of production by predicting machine breakage and failures, and will also enhance the safety of employees.
Report Content Brief:
High level analysis of the current and future market trends and opportunities
Detailed analysis on current market drivers, restraining factors, and opportunities in the future
Manufacturing Predictive Analytics market historical market size for year 2019, and forecast from 2020 to 2027
Vendor market share analysis at each product level
Competitor analysis with a detailed insight into its product segment, financial strength, and strategies adopted.
Identifies key strategies adopted including product launches and developments, mergers and acquisitions, joint ventures, collaborations and partnerships as well as funding taken and investment done, among others.