Category: Electronics & Semiconductor
Sub-category: Electronic Components
The Global LED Lighting Market was valued at $ 44.4 Billion in 2019 and is anticipated to grow at a CAGR of 15.3% from 2020 to 2027. Light-emitting diodes or LED lights are semiconductors that produce light when electrons pass through them. An LED light is considered to be extremely efficient as compared to CFL bulbs because they produce less heat and last for a long time thus saving a lot of money. When incandescent bulbs or CFL bulbs get older they almost directly burn out but in the case of LED bulbs, they just grow dimmer. These bulbs are expected to last for at least 25000 hours.
The LED lighting market is categorized based on type into lamps and luminaires. Luminaires are generally used in commercial and industrial areas. For instance, the National Electrical Manufacturers Association (NEMA) claimed that in 2017, 23% of the lighting market was captured by LED lighting.
Growth Impact Factors 
The numerous factors positively impacting the LED lighting market growth include declining manufacturing costs, reduction in installation costs, increased urbanization, and extremely long-lasting and high replacement cycle among others.
Reduced manufacturing costs of LEDs
Since 2012, there has been a fall in the cost of manufacturing of LED lights and is expected to further decrease as the ASP of chips and the components utilized in the manufacturing process are reducing. Additionally, the installation costs are also seeing a decline, which is expected to increases the LED lighting demand over the next few years.
Rapid urbanization
 In many parts of the world, especially the developing regions, there has been a drastic increase in the number of people shifting to urban areas thereby increasing urbanization. Due to this, the number of smart homes and residential complexes is also rising rapidly which is leading to the installation of LED lamps and luminaires at an ever-increasing rate. This directly affects the number of shipments and the amount of revenue generated which boosts the LED lighting market.
Incredibly efficient and environmentally friendly
LED lights are exceptionally efficient at a rate of 80%-90% as compared to traditional lighting sources. The longevity of these lights is around 50,000 hours and produces only 20% heat. Further, They're also considered to be highly environmentally friendly as they don't contain toxic substances like mercury and do not produce UV rays.
Government initiatives
According to the report published by Electric Lamp and Component Manufacturers Association (ELCOMA), the government has planned to convert all street lights to LEDs. Similarly, the government has also begun sending notifications to commercial buildings to convert their downlights to LEDs. This increased initiative taken by the various government will increase the demand for LED lighting in the future.
Benefits of Street lighting
The Climate Group Organization has stated various advantages of using LEDs for street lighting purposes. LEDs have a long operational life hence they won't have to be changed regularly, which will help the government to save huge costs. They emit a minimum amount of heat and no UV rays making it a much safer option thus increasing the demand for LED light bulbs.
Increased efficiency of LED Lighting
According to the European Commission, there has been a change from luminous efficacy to light quality which is a significant trend in the LED industry. This is because luminous efficacy is considered as a lower standard as compared to light quality which is a higher standard.
Even if the selling price is increased by an insignificant amount, the revenue generated will be extremely high. Manufacturers have even focused on producing products which don't cause any harm to the environment hence this is also a very important factor taken into account.
Lack of awareness
The governments, as well as corporations, are not completely aware of all the benefits of LED lighting such as energy efficiency, and among others. They are also unaware of how to obtain well- designed LED solutions and continuous developments in LED technology. Updating themselves regularly is also difficult since there are constant innovations in this technology which will hamper the growth of the LED lighting market.
Key Insight in the report:
The Global LED lighting market report covers Executive Summary, Market Dynamics, Trend Analysis, Market Size and Forecast, Competitive Intelligence, Market Positioning, Product Benchmarking, and Opportunity Analysis.
The report covers extensive competitive intelligence which includes the following data points:
Business Overview
Business Model
Financial Data
Financial – Existing
Financial – Funding
Product Segment Analysis and specification
Recent Development and Company Strategy Analysis
SWOT Analysis
The report covers market sizing and forecasting at the country level as well as at the segment level. LED lighting Market is analyzed across below-mentioned different segments:
| | | |
| --- | --- | --- |
| Product | Application | End-User |
| Lamps | Indoor | Residential |
| Luminaires | Outdoor | Commercial |
| | | Industrial |
| | | Others |
LED Lighting Market is also analyzed across below-mentioned regions/countries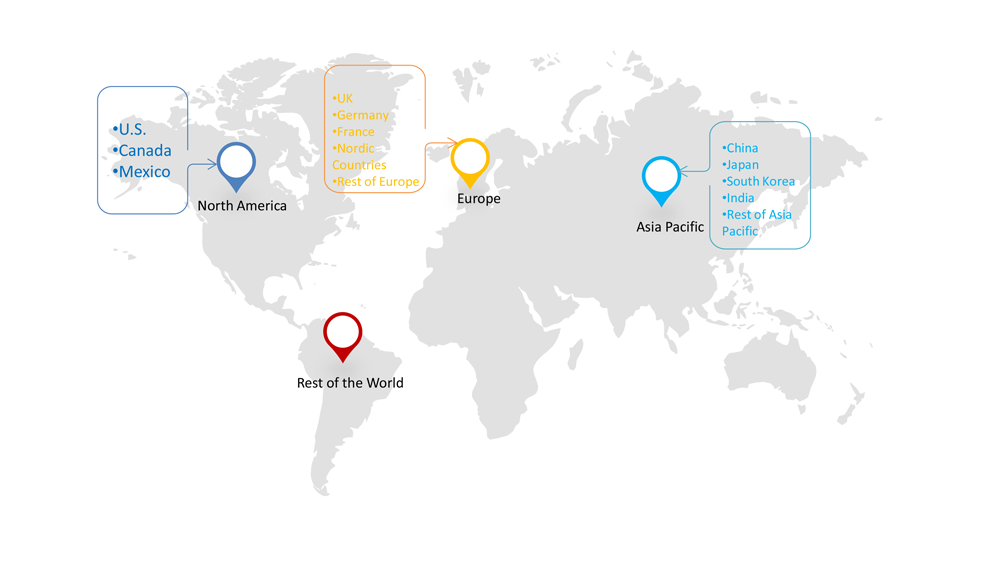 Geographic Analysis
Asia Pacific (APAC) dominated the LED lighting market in 2019. This can be attributed to the increasing environmental problems and the simultaneous technological advancements along with a rise in the number of smart homes being constructed. According to the European Commission, APAC is expected to register the highest growth rate in the next few years.
LED lighting has been developed in the last few years especially in Southeast Asia. This is because Southeast Asia is seeing high rates of urbanization, as a result of which the number of residential complexes built has increased manifold. The market in China is expected to grow at a CAGR of 35%, which is a drastic increase, from 2016- 2023. Contrary to this, Europe is expected to witness considerable growth owing to the incentives and rebates related to LED installation in the residential and commercial sectors and ban by the government from using less efficient lights such as CFL.
The key players of the LED Lighting Market include:
Signify Holding/ Philips Lighting
Cree Inc.
Osram
Digital Lumens Inc.
Acuity Brands
Eaton
GE Lighting
Nichia Corporation
Seoul Semiconductor
Zumtobel Group
Recent developments
In 2019, Signify's Philips Greenpower LED toplighting compact was launched. In January 2020 they introduced and extended product range that simplifies switch to LED grow lights in greenhouses. Philips Greenpower LED toplighting compact consumes 50% less energy and also reduces running costs due to its high efficiency. It's extremely suitable for crops which need a lot of light.
REPORT CONTENT BRIEF:
High-level analysis of the current and future market trends and opportunities
Detailed analysis of current market drivers, restraining factors, and opportunities in the future
LED lighting market historical market size for the year 2019, and forecast from 2020 to 2027
Vendor market share analysis at each product level
Competitor analysis with a detailed insight into its product segment, financial strength, and strategies adopted.
Identifies key strategies adopted including product launches and developments, mergers and acquisitions, joint ventures, collaborations, and partnerships as well as funding has taken and investment is done, among others.