Category: Electronic & Semiconductor
Sub-category: Electronic Device
Infrared Camera Market was valued at $ 2,382.5 million in 2019 and is anticipated to grow at a CAGR of 7.8% from 2020 to 2027. The infrared camera is a non-contact temperature measurement device that detects heat, also known as infrared energy, which is then converted into an electronic signal and is processed to produce a thermal image to perform temperature calculations. The thermal image which is reflected on the screen is called a thermogram and this process is also called thermography. According to a report produced by Intelligent Network Video, thermal cameras are the absolute best for monitoring and surveillance purposes. This because, since thermal cameras detect heat that is generated by any person, they can function perfectly in absolute darkness thereby not alerting the intruder.
Growth Impact Factors
The growing demand for thermal imaging to detect medical conditions
According to the International Journal of Innovative IR (Infrared) Camera Market and Exploring Engineering, thermography is now extensively applied in the research and development of non- invasive diagnosis for numerous medical conditions. The medical conditions which come under the R&D of non- invasive diagnosis are fever, diabetes, breast cancer/ carcinoma, and hypothermia/ fever. These 4 common conditions are where thermography shows some potential in the visual study and heat analysis. The sudden rise in COVID 19 cases across the globe has increased the demand for infrared cameras to check the body temperature instantly. Hence infrared cameras are increasingly being used for thermal imaging in the medical industry which is increasing the growth of the infrared camera market.
The growing use of IR Camera in modern surveillance systems
As mentioned before, infrared cameras are undergoing constant innovations and developments as a result of which they are increasingly being used in military Wavelengths and law and enforcement. Infrared cameras work well even in darkness because the ambient light level is not required. This is because all objects emit some amount of heat or thermal IR radiation which is captured and converted by these cameras on the screen. Therefore, infrared cameras are being applied across widely across the military and defense sector and this will boost the infrared camera market.
Increasing penetration of Advanced Driver Assistance Systems (ADAS)
Vehicle manufacturers globally are keen on integrating infrared cameras in vehicles in order to make them safer, secure, and create autonomous and efficient vehicles. The vehicles which have infrared cameras have the advantage of night vision as well as pedestrian and animal detection.
Infrared manufacturers globally can focus largely on two areas which are ADAS and thermography for diagnosing medical conditions since these two areas are still a part of the market which is not fully exploited as yet. The European New Car Assessment Program (NCAP) has imposed stringent regulation on the OEM to comply with vehicle security and this factor can also boost the infrared market in the future by making it mandatory for all vehicles to install this system.
Key Insight in the report:
The Global Infrared Camera market report covers Executive Summary, Market Dynamics, Trend Analysis, Market Size and Forecast, Competitive Intelligence, Market Positioning, Product Benchmarking, and Opportunity Analysis.
The report covers extensive competitive intelligence which includes the following data points:
Business Overview
Business Model
Financial Data
Financial – Existing
Financial – Funding
Product Segment Analysis and specification
Recent Development and Company Strategy Analysis
SWOT Analysis
The report covers market sizing and forecasting at the country level as well as at the segment level.  Infrared Camera Market is analyzed across below-mentioned different segments:
| Material | Technology | Wavelength Type | Application |
| --- | --- | --- | --- |
| Germanium | Cooled Infrared Camera | Short-Wave IR | Military & Defense |
| Silicon | Uncooled Infrared Camera | Mid-Wave IR | Industrial |
| Zinc Selenide | | Long-Wave IR | Commercial |
| MCT | | Others | Medical Imaging |
| InSb | | | Automotive |
| Sapphire | | | Others |
| Others | | | |
The global infrared camera market is divided and analyzed by material, technology, wavelength, application, and region. On the basis of Technology, the market is segmented into a Cooled IR Camera and Uncooled IR Camera.  By Material, the market classified into Germanium, Silicon, Zinc Selenide, MCT, InSb, Sapphire, others.  By Wavelength Type, the market is sub-divided into Short-Wave IR, Mid-Wave IR, Long-Wave IR, and others. By Application, the market is segmented into Military & Defense, Industrial, Commercial, Medical Imaging, Automotive, and others. By Region, the market is categorized into North America, Europe, Asia Pacific, and Rest of the World.
 Infrared Camera Market is also analyzed across below-mentioned regions/countries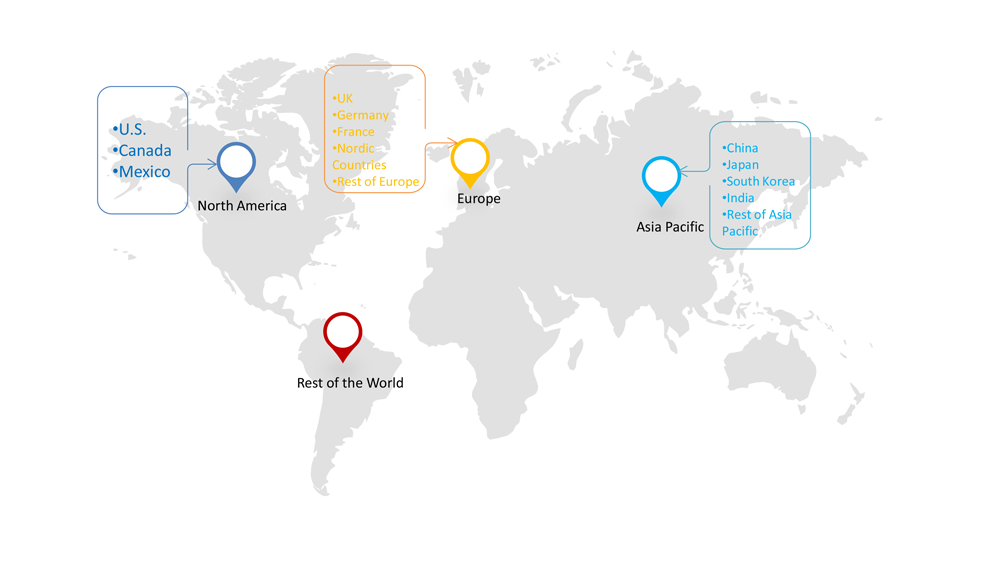 Regional analysis
The infrared camera market is witnessing considerable growth in the Asia- Pacific region which is due to large investments and initiatives by the government to develop the military and defense sector and to acquire the best military surveillance systems. Other factors that are responsible for driving the IR camera market growth include the growing demand for smart electronics and rapid development in the manufacturing industry. North America region has dominated the infrared camera market in 2019 owing to the presence of a large number of residential and commercial buildings, various process and manufacturing industries as well as multiple historical monuments.
Some of the key players in of Infrared Camera Market include:
Leonardo DRS
Global Sensor IR (Infrared) Camera Market Co. ltd.
Xenics
AIM Infrarot-Module
Lynred
FLIR System Inc.
L3 Technologies
Sensors Unlimited
Boston Electronics Corporation
Hamamatsu Photonics
Recent developments
In March 2020, FLIR Systems announced FLIR A400/A700 Thermal Smart Sensor and Thermal Image Streaming fixed camera solutions which is used to monitor equipment, production lines, critical infrastructure, and screening for elevated skin temperatures. These cameras provide accurate temperature monitoring in product development, waste management, manufacturing process control, and Environmental, Health and Safety (EHS) improvements.
REPORT CONTENT BRIEF:
High level analysis of the current and future market trends and opportunities
Detailed analysis on current market drivers, restraining factors, and opportunities in the future
Infrared Camera market historical market size for year 2019, and forecast from 2020 to 2027
Vendor market share analysis at each product level
Competitor analysis with a detailed insight into its product segment, financial strength, and strategies adopted.
Identifies key strategies adopted including product launches and developments, mergers and acquisitions, joint ventures, collaborations and partnerships as well as funding taken and investment done, among others.
For more information contact us at [email protected]