Category: Electronics & semiconductor
Sub-category: Electronic Component
The Global High Bay Lighting Market was valued at $ 9.1 Billion in 2019 and is anticipated to grow at a CAGR of 4.6% from 2020 to 2027. High bay lights are used to light up conference rooms, corridors, offices among many others with high ceilings. The rooms which require high bay LED lights have a minimum height of 20 feet to 45 feet. High bay lights are used for high ceiling rooms because low bay lights cannot illuminate large areas whereas high bay lights have a powerful light source that can lighten up any large room. High bay lights are mostly used for commercial or industrial purposes such as in large hotels, warehouses, factories, and assembly lines. Gyms and other types of studios also use high bay lights. Hangars, dance halls, or any other place which requires strong and powerful lighting uses high bay LED lights. According to the United States Department of Energy, in 2016, the low and high bay LED lighting market accounted for around 15% of all lighting energy use. This resulted in making low and high bay lights the second highest energy consumption of all the applications which were evaluated and hence this led to making it an important application for LED Lighting energy savings.
Growth Impact factors
The key factors fueling the growth of the High Bay Lighting market is rapid urbanization, drop in the prices of LED sensors and controls as well as lights and luminaires, and increasing globalization.
Energy efficiency
Due to the increasing awareness regarding energy efficiency which is obtained by using high LED lights, this has resulted in the growth of the high bay lighting market. High bay lights also have lower power consumption, longer lifespan, durability, and brighter light productivity as compared to traditional fluorescent lighting. This factor will lead to considerable growth in the high bay LED lighting market.
Financial benefits
High bay LED lights consume a very minimum amount of energy. This results in a decrease in electricity bills which is extremely beneficial for any type of business or organization. Additional advantages also include low operational costs of LED lights which drive the growth of the high bay LED lighting market.
Due to rising environmental awareness, energy efficiency is the main factor that will lead to a boost in the high bay LED lighting market. Stringent government regulations regarding energy efficiency are also another major impact and hence manufacturers should focus more on the energy-saving aspect which will help in solving environmental problems and also reduce the electricity bill costs.
Restraining factors
The major constraint of the high bay lighting market is the installation cost of LED lighting. Lack of awareness among corporations as well as government regarding all the advantages of using high bay LED lights is another inhibiting factor and might obstruct the high bay LED lighting market growth globally.
Key Insight in the report:
The Global High Bay Lighting market report covers Executive Summary, Market Dynamics, Trend Analysis, Market Size and Forecast, Competitive Intelligence, Market Positioning, Product Benchmarking, and Opportunity Analysis.
The report covers extensive competitive intelligence which includes following data points:
Business Overview
Business Model
Financial Data
Financial – Existing
Financial – Funding
Product Segment Analysis and specification
Recent Development and Company Strategy Analysis
SWOT Analysis
The report covers market sizing and forecasting at the country level as well as at the segment level. The Market is analyzed across below-mentioned different segments:
| Product Type | End-User |
| --- | --- |
| LED Lights | Sport Facilities |
| Induction Lights | Industries |
| Metal Halide Lights | Warehouses |
| Fluorescent Lights | Garages |
| Others | Transportation |
| | Others |
The global high bay lighting market is classified by product type, end-user, and region. By type, the market is classified into LED lights, Induction lights, Metal halide lights, and Fluorescent lights. By the end-user, the market is further bifurcated into, Sports Facilities, Industries, Warehouses, Garages, and Transportation Lightings. And by region, the market is categorized into North America, Europe, Asia Pacific, and Rest of the World.
 High bay Lighting Market is also analyzed across below-mentioned regions/countries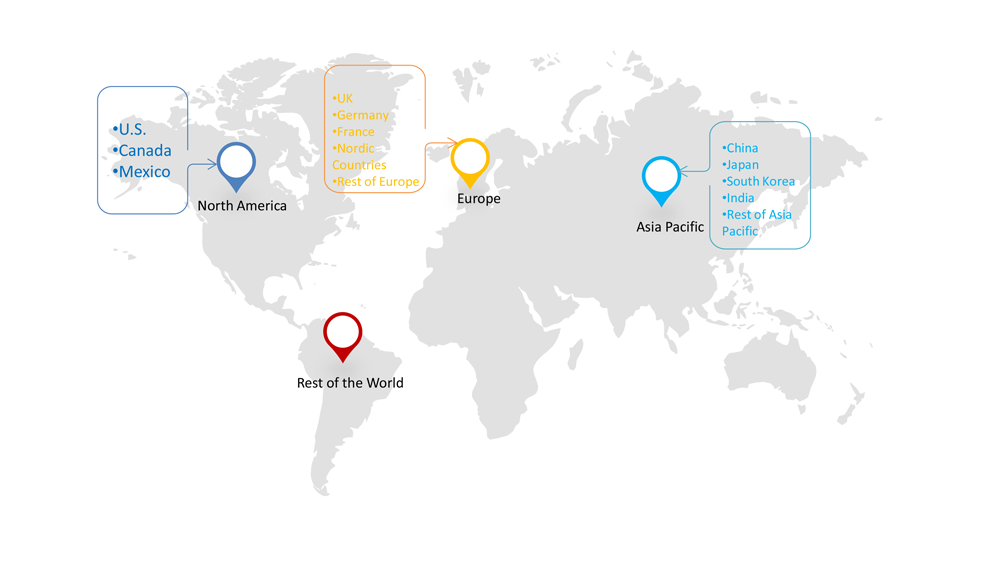 Regional analysis
North America occupies the largest share in the market. This can be attributed to the rise in the number of buildings and complexes and infrastructural advancements. Further, the rising environmental problems and continuous technological advancements. The Asia Pacific region is expected to experience phenomenal growth in the coming years in the high bay LED lighting market.
This is due to the growing rate of urbanization in Southeast Asia resulting in the increasing construction of new commercial complexes.
Some of the key players in of High Bay Lighting Market include:
Cree Inc.
General Electric Company
Digital Lumens Inc.
Acuity Brands.
Eaton
Philips Lighting/Signify.
Osram
Nichia Corporation
Seoul Semiconductor
Zumtobel Group
Recent developments
In December 2019, Acuity Brands Inc. launched Renna luminaires from Peerless, which is an innovation in rectilinear lighting. This product combines superior technology in a sleek minimalist design that is suitable for architectural or commercial spaces. Renna provides direct, indirect or bidirectional illumination without the concentrated light distribution, which is common to smaller LED luminaries.
Report Content Brief:
High-level analysis of the current and future market trends and opportunities
Detailed analysis of current market drivers, restraining factors, and opportunities in the future
Historical market size for the year 2019 and forecast from 2020 to 2027
Vendor market share analysis at each product level
Competitor analysis with a detailed insight into its product segment, financial strength, and strategies adopted.
Identifies key strategies adopted including product launches and developments, mergers and acquisitions, joint ventures, collaborations, and partnerships as well as funding has taken and investment is done, among others.