Category: Electronics & Semiconductors
Sub-category: Display Technology
The Global Digital Signage Market was valued at $ 21.0 Billion in 2019 and is anticipated to grow at a CAGR of 9.14% from 2020 to 2027. Digital signage is an electronic sign which is used to convey information to customers. Videos, weather data, texts, digital images, web pages, and so on are displayed on digital displays that use technologies such as LED, LCD, e-paper, and projection. Digital signage can be used across a wide variety of customer touchpoints such as dining areas, checkout lines, exam rooms, around product displays, among others and it has numerous applications as well. Video screens are the most common digital signs which are used to display information through videos, animations, custom texts, and graphics.
Growth Impact factors
The most dominant factor which is responsible for aiding the digital signage market is it helps to offer quality information regarding a wide number of products and services to a large number of people. The information displayed consists of pictures, sound, and motion which makes it very attractive and keeps the viewer interested and engaged as compared to non-digitized forms of advertising.
Digitized form of advertising
Numerous factors influence the growth of this market such as rising demand to promote services and products in a digitized way to attract as many customers as possible over a vast geographic region effectively as well as efficiently. Furthermore, due to rapid and continuous innovation of products such as leak detector systems, home monetary systems, thousands of FMCG products, and so on, there is a need to advertise to the public in a way that provides complete information. This kind of succinct product advertisement is one of the major reasons the digital signage market is thriving today.
Integration with biometric technology
Products such as gaze tracking and track heat paths have been developed as a result of the integration of digital signage with biometric technology. What gazes tracking technology does is it locates the most crowded area by customers and therefore companies can track and monitor custom behavior through this product. This technology will boost the demand for the digital signage market drastically.
Several companies focused on integrating digital signage with biometric technology to tracks consumer behavior. This technology will help obtain information on consumer preference and footfall tracking. Development in this segment will propel the digital signage market growth drastically over the next few years.
Restraining factors
The complex taxations imposed upon installing digital signage drive up the cost of ownership hampering the digital signage market growth in the future. The further licensing process is also lengthy, which is expected to add on to the restraints for the digital signage market.
Key Insight in the report:
The Global Digital Signage market report covers Executive Summary, Market Dynamics, Trend Analysis, Market Size and Forecast, Competitive Intelligence, Market Positioning, Product Benchmarking, and Opportunity Analysis.
The report covers extensive competitive intelligence which includes following data points:
Business Overview
Business Model
Financial Data
Financial – Existing
Financial – Funding
Product Segment Analysis and specification
Recent Development and Company Strategy Analysis
SWOT Analysis
The report covers market sizing and forecasting at the country level as well as at the segment level. Digital Signage Market is analyzed across below-mentioned different segments:
| Type | Component | Technology | Application | Location | Size |
| --- | --- | --- | --- | --- | --- |
| Video Walls | Hardware | LCD | Retail | In-store | Below 32 Inches |
| Video Screen | Software | LED | Hospitality | Out-store | 32 to 52 Inches |
| Transparent LED Screen | Service | Projection | Entertainment | | More than 52 Inches |
| Digital Poster | | | Corporate | | |
| Kiosks | | | Banking | | |
| Others | | | Healthcare | | |
| | | | Education | | |
| | | | Transport | | |
| | | | Others | | |
The global digital signage market is segmented by type, component, technology, application, location, size, and region. By type, the market can be further categorized into Video Walls, Transparent LED Screen, Digital Poster, Kiosks, and others. By component, the market is bifurcated into hardware, software, and service. By technology, the market is categorized into LCD, LED, and projection. By application, the market is divided into retail, hospitality, entertainment, stadiums & playgrounds, corporate, banking, healthcare, education, and transport. By location, the digital signage market is categorized into in-store and out-store. By size, it is categorized into below 32 inches, 32 to 52 inches, and more than 52 Inches.
Digital Signage Market is also analyzed across below-mentioned regions/countries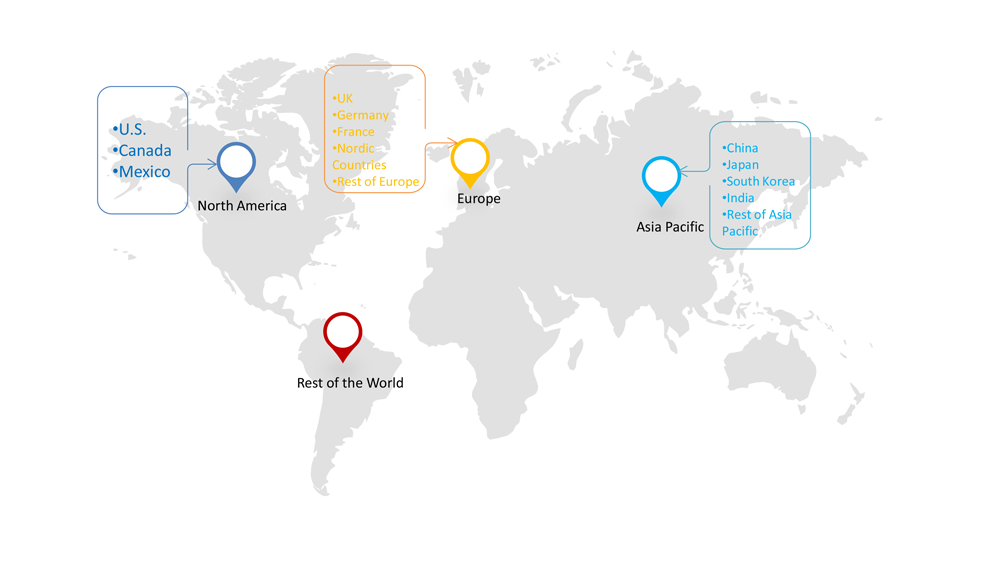 Regional analysis
Asia-Pacific is anticipated to witness significant growth in the future. This is attributed to the rising awareness of a digitized form of advertising. Additionally, the low cost associated with the deployment of electronic signage systems is expected to increase the demand in the Asia-Pacific region. This is attributed to the growing demand for digitized solutions for promotional purposes. Europe is also expected to exhibit high demand owing to rising investments in digitization coupled with the high penetration of smartphones.
 Some of the key players in of Digital Signage Market include:
Omnivex Corporation
E Ink Holdings Inc.
Leyard Optoelectronic Co., Ltd.
Panasonic Corporation
Exceptional 3D
Samsung Electronics
Deepsky Corporation Ltd.
Scala
Sony Corporation
LG Electronics
Recent developments
In June 2019, Sony Electronics announced that they are partnering with Kramer electronics to integrate its BZ35F series of BRAVIA 4K HDR professional displays with Kramer Control BRAINware. This would enhance the Audio- Visual installation by adding advanced controls to Sony's display.
LG Electronics, in June 2019 itself revealed their digital signage products at the InfoComm 2019 in Florida. Their newly launched products claim to have state-of-the-art technologies which would propel LG into the digital signage market.
Report Content Brief:
High-level analysis of the current and future market trends and opportunities
Detailed analysis of current market drivers, restraining factors, and opportunities in the future
Historical market size for the year 2019, and forecast from 2020 to 2027
Vendor market share analysis at each product level
Competitor analysis with a detailed insight into its product segment, financial strength, and strategies adopted.
Identifies key strategies adopted including product launches and developments, mergers and acquisitions, joint ventures, collaborations, and partnerships as well as funding has taken and investment done, among others.