The global Digital Marketing Software market size is expected to reach $239.18 Billion by 2028 growing at the CAGR of 21.21% from 2021 to 2028. Digital marketing software is a comprehensive and cost-effective solution that includes all the functionalities of digital marketing. With this software, companies can schedule and publish blog posts to drive traffic, manage their social media accounts to build a loyal customer base, find customers through a web search, create mobile apps to engage with them on the go, or even conduct lead generation campaigns to get more leads in your database.
| Parameters | Indicators |
| --- | --- |
| Market Size (2019) | $50.12 Billion |
| CAGR (2021 to 2028) | 21.21% |
| Market Classification | Type, Deployment Model, Industry Vertical- |
| Key Companies Profiled | Adobe Systems, Oracle Corporation, IBM Corporation, SAP AG, Microsoft Corporation, Salesforce.com, Inc., HubSpot, Inc., Marketo Inc., SAS Institute, Inc., and HP Development Company, L.P.. |
| Key Countries/Regions Analyzed | US, Canada, Mexico, UK, Germany, France, Italy, Rest of Europe, China, India, Japan, South Korea, Rest of Asia Pacific, Middle East & Africa, and South America |
| Base Year | 2020 |
| Estimated Year | 2021 |
| Forecast Years | 2022 to 2028 |
Driving Factors
The main factors for the growth of the market are the intense rise in the number of people using smartphones, increasing the digital marketing budget of companies, and the boom in social media marketing and advertising.
Increase in social media marketing and advertising
Social media has played a huge role in the changing landscape of internet marketing. More and more people are now connected via social networks than ever before. This trend is only expected to get bigger each day which means that there are quite a few opportunities for companies as well. Personalization allows companies to present offers that are tailored specifically to individual customer tastes helping increase high CTR rates to essentially grab every potential customer's attention. The more attention these ads can grab, the more successful companies have been from an engagement and sales perspective leading online marketers towards higher profits.
Restraining factors
Factors such as growing complexities and lack of skilled workforce to handle end-to-end tasks hamper the market.
Key Insight in the report:
The Global Digital Marketing Software market report covers Executive Summary, Market Dynamics, Trend Analysis, Market Size and Forecast, Competitive Intelligence, Market Positioning, Product Benchmarking, and Opportunity Analysis.
The report covers extensive competitive intelligence which includes the following data points:
Business Overview
Business Model
Financial Data
Financial – Existing
Financial – Funding
Product Segment Analysis and specification
Recent Development and Company Strategy Analysis
SWOT Analysis
Digital Marketing Software Market Segmentation
The report covers market sizing and forecasting at the country level as well as at the segment level. Digital Marketing Software Market is analyzed across the below-mentioned different segments: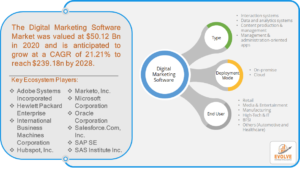 By Type
Interaction systems
Data and analytics systems
Content production & management
Management & administration-oriented apps
By Deployment Model
By Industry Vertical
Retail
Media & Entertainment
Manufacturing
High-Tech & IT
BFSI
Others (Automotive and Healthcare)
Regional analysis
North America became the leader in the market for digital marketing solutions in 2020. Consumers in North America have shown a strong preference for online shopping which is opening up opportunities for advertisers to market their products online thereby driving the future growth of the regional market. The Asia Pacific region is expected to register significant growth. It is characterized by a population density, proliferation of smartphones, and rollout of high-speed data networks. Further, a large proportion of smartphone users in this region uses social media via their devices. Hence, the number of opportunities for online advertising is immense in this area, making it an attractive market for businesses as well.
The Digital Marketing Software Market is analyzed across the below mentioned region.
North America
Europe

UK
Germany
France
Italy
Rest of Europe

The Asia Pacific

China
Japan
South Korea
India
Rest of Asia Pacific

Rest of the World
Digital Marketing Software Market Ecosystem Players:
Some of the key ecosystem players in of Acupuncture Needles Market include:
Adobe Systems Incorporated
Hewlett Packard Enterprise
International Business Machines Corporation
Hubspot, Inc.
Marketo, Inc.
Microsoft Corporation
Oracle Corporation
Com, Inc.
SAP SE
SAS Institute Inc.
REPORT CONTENT BRIEF:
High-level analysis of the current and future market trends and opportunities
Detailed analysis on current market drivers, restraining factors, and opportunities in the future
Acupuncture Needles market historical market size for the year 2019, and forecast from 2020 to 2027
Vendor market share analysis at each product level
Competitor analysis with a detailed insight into its product segment, financial strength, and strategies adopted.
Identifies key strategies adopted including product launches and developments, mergers and acquisitions, joint ventures, collaborations, and partnerships as well as funding taken and investment done, among others.