Category: Information & Technology
Sub-Category: Data Center
The Global Data Center Cooling market was valued at $9,100.5 million in 2019 and is anticipated to grow at a CAGR of 15.2% from 2020 to 2027. Data cooling is a combination of techniques, tools, and processes that certify a certain operating temperature within a data center. It is essential to maintain an ideal temperature in data centers by transferring the unutilized heat in the external environment. Heat removal equipment and proper air conditioning are required to transfer the additional heat. This additional heat is generated when equipment utilizes more energy than required resulting in the production of undesirable heat in data centers.  This excessive heating may damage data center infrastructure resulting in an interruption in the functioning of the organization.
To avoid this disruption adoption of efficient cooling technology is very necessary. Using appropriate sensors, data cooling technique regulate, monitor and control data center's temperature. Data cooling ensures that proper cooling and ventilation are maintained which keep all the devices within a desired range of temperature. The development of cloud technology, big data, IoT has also influenced organizations to invest in new data centers which will require data center cooling technology.
The key factors that have impacted the growth of the data center cooling markets are the demand for improved processing proficiency that can empower the productivity of organizations, Green Data centers due to the rise in environmental concerns, among others.
DEMAND FOR IMPROVED PROCESSING PROFICIENCIES:
The companies are aiming to improve their operational efficiency, mobility, security, and bandwidth which will help the data cooling center market development. The development of digital technologies and improved levels of automation and IoT connectivity has led to the requirement of the data center that can provide quick deployment, flexibility, security, and availability. This shift in organizations has paved the way for the development of cost-effective data cooling systems. Industries like manufacturing, chemicals, energy, and others generate a huge amount of data. They also need to work on this data and provide insights. This data requires high-processing along with improved performance, speed, and cooling efficiency. The IT & Telecom segment led the market for data center cooling market due to the digitalization and advancement in technology. These technologies have boosted the demand for data storage owing to the active adaptation of data center cooling techniques to improve processing capabilities. The data cooling centers satisfy the requirements which have a positive impact on the market.
GREEN DATA CENTERS:
The increased concerns regarding environmental health green data centers adaptation have been significantly increased. The data center cooling service providers are constantly working towards innovative ideas to make the cooling system more eco-friendly by maximizing energy-efficiency and minimizing power consumption. Government bodies are also imposing various regulations regarding emission and power consumption to maintain environmental health. These government initiatives will be a key factor in the growth of eco-friendly data cooling solutions.
Key Insight in the report:
The Global Data Center Cooling market report covers Executive Summary, Market Dynamics, Trend Analysis, Market Size and Forecast, Competitive Intelligence, Market Positioning, Product Benchmarking, and Opportunity Analysis.
The report covers extensive competitive intelligence which includes following data points:
Business Overview
Business Model
Financial Data
Financial – Existing
Financial – Funding
Product Segment Analysis and specification
Recent Development and Company Strategy Analysis
SWOT Analysis
The report covers market sizing and forecasting at the country level as well as at the segment level. Data Center Cooling Market is analyzed across below-mentioned different segments:
| Component Type | Technique | Types | Type of Data Center | Verticals |
| --- | --- | --- | --- | --- |
| Software | Air-Based Cooling | Room-Based | Wholesale Data Centers | IT & Telecom |
| Services | Liquid-Based Cooling | Row-Based | Hyperscale Data Centers | Healthcare |
| | | Rack-Based | Enterprise Data Centers | Government & Defense |
| | | | Colocation Data Centers | Energy |
| | | | | Manufacturing |
| | | | | Retail |
| | | | | BFSI |
| | | | | Others |
The room-based cooling is anticipated to have larger market penetration in the type of cooling segment as it provides energy-effective cooling at lower the price. The room-based cooling systems are installed in data centers as they offer flexibility, agility to the architecture of the data center at reduced costs. The liquid-based cooling segment will have an upper hand in the market share due to an increase in energy-efficient and cost-effective cooling solutions. The liquid-based cooling reduces the carbon emission making it more environmentally healthy solutions to be implemented. The use of cooling technology in enterprises will boost the market growth.
Data Center Cooling Market is also analyzed across below-mentioned regions/countries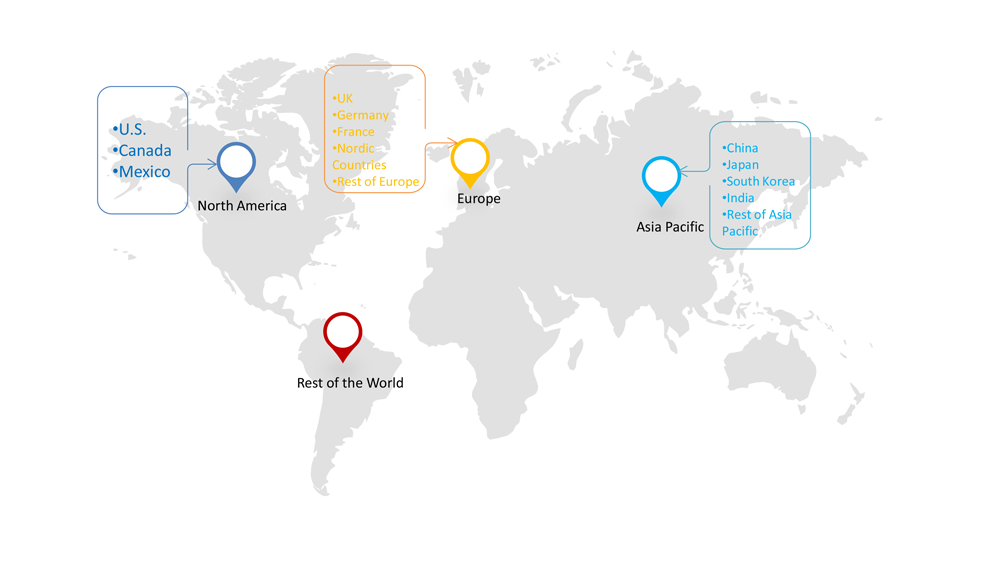 North America is expected to dominate the data center cooling market due to technological advancements and the adoption of data center cooling technologies as the companies in this region are focusing on implementing cost-effective cooling solutions. The presence of large companies such as Facebook, Amazon, Google has also attributed to the growth of the market in the region. The market in the Asia-Pacific region will also be a prominent market for data center cooling owing to the increasing requirement of energy-efficient and cost-effective solutions in industries.
Some of the key players in of Data Center Cooling Market include:
Ebullient, Inc.
Rittal GmbH & Co. KG
Vertiv
Nortek Air Solutions, LLC
Equinix
Hitachi, Ltd.
Fujitsu Ltd.
AdaptivCOOL
Schneider Electric SE
Black Box Corporation
Liquid Cool Solutions, Inc.
Coolcentric
RECENT DEVELOPMENTS:
In June 2018, Microsoft launched Project Natick in Orkney Island, Scotland that explores the idea of a data center on the seafloor. An eco-friendly data center having a prototype of shipping container size will be left in the sea that can hold data and process information for five years without maintenance. The data center uses minimal energy despite having the power of several thousand high-end consumer PCs.
In July 2020, Equinix launched the 11th data center named TY11 in Tokyo which is the largest in Japan. The data center uses energy-efficient technology which will reduce power consumption and increase cooling capacity.
REPORT CONTENT BRIEF:
High level analysis of the current and future market trends and opportunities
Detailed analysis on current market drivers, restraining factors, and opportunities in the future
Data Center Cooling market historical market size for the year 2019, and forecast from 2020 to 2027
Vendor market share analysis at each product level
Competitor analysis with a detailed insight into its product segment, financial strength, and strategies adopted.
Identifies key strategies adopted including product launches and developments, mergers and acquisitions, joint ventures, collaborations and partnerships as well as funding taken and investment done, among others.