The global Bluetooth Low Energy (BLE) technology market is expected to grow from $7.43 billion in 2019 to $33.05 billion in 2027, at the CAGR of 20.51% from 2020 to 2027. This growth is attributed to the increasing need for low power connectivity solution for electronics. This technology is significantly used in wearable electronics as an energy efficient connectivity solution. The growing adoption of wearable electronics is expected to increase the demand for BLE technology over the forecast period. Further, BLE is also one of the major technologies used for proximity marketing in the Bluetooth beacons, which is expected to be a major driver of BLE technology-based modules and chipset adoption.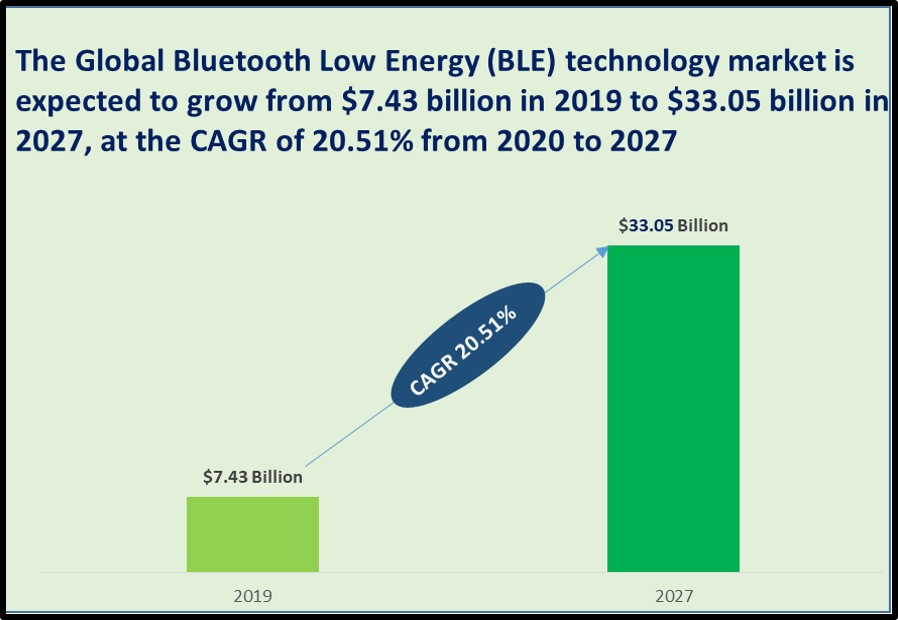 BLE technology or more commonly known as Bluetooth smart is a wireless PAN technology designed for novel applications in healthcare, fitness, security, marketing and home entertainment industries. One of the major differences between Bluetooth and BLE is its low energy consumption, which is achieved by remaining in sleep mode unless the connection is initiated. BLE increases the battery life of devices and equipment, which is the need for an hour for consumers today.
The report covers extensive competitive intelligence which include following data points:
Business Overview
Business Model
Financial Data
Financial – Existing
Financial – Funding
Product Segment Analysis and specification
Recent Development and Company Strategy Analysis
SWOT Analysis
The report covers market sizing and forecasting at the country level as well as at the segment level. BLE technology market is analyzed across below-mentioned different segments:
| Offering | Mode | End Use |
| --- | --- | --- |
| Module | Single Mode | Healthcare |
| Chipset | Dual Mode | Sports & Fitness |
| | Classic | Home Appliances |
| | | Automotive |
| | | Consumer Electronics |
| | | Industrial Automation |
| | | Wearable Electronics |
| | | Gaming |
BLE technology market is also analyzed across below-mentioned regions/countries: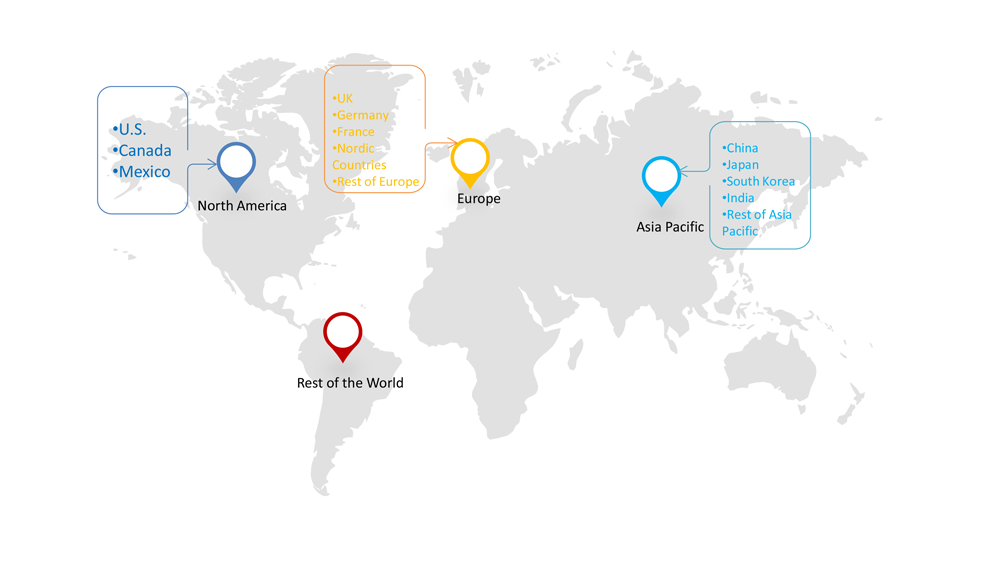 The some of the key players in of BLE technology market include:
STMicroelectronics
Nordic Semiconductor
Qualcomm
Cypress Semiconductor
Texas Instruments
Microchip Technology
NXP Semiconductors
Telit
Sierra Wireless
Quectel Wireless Solutions
REPORT CONTENT BRIEF: 
High level analysis of the current and future market trends and opportunities
Detailed analysis on current market drivers, restraining factors, and opportunities in the future
BLE technology market estimates for 2019 and forecast from 2020 to 2027
Vendor market share analysis at each product level
Competitor analysis with a detailed insight into its product segment, financial strength, and strategies adopted.
Identifies key strategies adopted including product launches and developments, mergers and acquisitions, joint ventures, collaborations and partnerships as well as funding taken and investment done, among others.