Category: ICT
Sub-Category: Security
Price: $3,750
The Global 3D Biometrics market was estimated to be USD 2.68 billion in 2019 and is anticipated to grow at a CAGR of 18.95% from 2020 to 2027. The authentication of the personal information using 3D biometric has become essential in public sector, banking & financial sectors, and among others. The 2 Dimension biometric is the most widely used form of physical biometric recognition, despite the fact that the human interference are 3 dimension.  Recently, the 3D technology have been applied for various application such as 3D face recognition, 3D palmprint, 3D fingerprint, 3D ear recognition, and among others.
The global 3D biometrics market is driven by increasing demand of security of personal data in public and banking sector. Further, the rising government initiative to adopt 3D biometrics technology coupled with increasing penetration of 3D biometric in automotive application led to the growth of the market in future.
Key Insight in the report:
The Global 3D Biometrics market report covers Executive Summary, Market Dynamics, Trend Analysis, Market Size and Forecast, Competitive Intelligence, Market Positioning, Application Benchmarking, and Opportunity Analysis.
The report covers extensive competitive intelligence which includes following data points:
Business Overview
Business Model
Financial Data
Financial – Existing
Financial – Funding
Application Segment Analysis and specification
Recent Development and Company Strategy Analysis
SWOT Analysis
The report covers market sizing and forecasting at the country level as well as at the segment level. 3D Biometrics Market is analyzed across below-mentioned different segments:
| Application | End User | Authentication Type |
| --- | --- | --- |
| 3D Face Recognition | Public Sector | Single-factor authentication |
| 3D Palmprint | Banking & Financial Sector | Multi-factor authentication |
| 3D Fingerprint | Healthcare | |
| 3D Ear Recognition | IT & telecommunication | |
| Others | Others | |
3D fingerprint segment to account for the largest market share during the forecast period. Fingerprint technology is most widely used form of biometric technology. These technology is simple to use and easy to install as compared to other biometric technologies. The growth of the segment is attributed by the increase in demand for the solution to be used for e-passport and e-visas. The growing demand for 3D fingerprint in sector such as banking, healthcare, and government has attributed towards the growth of the market in future.
3D Biometrics Market is also analyzed across below-mentioned regions/countries
North America holds the largest market share for 3D biometrics market due to increase investment in safety and security events. North America showed a great economic strength in 2018, holding a share of approximately 42% in 3D biometrics market. Approximately 34 percent of the share is contributed by the US and Canada. Asia Pacific is expected to grow at a highest CAGR during the forecast period.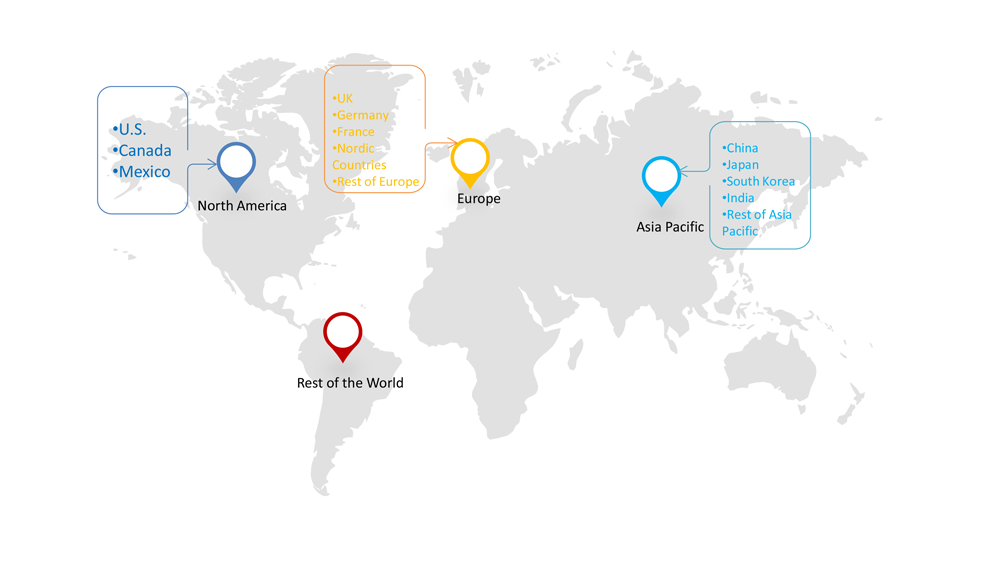 The some of the key players in of 3D Biometrics Market include:
FACETEC, INC
TBS
Artec ID
Thales Group
Fujitsu Ltd.
Safran
NEC Corporation
Cognitec Systems GmbH
Precise Biometrics, Inc.
Secunet Security Networks AG
REPORT CONTENT BRIEF:
High level analysis of the current and future 3D Biometrics market trends and opportunities
Detailed analysis on current 3D Biometrics market drivers, restraining factors, and opportunities in the future
Historic market size for year 2018, market estimates for 2019 and forecast from 2020 to 2027
Vendor market share analysis at each Application level
Competitor analysis with a detailed insight into its Application segment, financial strength, and strategies adopted.
The report on 3D biometrics Identifies key strategies adopted including Application launches and developments, mergers and acquisitions, joint ventures, collaborations and partnerships as well as funding taken and investment done, among others.