Category: Information and Communication Technology
Sub-Category: Technology
The Global Enterprise Artificial Intelligence Market was valued at $ 6.6 Billion in 2019 and is anticipated to grow at a CAGR of 36.1% from 2020 to 2027.
Enterprise artificial intelligence takes advantage of advanced technologies and combines them with the human capacity for fulfilling the organizational objectives and goals by formulating strategies through artificial intelligence. Enterprise AI will provide industries means to use data and information to gain a competitive advantage. Some of the key use-cases of AI include decision making, real-time language translation, and speech recognition.
The major factors that have impacted the growth of the enterprise artificial intelligence market is a digital transformation which is encouraging companies to adopt new technologies, rising demand of AI to analyze a large amount of data, data dynamism, and increased investment towards AI technologies and among others.
Digital Transformation:
In this era of digital transformation, organizations are looking towards artificial intelligence to develop innovative business models. The data-driven managerial decisions are replacing the old methods of powering the organizations. The growth of the industry in this competitive environment depends on how well they get ready to cope up with the rapid change in data management and user satisfaction. Traditionally companies sort their data by type, department, and business functions, but the problem that they face is collaborating that data and making them accessible for decision making and strategy formation, increased digitization and use of AI could help companies to store and access data more efficiently. The companies to gain competitive advantage will adopt digitalization which will improve the enterprise AI market.
Rising Demand for AI:
With the increase in complex data sets, advanced machine learning algorithms and improvements in computing power and storage, the demand for AI-based cognitive solutions is rising. This is creating immense opportunities for companies dealing with large data volumes are on a robust growth trajectory. The rapid advancement in AI technology is redefining the enterprises by increasing capacity by helping them in accessing and analyzing data. The AI will need a workforce who can handle the technology, which can demotivate enterprise to adopt AI which in turn slow the growth of enterprise AI market.
Dynamic Data:
The increase in data has also demanded the enterprise to get AI. This large amount of data is boosting the organizations to deploy artificial intelligence. The volume of data and the quality of data to be characterized by various activities and progress is growing exponentially, and therefore there is a need to analyze these data to get meaningful insight for better decision making. As a large amount of data is being generated and it is difficult for a human mind to process it. AI can process such an amount of data which will boost the enterprise AI market.
Increased Investment:
Advancement in technology and an increase in new-fangled start-ups has boosted investment in enterprise AI. The rising demand for artificial intelligence technology, advancement in technology, and innovative start-ups has led to booming investments. The escalating investment will impact the growth of enterprise AI.
 Key Insight in the report:
The Global Enterprise AI market report covers Executive Summary, Market Dynamics, Trend Analysis, Market Size and Forecast, Competitive Intelligence, Market Positioning, Product Benchmarking, and Opportunity Analysis.
The report covers extensive competitive intelligence which includes the following data points:
Business Overview
Business Model
Financial Data
Financial – Existing
Financial – Funding
Product Segment Analysis and specification
Recent Development and Company Strategy Analysis
SWOT Analysis
The report includes market sizing and forecasting at the country level as well as at the segment level. Enterprise AI Market is analyzed across below-mentioned different segments:
| Component Type | Technology Type | Application Type | Organization Size |
| --- | --- | --- | --- |
| Software | Machine Learning | Analytics Application | Large Enterprises |
| Services | Natural Language Processing | Marketing Management | Small and Medium Enterprises |
| | Image Processing | Process Automation | |
| | Speech Recognition | Security and Risk Management | |
| | Deep Learning | Others | |
Enterprise Artificial Intelligence Market is also analyzed across below-mentioned regions/countries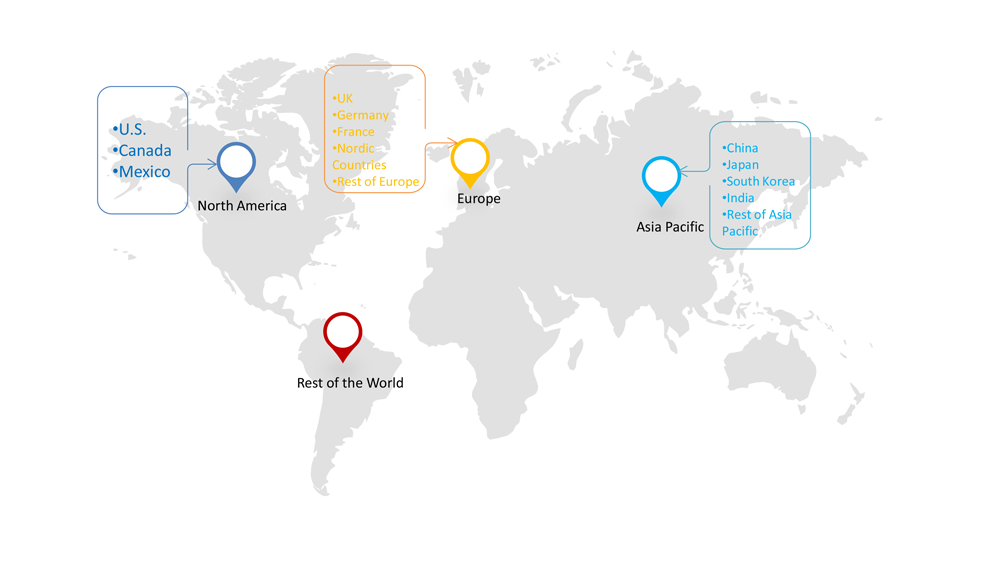 In the global enterprise AI market, North America is one of the fastest-growing region due to the presence of major technology players. The highest CAGR growth rate is estimated in the Asia-Pacific region during the forecast period. The developing economies like China, Japan, and India are adopting enterprise AI which will affect the enterprise AI market growth rate. The reason for this region one of the prominent market increases in demand for implementing AI for business operations. The highest CAGR during the forecast period could be seen in the IT and Telecom sectors. The other key industry sector utilizing enterprise AI are financial services, retail, government, manufacturing, healthcare, among many others.
Some of the key players in Enterprise Artificial Intelligence Market include:
AWS
Google Corporation
IBM Corporation
Intel Corporation
Microsoft Corporation
Oracle Corporation
IPsoft INC
SAP
Sentient Technologies
Wipro Ltd.
Recent Development in the field of Enterprise AI
In January 2020, IPsoft announced that they will soon bring a seamless and modern approach for deploying AI. This approach will resemble to person-to-person hiring and onboarding process. They will provide a marketplace where company research, interview and hire pre-trained Digital Employee (Amelia).
REPORT CONTENT BRIEF:
High level analysis of the current and future market trends and opportunities
Detailed analysis on current market drivers, restraining factors, and opportunities in the future
Enterprise AI market historical market size for year 2019, and forecast from 2020 to 2027
Vendor market share analysis at each product level
Competitor analysis with a detailed insight into its product segment, financial strength, and strategies adopted.
Identifies key strategies adopted including product launches and developments, mergers and acquisitions, joint ventures, collaborations and partnerships as well as funding taken and investment done, among others.