Category: Chemicals and Materials
Sub-Category: Chemical
The construction chemicals market was valued at $34.18 billion in 2019 and is expected to reach $52.25 billion by 2027 growing at a CAGR of 5.5% from 2020 to 2027.
Construction chemicals are chemical compounds used in construction activities to modify the properties of building materials. Construction chemicals are mixed with construction materials such as cement, and concrete to improve workability, increase performance, add functionality and impart durability and strength to the structure. The construction chemicals are added building materials to enhance strength, quality, and durability and protect them from atmospheric degradation and hold the material together. Construction Chemicals are used in the construction of roads and bridges, airport and metro transit, industrial, commercial and residential construction and repair and rehab projects. Construction chemicals are used in new buildings, as well as for repair of the old buildings.
The major factors impacting the growth of the construction chemical market are rapid urbanization resulting in an increased need for infrastructural development, and increasing use of admixtures to enhance concrete properties, among others.
Rapid Urbanization:
The population in the urban area is increasing rapidly due to continuous migration from rural areas to urban. The people are moving to urban areas in search of better employment opportunities, education, and lifestyle. According to a United Nations report, 54% of the world's population lives in urban areas and it is expected to grow by 66% by 2050 adding 2.5 billion people to the urban population. Growing urban population increases opportunities and demand for construction chemicals for transportation, housing, and infrastructure facilities development. The increasing disposable income of the urban population boosts people for an improved residential structure, thereby increasing the demand for construction chemicals.
Increasing Demand for Admixtures:
Admixtures is a substance that enhances the properties of concrete. Admixtures are a material that is mixed with concrete in addition to cement, water aggregates and additives like Pozzolana or slang. Admixtures can be blended with concrete before mixing or during mixing. The various types of admixtures on the basis of a function include air-entraining, retarding, accelerating, plasticizing, water-reducing, corrosion inhibition, workability enhancement, offsetting, dispersing alkali-silica reactivity reduction, bonding, waterproofing, superplasticizer, coloring, and damp proofing. The benefits of admixture such as a reduction in the cost of building, low water requirement, and enhanced setting time is expected to drive the construction chemicals market.
Key Insight in the report:
The Global Construction Chemicals market report covers Executive Summary, Market Dynamics, Trend Analysis, Market Size and Forecast, Competitive Intelligence, Market Positioning, Product Benchmarking, and Opportunity Analysis.
The report covers extensive competitive intelligence which includes the following data points:
Business Overview
Business Model
Financial Data
Financial – Existing
Financial – Funding
Product Segment Analysis and specification
Recent Development and Company Strategy Analysis
SWOT Analysis
The report covers market sizing and forecasting at the country level as well as at the segment level. Construction Chemicals Market is analyzed across below-mentioned different segments:
| Type | Application |
| --- | --- |
| Concrete Admixture | Residential |
| Construction Adhesive | Non-Residential |
| Construction Sealant | |
| Flame Retardant | |
| Protective Coating | |
| Waterproofing | |
| Others | |
On the basis of construction chemicals, the concrete admixture is expected to have the largest share in the market. The concrete admixture is extensively used for reducing water content in concrete and enhance durability. The different types of admixtures include lingo-based admixtures, Sulfonated Naphthalene Formaldehyde (SNF), and Sulfonated Melamine Formaldehyde (SMF).  Construction adhesives are expected to show prominent growth as they enhance the durability and bonding duration of adhesive. The different adhesives include cement-based adhesive, epoxy adhesive and polymer formulated adhesive. Protective coating offer resistance from oil, acids, solvents, and other containments therefore they are extensively used in new building and restoration of old buildings. Thus, it is estimated to show prominent market growth. The non-residential segment is anticipated to show lucrative growth owing to rapid urbanization in emerging economies.
Construction Chemicals Market is also analyzed across below-mentioned regions/countries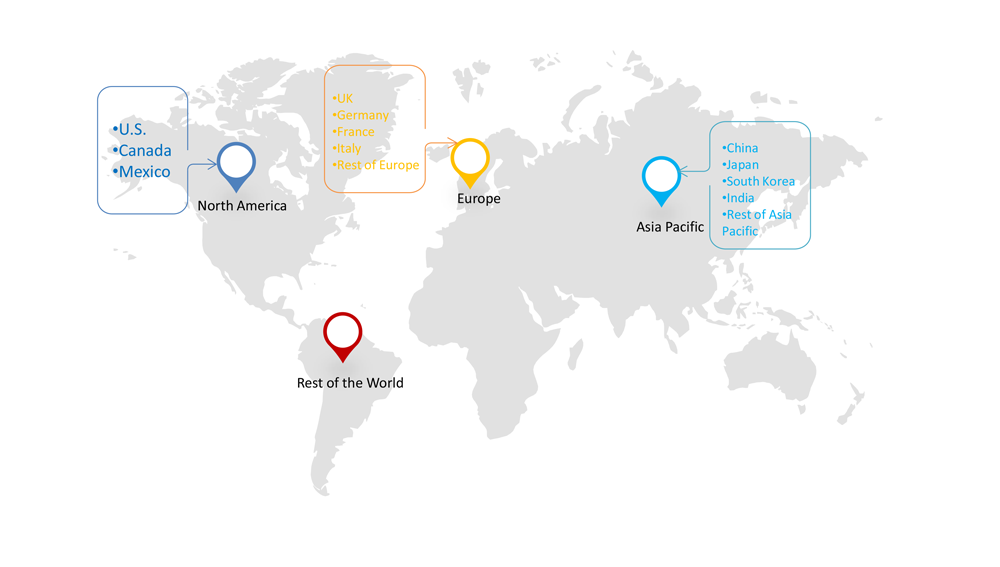 Asia-Pacific region is expected to dominate the construction chemicals market due to the increasing infrastructural development. Moreover, government initiatives promoting infrastructural development is estimated to drive the construction chemicals market growth during the next few years. The large consumer base for construction chemicals due to the established infrastructure industry in North America is expected to drive the construction chemical demand during the forecast period.
Some of the key players in of Construction Chemicals Market include:
BASF SE
Sika AG
Henkel AG & Company
The Dow Chemical Company
Arkema SA
Fosroc International Limited
Mapie S.p.A
Pidilite Industries
RPM International
R. Grace & Co.
RECENT DEVELOPMENTS:
In December 2018, Fosroc launched Green Roof Waterproofing Grade of Polyurea. The Polyurea WH200GR will provide waterproofing solution in minutes allowing subsequent drainage, soil, and vegetation layer to be quickly installed.
REPORT CONTENT BRIEF:
High level analysis of the current and future market trends and opportunities
Detailed analysis on current market drivers, restraining factors, and opportunities in the future
Construction Chemicals market historical market size for year 2019, and forecast from 2020 to 2027
Vendor market share analysis at each product level
Competitor analysis with a detailed insight into its product segment, financial strength, and strategies adopted.
Identifies key strategies adopted including product launches and developments, mergers and acquisitions, joint ventures, collaborations and partnerships as well as funding taken and investment done, among others.