Category: Automotive
Sub-Category: Component
In automobiles, powertrain incorporates every component that converts the engine power into movement. It generates power and uses that power to drive the vehicle. It includes the engine, transmission, driveshafts, clutch/torque converter, differential, axles, drive wheels, propeller, and so on. Hybrid powertrains on the other hand include one or more electric traction motors that operate to drive the vehicle wheels. The powertrain of any automobile defines its performance, comfort, and safety. The gasoline powertrains are currently the most widely used in vehicles. But due to an increase in the cost of gasoline, they are expected to be replaced by diesel powertrains. Additionally, with the rising demands of automated vehicles, the use of electronic sensors in powertrains is gaining popularity to monitor position, speed, gas, pressure, and temperature. These sensors are required for efficient and safe operations of powertrains.
The global automotive powertrain market is expected to grow from $692.9 billion in 2019 to $1,228.3 billion in 2027, at the CAGR of 7.4% from 2020 to 2027.
The major factors that have impacted the growth of the automotive powertrain market are government reforms for minimizing carbon emission which has increased the need for engine downsizing and increasing adoption of hybrid and electric vehicles which has increased the need for high-end powertrain systems, among others.
Government reforms for minimizing carbon emissions:
The governments across the world are forming stringent government reforms to minimize the carbon emissions and integrate safety features in the vehicles. Automobile emits carbon dioxide and other greenhouse gases such as automobile produced methane, nitrous oxide from the tailpipe and hydrofluorocarbon emission from leaking air conditioners. The countries are looking at electric vehicles as the future as they emit fewer emissions which may affect the powertrain market. The UK government and local councils are taking initiatives for accelerating the number of electric vehicles on the road. The growing stringent reforms have motivated the automotive manufacturers for vehicle downsizing to reduce the fuel consumption as well as harmful emissions in their vehicles which in turn is expected to drive the powertrain market growth.
Increasing adoption of Hybrid and Electric Vehicles:
The hybrid and electric vehicles lower down harmful tailpipe such as particulates (soot), volatile organic compounds, hydrocarbons, carbon monoxide, ozone, lead, and various oxides of nitrogen. The electric cars can improve air quality in cities and towns. The hybrid produces low carbon dioxide as compared to internal combustion vehicles which considerably reduces air pollution. A single hybrid car has the potential to save an average of 1.5 million grams of CO2. The growing focus on Modern drive technology to reduce emission level of vehicles is gaining popularity among consumers. The electric and hybrid vehicles are integrated with electric motor and battery in the powertrain. The powertrain will be integrated with high-end sensors which will improve the efficiency of the engine and optimize the fuel economy which may accelerate the powertrain market growth.
Impact of COVID-19 on Automotive Powertrain Market
Impact of Market Size and Forecast
End User Trend, Preferences and Impact on Budget
Regulatory Framework/Government Policies
Recent Development to Tackle Negative Impact
Opportunity Window
Key Insight in the report:
The Global Automotive Powertrain market report covers Executive Summary, Market Dynamics, Trend Analysis, Market Size and Forecast, Competitive Intelligence, Market Positioning, Product Benchmarking, and Opportunity Analysis.
The report covers extensive competitive intelligence which includes following data points:
Business Overview
Business Model
Financial Data
Financial – Existing
Financial – Funding
Product Segment Analysis and specification
Recent Development and Company Strategy Analysis
SWOT Analysis
The report covers market sizing and forecasting at the country level as well as at the segment level. Automotive Powertrain Market is analyzed across below-mentioned different segments:
| Engine Type | Positions | Vehicle Type |
| --- | --- | --- |
| Gasoline | Front Wheel Drive | Passenger Cars |
| Diesel | Rear Wheel Drive | Commercial Vehicles |
| | All Wheel Drive | |
In the Engine Type the gasoline engines is expected to have higher market share due to the increasing adoption of gasoline engines in place of diesel engines due to the increasing price difference between two. Based on Position the rear wheel drive is expected to dominate the market due to its increased adoption in light commercial vehicles.
Automotive Powertrain Market is also analyzed across below-mentioned regions/countries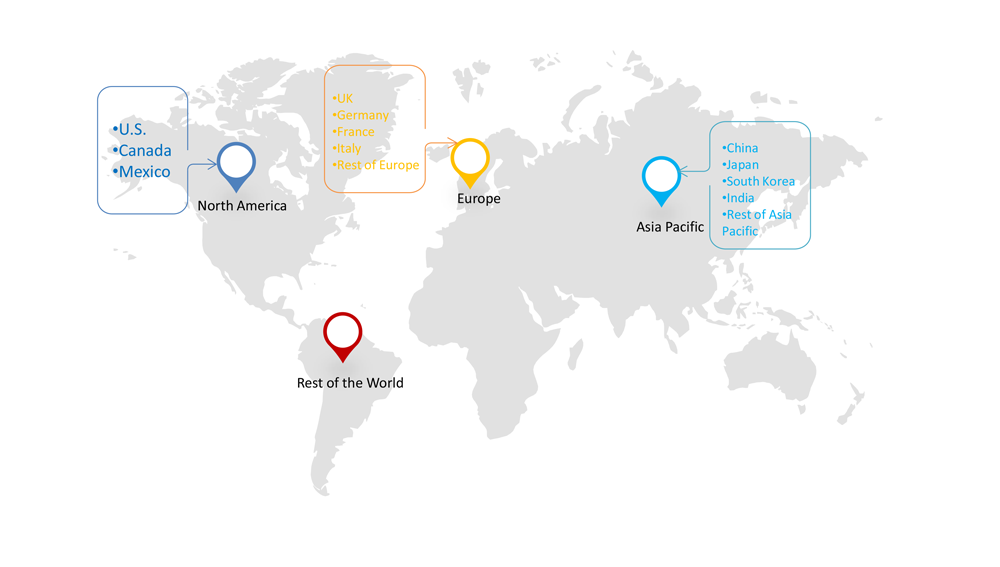 North America is projected to have significant market share due to the increased adoption of luxury cars and the surging adoption of AWD vehicles over FWD and RWD in this region. Asia Pacific is expected to dominate the market due to the increasing passenger vehicles sale in emerging economies such as India, China, and Japan as the purchasing power of the population is strengthening. Moreover, the increasing initiative for new energy vehicles and automated transmission is estimated to drive the powertrain market growth.
Some of the key players in of automotive powertrain market include:
General Motors
Delphi Automotive Company
Aisin Seiki Co., Ltd.
Robert Bosch
ZF Friedrichshafen AG
Continental AG
BorgWarner Inc.
GKN Plc
Volkswagen Group
MAGNA POWERTRAIN LTD.
REPORT CONTENT BRIEF:
High level analysis of the current and future market trends and opportunities
Detailed analysis on current market drivers, restraining factors, and opportunities in the future
Automotive Powertrain market historical market size for year 2019, and forecast from 2020 to 2027
Vendor market share analysis at each product level
Automotive powertrain competitor analysis with a detailed insight into its product segment, financial strength, and strategies adopted.
Identifies key strategies adopted including product launches and developments, mergers and acquisitions, joint ventures, collaborations and partnerships as well as funding taken and investment done, among others.