Aquaponics Market Size is expected to reach USD 1.36 Billion by 2033. The Aquaponics industry size accounted for USD 0.34 Billion in 2023 and is expected to expand at a compound annual growth rate (CAGR) of 14.23% from 2023 to 2033. Aquaponics is a sustainable farming method that combines aquaculture (raising aquatic animals) with hydroponics (cultivating plants in water) in a symbiotic environment. It is a closed-loop system where fish or other aquatic organisms provide the nutrients required for plant growth, and the plants, in turn, filter and purify the water for the aquatic animals. This system mimics the natural nitrogen cycle, where fish waste is broken down by bacteria into nitrates, which are then absorbed by the plants as a nutrient source. Aquaponics is often considered an environmentally friendly and efficient method of agriculture because it maximizes resource utilization, minimizes water usage, and eliminates the need for synthetic fertilizers or pesticides. It can be practiced on a small scale in-home or backyard setups, as well as on a larger commercial scale.
Global Aquaponics Market Synopsis
COVID-19 Impact Analysis
The COVID-19 pandemic had a negative impact on the Aquaponics market. Disruptions in supply chains, decreased market demand, financial constraints, limited workforce availability, and uncertain market outlook collectively contributed to the downturn in the industry during this challenging period.
Global Aquaponics Market Dynamics
The major factors that have impacted the growth of Aquaponics are as follows:
Drivers:
     Sustainable Agriculture Practices
The growing global demand for sustainable and environmentally friendly agricultural practices is a major driver for the Aquaponics market. Aquaponics offers several benefits, such as efficient resource utilization, minimal water usage, and organic food production. As consumers and governments increasingly prioritize sustainability, the demand for Aquaponics systems is expected to rise.
Restraint:
High Initial Investment Costs
One of the key restraints for the Aquaponics market is the high initial investment required to set up and operate a system. Aquaponics systems involve the integration of aquaculture and hydroponics, which necessitates the purchase of equipment, infrastructure, and fish stock. The upfront costs can be a barrier for potential investors, particularly for small-scale or individual operators.
Opportunity:
⮚      Local Food Production
Aquaponics presents an opportunity for local food production, especially in urban areas where access to fresh and locally grown produce is limited. By establishing Aquaponics systems within cities or close to urban centers, the market can tap into the demand for locally sourced food, reducing reliance on long-distance transportation and promoting food security.
Aquaponics Market Segment Overview
By Growing System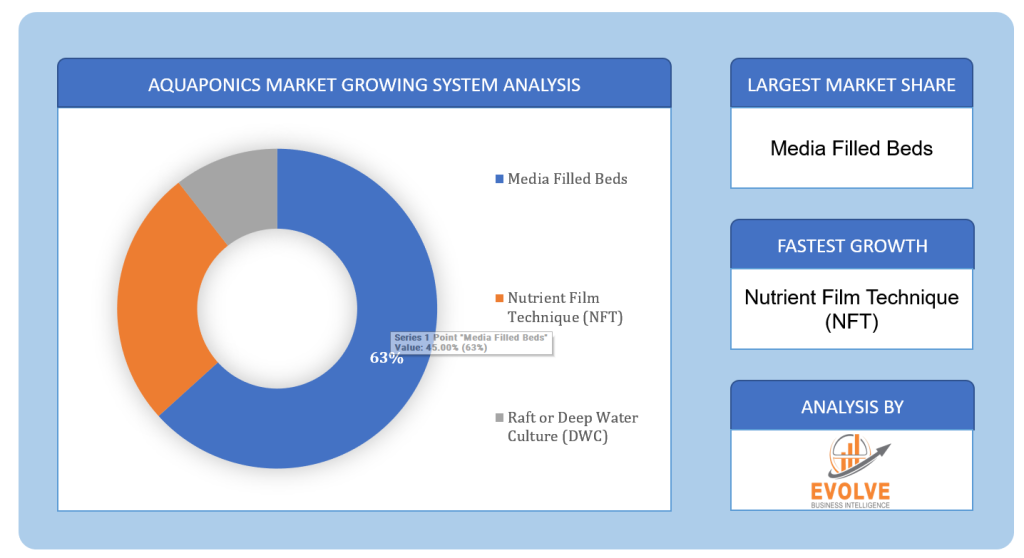 Based on the Growing System, the market is segmented based on Media Filled Beds, Nutrient Film Technique (NFT), Raft, or Deep Water Culture (DWC). The largest market share is anticipated to go to the Media Filled Beds segment. Media-filled beds are popular and widely used in Aquaponics systems due to their proven effectiveness, versatility, and affordability. They provide a stable environment for plant growth, support a wide range of plant types, and act as a biofilter for nutrient conversion. These factors contribute to their dominance in the market and make them a preferred choice for both commercial and home-based Aquaponics setups.
By Facility Type
Based on Facility Type, the market has been divided into Poly or Glass Greenhouses, Indoor Vertical Farms, and Others. The Indoor Vertical Farms segment is expected to hold the largest market share in the Market. Indoor vertical farms maximize space utilization by vertically stacking the growing areas, allowing for high-density cultivation. This makes it particularly suitable for urban areas with limited land availability. The ability to grow plants in a smaller footprint enables efficient use of space and higher crop yields.
By Fish Type
Based on Fish Type, the market has been divided into Tilapia, Catfish, Carp, Trout, Ornamental Fish, and Others. The market is projected to see significant growth in the Ornamental Fish segment. The demand for ornamental fish, including tropical and exotic species, has been steadily growing. Ornamental fish are popular as pets and decorative elements in homes, offices, and public spaces. As consumer interest in aquaria and aquarium-related hobbies continues to rise, the demand for a diverse range of ornamental fish species is expected to increase, driving the growth of the segment.
Global Aquaponics Market Regional Analysis
Based on region, the market has been divided into North America, Europe, Asia-Pacific, the Middle East & Africa, and Latin America. The area of North America is anticipated to dominate the market for the usage of Aquaponics, followed by those in Asia-Pacific and Europe.
North America Market
North America leads the highest market share in the Aquaponics market. The region's focus on technological advancements, sustainability, and strong agricultural infrastructure has contributed to its leadership position. North America's adoption of innovative farming methods, including Aquaponics, has propelled the growth of the industry in the region.
Asia Pacific Market
The Asia-Pacific region had been witnessing a growing CAGR in the Aquaponics industry. Aquaponics, which combines aquaculture and hydroponics, has gained popularity due to its sustainable and efficient nature. This method of food production offers benefits such as reduced water usage and minimal environmental impact. With the region's diverse agricultural landscape and increasing population, aquaponics has garnered significant interest as a viable solution for sustainable food production in the Asia-Pacific region.
Competitive Landscape
The competitive landscape includes key players (tier 1, tier 2, and local) having a presence across the globe. Companies such as Nelson and Pade Inc, Pentair Aquatic Eco-Systems Inc, Urban Farming, Greenlife Aquaponics, and Aquaponics USA are some of the leading players in the global Aquaponics Industry. These players have adopted partnership, acquisition, expansion, and new product development, among others as their key strategies.
Key Market Players:
Nelson and Pade Inc
Pentair Aquatic Eco-Systems Inc
Urban Farming
Greenlife Aquaponics
Aquaponics USA
Aquaponic Lynx
The Aquaponic Source
Portable Farms Aquaponics Systems
ECF Farmsystems GmbH
Green Acre Aquaponics
Key Development:
On April 2021, France-based indoor farming company Les Nouvelles Fermes secured EUR 2 million (around USD 2.4 million) in its inaugural funding round in April 2021. The investment was led by IRDI, the Banque des Territoires, Crédit Agricole Aquitaine, and the CIC. Les Nouvelles Fermes intends to utilize this funding to establish the largest aquaponic farm in Europe.
Scope of the Report
Global Aquaponics Market, by Growing System
Media Filled Beds
Nutrient Film Technique (NFT)
Raft or Deep Water Culture (DWC)
Global Aquaponics Market, by Facility Type
Poly or Glass Greenhouses
Indoor Vertical Farms
Other
Global Aquaponics Market, by Fish Type
Tilapia
Catfish
Carp
Trout
Ornamental Fish
Other
Global Aquaponics Market, by Region
North America
Europe

UK
Germany
France
Italy
Spain
Benelux
Nordic
Rest of Europe

Asia Pacific

China
Japan
South Korea
Indonesia
Austalia
Malaysia
India
Rest of Asia Pacific

South America

Brazil
Argentina
Rest of South America

Middle East & Africa

Saudi Arabia
UAE
Egypt
South Africa
Rest of Middle East & Africa
Parameters
Indicators
Market Size
2033: $1.36 Billion
CAGR
14.23% CAGR (2023-2033)
Base year
2022
Forecast Period
2023-2033
Historical Data
2021
Report Coverage
Revenue Forecast, Competitive Landscape, Growth Factors, and Trends
Key Segmentations
Growing System, Facility Type, Fish Type
Geographies Covered
North America, Europe, Asia-Pacific, Latin America, Middle East, Africa
Key Vendors
Nelson and Pade Inc, Pentair Aquatic Eco-Systems Inc, Urban Farming, Greenlife Aquaponics, Aquaponics USA, Aquaponic Lynx, The Aquaponic Source, Portable Farms Aquaponics Systems, ECF Farmsystems GmbH, Green Acre Aquaponics
Key Market Opportunities
Increasing government support
Growing organic food market

Key Market Drivers
Increasing demand for sustainable food production
Rising awareness of food safety and quality
REPORT CONTENT BRIEF:
High-level analysis of the current and future Aquaponics Industry trends and opportunities
Detailed analysis of current market drivers, restraining factors, and opportunities analysis in the future
Historical market size for the year 2021, and forecast from 2023 to 2033
Aquaponics market share analysis for each segment
Competitor analysis with a comprehensive insight into its product segment, financial strength, and strategies adopted.
Identifies key strategies adopted by the key players including new product development, mergers and acquisitions, joint ventures, collaborations, and partnerships.
To identify and understand the various factors involved in the global Aquaponics market affected by the pandemic
To provide year-on-year growth from 2022 to 2033
To provide short-term, long-term, and overall CAGR comparison from 2022 to 2033.
Provide Total Addressable Market (TAM) for the Global Aquaponics Market.
Frequently Asked Questions (FAQ)
1. What is the study period of this market?
The study period of the global Aquaponics market is 2022- 2033
2. What are the 10 Years CAGR (2023 to 2033) of the global Aquaponics market?
The global Aquaponics market is growing at a CAGR of ~23% over the next 10 years
3. Which region has the highest growth rate in the market of Aquaponics?
Asia Pacific is expected to register the highest CAGR during 2023-2033
4. Which region accounted for the largest share of the market of Aquaponics?
North America holds the largest share in 2022
5. Major Key Players in the Market of Aquaponics?
Nelson and Pade Inc, Pentair Aquatic Eco-Systems Inc, Urban Farming, Greenlife Aquaponics, Aquaponics USA, Aquaponic Lynx, The Aquaponic Source, Portable Farms Aquaponics Systems, ECF Farmsystems GmbH, Green Acre Aquaponics are the major companies operating in the Aquaponics
6. Do you offer Post Sale Support?
Yes, we offer 16 hours of analyst support to solve the queries
7. Do you deliver sections of a report?
Yes, we do provide regional as well as country-level reports. Other than this we also provide a sectional report. Please get in contact with our sales representatives.